With the Granite State's scenic beauty, exceptional quality of life and regular ranking atop those "Most Livable State" surveys, it's no wonder that demand is high for NH apartments.
Meanwhile, Lakes Region rentals — nestled in a swath of the state that's rightly regarded as a NH crown jewel — are of particular interest to those who wish to enjoy a lakefront or riverfront vista along with that small-town sense of community.
Locals and visitors alike love the four-season experience of breathtaking foliage each fall, sweet maple sugaring in the spring, splashy summertime fun (boating, swimming, fishing) and cool winter recreation (skiing, snowmobiling, ice fishing). Exploring the scenic wilderness of our mountains and forests is a year-round attraction. No matter the season, Lakes Region communities are brimming with that intangible Granite State charm.
Take Laconia, for example. Located in the heart of the Lakes Region, this small city of approximately 16,000 was settled in the 1760s along the banks of the Winnipesaukee River and today its vibrant downtown evokes the heritage and historic character of a northern New England village.
Economic development is also in the air, and one key project — a riverwalk initiative that enhances the pedestrian-friendly appeal of the city's picturesque downtown — has been awarded a federal matching grant of more than $500,000.
The city's history as a bustling mill town is also at the center of certain redevelopment efforts, including one downtown residential project on the site of the former Allen-Rogers Mill and the Laconia Car Company, a manufacturer of railway cars (and later trolleys and subway cars) that a century ago was the city's largest employer.
Perley Canal: Laconia, NH Apartments Bring New Life to Historic Mill
This property has recently undergone a major renovation and has been repurposed as Perley Canal Mill. The building literally sits over the Perley Canal and is situated right along the banks of the Winnipesaukee River. Perley Canal Mill is a 30-unit apartment community that builds upon the region's mill-town heritage, blending "maintenance-free" modern living with a historic riverfront vibe.
This is the latest flagship renovation in Chinburg Properties' award-winning mills portfolio and has all of the amenities that Chinburg has become recognized for across New Hampshire, northern Massachusetts and southern Maine.
Developer Eric Chinburg, president of Chinburg Properties, has a passion for restoring historic mills and has spearheaded similar projects in Newmarket, Somersworth, Dover, Exeter and Portsmouth, as well as Amesbury, Mass.
"I love the structures … and the history," Chinburg said during a recent newspaper interview. "I like that they are part of the fabric of a community and an engine of energy and creativity in downtown areas."
Residences are situated to offer views of the Winnipesaukee River with private patios, designer club room and fitness room, and easy access to downtown shopping and restaurants. The luxury apartments at Perley Canal Mill feature 18-foot ceilings, exposed brick and wooden beams, and oversized windows that warm the interior with natural light.
The team at Chinburg would love to hear from you. Call us today to find out more about Perley Canal Mill and our other residential mill communities and NH apartments.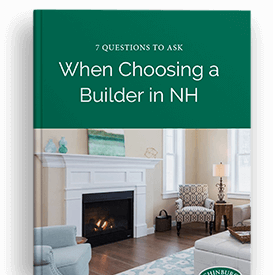 What You Need To Know Before Selecting a Builder
You're only 7 questions away from choosing the right builder for your home.
Download the Guide