Building a new home? Download our free guide, 7 Questions to Ask Before Choosing a Builder, to make sure you select the right partner!
With the U.S. economy in a steady recovery, the housing market — hit severely during the recession — is beginning to make a comeback. As the housing market recovers, new home construction demand is increasing, and so are costs.
According to the Engineering News-Record, between March 2014 and February 2015, construction costs rose 2.9%, and for the previous 12 months rose 3.2%, far outpacing the meager U.S inflation rate of the past few years. While costs in every industry tend to increase slightly from year to year, there are additional factors affecting the construction market, causing a steady average price increase.
Below are 4 reasons new home construction costs are rising:
1. Rising Material and Transportation Costs:
The cost of materials and transportation clearly impacts the price of a new home. This graph from the Wall Street Journal shows how prices have been steadily climbing for the past 7 years: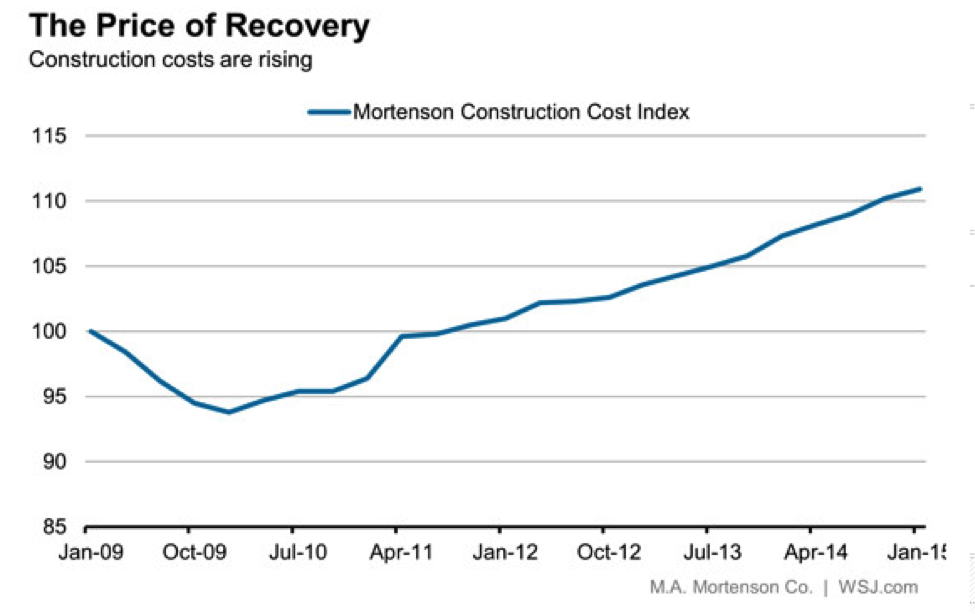 2. Regulatory Costs
Regulatory costs are increasing, and greater regulatory costs in communities go straight to the bottom line of what individuals pay for their homes. Some communities have planning and approval processes that result in duplication of efforts and excessive costs. A clear regulatory code with a reasonable amount of restrictions will make the end product less expensive for homebuyers. It is common sense that the expenses related to legal and other consulting fees, high number of meetings and expensive studies contribute to the end package price of the home. Choosing to build in a community that has a reputation for "reasonableness" can help to reduce unanticipated and unnecessary expenses.
3. More Competition for Construction Workers and Tradespeople
When the mortgage bubble burst in 2008, setting off the great recession, the U.S. housing market took a heavy hit. As the recession's impact reverberated throughout the economy, consumer discretionary spending came to a halt. As a result, the construction industry began to lose business and customers in droves, with some home building projects even being abandoned halfway through construction. In Florida, a state particularly hard hit by the housing crisis, and where abandoned construction projects were common, the median home price dropped by 48% from the peak in 2006.
In turn, many construction companies were suddenly unable to make a living in an industry that, prior to the crash, had been very strong. Many building companies went out of business. According to the Associated Builders and Contractors, the construction industry will face a 2 million-person shortage, when it comes to skilled labor by the end of the decade. The result? Fewer vendors and subcontractors (shortage of labor) results in rising costs for the builder and the homebuyer.
4. Lower Mortgage Rates
With an economy in recovery and mortgage interest rates remaining near record lows, buyers may have a bit of money in their pocket again and want to take advantage of the current prices before they increase. There is an incentive for new home construction to take place now before the Federal Reserve raises its key short term interest rate, which could very possibly raise mortgage rates. This rush to build now while rates are low is increasing demand in an industry that is facing a worker shortage and influx of business.
---
There are numerous benefits to building your own home — where you want and how you want —which is why hundreds of people every year choose Chinburg as their homebuilder. If you are considering a new home construction project and are looking for the best in design and craftsmanship, contact us. As one of the best single-family homebuilders in New Hampshire and southern Maine, Chinburg Properties specializes in creating custom built homes that are distinctive and recognized throughout the industry as being high quality, beautifully detailed and elegantly designed.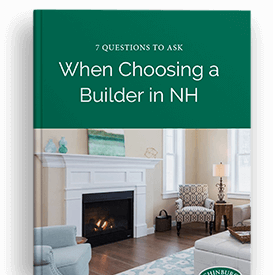 What You Need To Know Before Selecting a Builder
You're only 7 questions away from choosing the right builder for your home.
Download the Guide