Hey, word is you may be thinking about moving to a new apartment? Congratulations! You must be pretty excited. But you're also probably a little stressed, or maybe a lot.
Fear not – we've complied a comprehensive list of questions and answers to help you navigate the process of finding, securing and moving into a rental property in New Hampshire.
(Bonus: We've also bundled this valuable info into a handy checklist that you can download at the end of this post and print out as a resource to help in your move.)
23 Questions to Ask When Seeking Apartment Rentals in NH
Every move is different, but they all have at least two things in common: There is definitely some work to be done. And, the process will go more smoothly if you adopt a focused, well-organized approach.
Here are 23 of the most important things to consider when looking to secure your dream apartment:
How far in advance should you start looking?
The market for rentals in New Hampshire is very competitive, especially for apartments in Portsmouth and other popular Seacoast communities, meaning it can be challenging to find suitable housing that meets your needs. So it's is a good idea to start looking as soon as you know that you'll be moving. Many properties have waiting lists where you can be notified of spaces that become available in the time frame that you need. You should plan to make inquiries 60-90 days in advance; the sooner the better.
Where would you like to be? What towns would you consider?
Each town and region has its unique attractions, so it's a good idea to explore a bit. People love Portsmouth for its proximity to the Piscataqua River and the sea – and its combination of commerce, cuisine and culture – but that also tends to make it more expensive. Renters with an eye on New Hampshire's scenic "Seacoast" area can also find lovely living situations in nearby Newmarket and Exeter, Somersworth and Dover – each one a quaint, convenient community, each with a river running through it. Or head further afield to Laconia and the Lakes Region, beautiful countryside that places you closer to hiking and skiing opportunities in the White Mountains.
What size apartment do you need?
The most important criteria when choosing among the studios, one and two bedrooms that are available in many communities (larger apartments are less common but they do exist) is, of course, the number of occupants who will be living there. The second most important calculation involves determining whether the basic square footage (enclosed rooms, storage and closet space) is sufficient for the amount of "stuff" you are planning to bring. Also think about whether you'll want or need an extra room for guests or a home office.
What is your budget?
For many, this is the most important question. What can you afford? The rule of thumb traditionally cited by many financial planning sources is that your rent should represent no more than 30% of your overall income. But nowadays – with rents rising and income growth remaining tepid – millions of Americans find themselves exceeding that guideline. Fortune.com and Bloomberg.com both offer arguments as to why the 30% guideline has become outdated. Sticking to 30% or under is still ideal; if you must consider going higher, be sure to conduct a thorough analysis of all your other expenses to make sure you can afford it.
What is included in the rental fee?
Heat, hot water, electricity, cable, laundry room, air conditioning, WiFi. These are all "expenses" that may or may not be included in your rental fee. It is important to ask what is included. For example, you may pay a higher base rent for an apartment that includes heat, but you won't have the uncertainty of large utility bills bringing an unwelcome surprise in the long, cold dark of winter.
Do you have pets? What pets are allowed? Is there a fee for having a pet?
Many apartments for rent in NH will accept indoor cats and small pets. But fewer accept dogs and there are often size and breed restrictions. There is often a fee associated with having a pet in your apartment. Be sure to ask about this upfront, and do not try to "sneak" an animal in — this could jeopardize your lease and result in a poor reference should you have to move for any reason.
Do you smoke?
Many properties and apartments are smoke-free. This has proven to be very popular with most residents. It is important to be honest about this. If you do smoke in a smoke-free apartment, you could find yourself in violation of your lease (and, worst case, your lease can be terminated).
Is there an elevator?
If the apartment you are considering is on an upper floor, access to an elevator is an important consideration, particularly for anyone suffering significant mobility issues. But this amenity can also add to your quality of life when lugging loads of groceries or during the actual move itself.
What other amenities does the property have?
Pool, fitness room, bike storage, general storage, clubroom, fire pit, patio, balcony, gardens, community activities, on-site parking, laundry center – these are all common amenities that can reduce expenses and add value to a residence. There can also be many benefits to renting in a "mixed-use" community, generally defined as a development that blends residential uses with commercial (a restaurant or coffee shop), recreational (yoga studio or gym) and perhaps even cultural (movie theater or arts venue). In addition to putting you closer to goods and services you may need, such developments are also believed to promote a stronger sense of community among the people who live and work there.
What other things are important to you?
• Public transportation
• Restaurants
• Grocery stores
• Downtown access
• Major commuting routes
These may all have different levels of priority for you, but to be an educated housing consumer, it is smart to conduct an inventory. This means paying close attention to how close the apartment you're considering is to the businesses, services and infrastructure that are most important to you.
Are you allowed to hang things on the walls?
Be sure to ask your landlord or property manager about the best way to hang posters, mirrors and other works of art. Excessive damage to walls may require some payment from your security deposit, but most every property owner will have an acceptable method for hanging items on the walls.
Can you measure for furniture prior to moving in?
This probably depends on whether the apartment is occupied and how amenable the current resident is to having you come in and do so. If you're touring the apartment, bring a tape measure. If not, perhaps there is an opportunity to visit a nearly identical unit. Or, ask the property manager if there is a floor plan that you can work from. You definitely don't want any surprises when that antique couch you inherited from your grandparents won't fit in your living room, let alone through the front door.
What is the security deposit policy? How long until it is returned?
Most properties will require a security deposit equal to one month's rent. Your landlord is likely to do a walk-through when you move out to determine whether there is any excessive damage or wear and tear to your apartment. Depending on the condition, part or all of your deposit will be returned within 30 days.
What information will be required when filing out a lease?
• Income statement or bank balance
• Credit check
• Co-signer/guarantor
Your landlord or property manager needs to know that you can afford to pay your rent. You will be asked questions about your income and other sources of rent payment when you fill out your application. If you cannot demonstrate enough income, you may be asked to have someone else co-sign your lease. Example: A student who does not have an active income may be required to have a parent or guardian guarantee that the rent will be paid.
How long is a typical lease?
A typical lease is 12 months but some landlords may offer a longer or shorter lease depending on circumstances and time of year. Here's a closer look at how apartment leases work from HowStuffWorks.com. Perhaps their most important piece of advice: Read the lease thoroughly and don't let anyone rush you. Also, the online legal experts at Nolo.com have complied some very useful information about renters' rights in New Hampshire.
What are the penalties for breaking a lease?
A lease is a contract and so you could be charged for the remainder of the amount due. Most landlords will work with you if you need to move for unforeseen circumstances, if they are able to fill the vacant apartment. But technically you are liable for the full contract amount.
Can you rent month-to-month?
Some landlords will allow you to rent month-to-month, for an additional fee. This offsets the possibility that the property owner would wind up with a vacant apartment in the middle of the winter that would be difficult to fill when fewer people are looking to move. It provides the renter with the flexibility to move without penalty if they think it's likely they might need to make a change on short notice.
How much notice is required to terminate at the end of a lease period?
Most leases require a 60-day notice to exercise your right to terminate your lease at the end of the lease period. If you are on a month-to-month lease the notice is usually 60 days.
Is the building secure? What is the key system?
You should ask about what sort of access there is to the building, whether there are security cameras and if there is lighting to make you feel secure at night. Some buildings have access via key "fobs" or an electric access code via a keypad. Others may just use a traditional metal key.
Is the building quiet?
If you like to turn in at 8 p.m. or wake very early, you may want to find out if the community has policies regarding noise. Also think about where you are in relation to the elevator or the fitness room if you are a light sleeper or concerned about how that will impact your lifestyle.
What is the reputation of the management company?
Ask around. People love to talk about where they live. It is helpful to hear from a few residents about how they like living there and to get their insights into the reputation (and the pros and cons) of the property.
How responsive is the landlord if problems arise? Is there an on-site property manager?
There is a major distinction between threatening and non-threatening situations. You should always call 911 in an emergency; other circumstances are probably weighed depending on their severity. A reasonable expectation is to hear back from your landlord within 24 hours with a timeline for when a problem will be fixed. For more urgent needs (example: no heat in the middle of winter or a beeping alarm) it is very helpful to have an after-hours representative of the management company. It will give great peace of mind to have a landlord or manager who you can trust will respond to your needs.
Should I have renters insurance?
This is discretionary and is totally dependent upon your comfort level. Any reputable landlord will have property insurance, but in order to protect your belongings within your walls, you may want to consider renters insurance. It is generally a fairly reasonable expense, based on the value of your belongings.
Hopefully, we've answered most of your questions but we're always available to continue the conversation. Chinburg Properties has nearly 20 years of experience developing, building and renting apartments in New Hampshire, Massachusetts and Maine. And with almost 800 apartments under ownership/management, we take pride in offering first-rate living experiences to our residents. Contact us today for more information.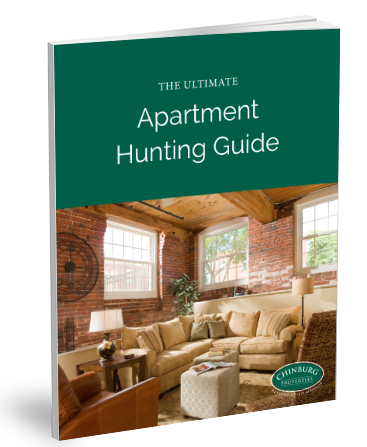 Don't Rent an Apartment Before Asking These Questions
Do they allow pets? Are any utilities included? Is the building secure? You'd be surprised at the little things you might forget to ask.
Get the Apartment Rental Checklist