Throughout our 25+ years of homebuilding experience in New Hampshire and Maine, we've learned a buyer must make many critical choices before selecting the perfect single-family home. The checklist of considerations a potential homebuyer must make could take weeks, months and even years to ponder. But selecting the right modern home for you and your family isn't just about what's between the walls or within the property lines. It's also about…LOCATION, LOCATION, LOCATION.
When buying a new home, a buyer should consider whether the single family home they are about to purchase exists within a neighborhood that makes sense for them and their family. So, with this in mind, let's talk about some of the more critical components of selecting your new home within a community. While there are numerous "guides" and 'how-to's" on this particular subject, we've come up with a simple, two-step process that will help a potential new homebuyer kickoff this crucial conversation.
A good first step we've found a new homebuyer can make is to establish a set of priorities. It's as simple asking yourself: What is most important to me and why?
If you have a children, you may want to live within walking distance of your children's elementary school or in close proximity to parks and playgrounds.
If you're a young professional with no children you may care more about whether your neighborhood is within walking distance to a downtown or recreational activities, or if it's close enough to the highway to help reduce that morning commute into Boston.
If you're retired and looking for some peace and quiet, you may be looking for a home with less maintenance and special space for your hobbies, or near by folks with similar interests and tastes.
Once you've solidified your priorities and decided what's important to you, the second step is to refine those priorities by thinking outside the box a little.
One of the most common mistakes a homebuyer can make when selecting a single family home is thinking in the now, rather than 5, 10, 15 years down the road. Thinking too short-term can lead to an unhappy homeowner and an unhappy homeowner is the last thing we want you to be. So, now ask yourself this question: Will this be important to me in the future and why?
If you have young children and want to live within walking distance of your children's elementary school or close to the parks and recreation, think about how your kids will undoubtedly end up going to a middle school or high school somewhere else in town. Will the location still work for your family 5 or 10 years down the road as kids get older and needs change.
If you're that same young professional who wanted to live close to the nightlife and not far from the highway, think about how quickly that will all change once you get older, get married, and have children. Will you struggle to find silence for your newborn when living close to the city's center or nearby noisy roads.
If you're that same retiree who wanted the peace and quiet, as well as like-minded neighbors, think about how your children may one day want to visit you and how they will likely bring your sweet, but boisterous grandchildren. If you will travel during certain times of the year does your home allow for easy maintenance?
Thinking long term is a good way to refine your buying decision. Of course this is much more multifaceted than just your life changes. It's also important to think about how the community can change around you; whether it is through increased development or surge in property taxes and other homeowner-related expenses.
Homebuyers, while understandably focused on the house they are purchasing, don't spend nearly enough time looking at the area around it, according to Andrew Schiller, founder and CEO of NeighborhoodScout.
At Chinburg Properties, we not only build distinctive homes that people love to live in, but we also create carefully planned communities that respect a variety of interests and priorities. Whether you're looking for a single family home nestled in a quiet neighborhood nearby local schools, or a more modern house situated in a growing part of town, we can help. Contact us today!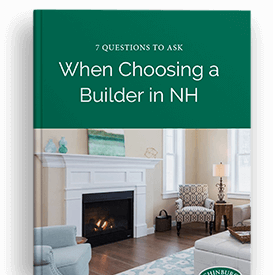 What You Need To Know Before Selecting a Builder
You're only 7 questions away from choosing the right builder for your home.
Download the Guide