Demand Is Building For Construction Jobs in NH
Hammering its way back from the economic meltdown of 2007-08, the construction industry is reporting year-over-year job growth in 43 states, including an uptick in construction jobs in New Hampshire.
The Associated General Contractors of America reports that 80 percent of member firms planned to expand employee head counts during 2015-16, meaning more local construction jobs throughout the Granite State.
But along with this good news from the AGC comes word that 86 percent of U.S. contractors are finding it difficult to hire qualified workers for key construction jobs.
These conditions create opportunity for talented construction workers in New Hampshire and for those interested in training to gain those sought-after skills.
"Few firms across the country have been immune from growing labor shortages in the construction industry," said Stephen Sandherr, CEO of the contractors group. The AGC is reiterating its call for new career and technical school programs to help offset construction industry labor shortages.
Among the 1,358 respondents in the AGC labor shortage survey:
73 percent of firms reported difficulty hiring carpenters
65 percent reported difficulty hiring sheet metal installers
63 percent reported difficulty hiring concrete workers
55 percent reported difficulty hiring project managers/supervisors
34 percent reported difficulty hiring engineers
Also impacting New Hampshire's construction workforce is that as existing workers grow older, fewer young workers are entering the field.
"It will only be a short few years and the contractors of this state will not be able to keep up with the demand," Buddy Champney, president of the NH Home Builders Association, said in the Fall 2015 edition of Granite State Builder magazine.
Champney noted that many young people may have the incorrect impression that construction is dirty or even demeaning work. "As a matter of fact, the industry is very technical. … Building products have come a long way in the last 20 years, but we still need skilled labor to put them to use," he said. "Modern construction companies also need skilled staff to help with sales, estimating, design, safety management, human resources and job site supervision."
The construction industry, he said, is ripe with opportunity for "a young person who is looking for a direction in his or her career and wants to learn a good trade that has many opportunities to grow."
Meanwhile, despite the apparent workforce challenges, observers will notice there is no shortage of new construction projects in progress around Portsmouth and other Granite State communities.
Some would even say business is booming, creating heightened demand for people who may be looking to build a satisfying career in the construction industry.
Local and regional construction companies reportedly are on the lookout for:
Project managers and assistant project managers
Trades people (electricians, carpenters, plumbers)
Designers and architects
CAD experts
Estimators
Purchasing agents
Property managers
Site supervisors
Accounting, marketing and office management skills
Experience in construction is extremely valuable, of course, but contractors are also looking for people who possess:
Organizational skills
Attention to detail
Customer focus
Dependability
Problem-solving focus
Excellent follow-through
One such local employer is Chinburg Properties. We're a fully integrated development and construction firm that has grown from a small family business to the largest builder of homes in New Hampshire's Seacoast region.
In addition to new construction, our services include general contracting, construction management, renovation and restoration, commercial and residential rentals, and property management.
If you think you meet the qualifications and like the idea of joining the Chinburg team, please send your resume along to be considered for current opportunities.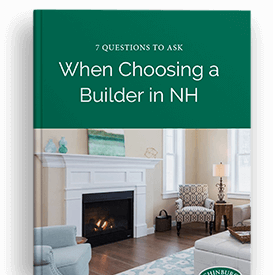 What You Need To Know Before Selecting a Builder
You're only 7 questions away from choosing the right builder for your home.
Download the Guide