Looking for the right builder for your Craftsman home? Use our free guide, 7 Questions to Ask When Choosing a Builder, to select the right partner. 
One of the real pleasures of building your own home is choosing any design you want. The Craftsman house is one of the most beautiful and enduring styles of American architecture. If you value time with your family, care about your home's environmental impact and want a comfortable and functional home, the Craftsman-style house could be the home for you.
What Made Craftsman Homes So Popular
Craftsman houses first appeared on the American landscape in California in the early 20th century. Based on the principles of the Arts and Crafts movement and influenced by Asian design elements, the natural beauty and quality of the style quickly caught on. In fact according to houzz.com, Craftsman bungalows were the most popular style of small house from about 1905 through the 1920s.
The simple yet wide-open layout allowed families to spend more time together while going about their daily routines. Kitchens often included an eat-in area, and living rooms had fireplaces to gather around. The generous front porches let families mingle with their neighbors more easily.
The design's low profile, typically one-and-a-half stories, with the upstairs snuggly fitted into dormers in a gabled or hipped roof, made these houses appear almost a part of the landscape. The style was unpretentious and comfortable, well suited to American families.
Why Craftsman Style Endures
This esthetic of quality and design has continued into today's homes built in the Craftsman style. Here are just some of the benefits of building a Craftsman:
Beauty: Everything about the exterior design of a Craftsman expresses beauty: natural materials, porches with tapered or doubled columns, wide eves with exposed rafters and beams, dormers in low-pitched gabled roofs, and decorative finishing details such as wide window and door casings.
Small but well-designed interiors: Open floor plans originated with Craftsman houses and are now common. Open interiors provide better traffic flow, more options for furniture arrangement, and foster family interaction. Another hallmark of the Craftsman house is built-in bookcases, cabinetry, even kitchen eating nooks. Built-ins can improve the usability of a space, and custom woodwork makes them beautiful. Craftsman-style houses are exceptionally comfortable to live in, as well as rich in detail.
Ecologically sound: With a smaller footprint and less interior space than many new homes, Craftsman-style houses use fewer resources to build and less energy to maintain. The use of natural building materials inside and out is also eco-friendly.
Consider Craftsman for Your New Home
New building techniques that provide improved comfort and energy-efficiency, combined with the beauty of the Craftsman style, could make this the perfect choice for you and your family.
Want to learn about building your dream craftsman house? Talk to the experienced experts at Chinburg Properties.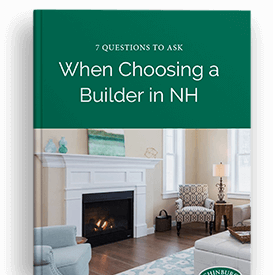 What You Need To Know Before Selecting a Builder
You're only 7 questions away from choosing the right builder for your home.
Download the Guide