The new year always seems like it's brimming with possibilities. Whether you're establishing a new routine or staying true to a resolution, 2021 promises a fresh start — and that means a little bit more than usual after 2020.
As companies abruptly shifted to working remotely and schools introduced remote learning, families struggled to quickly adapt their living spaces to accommodate the additional time at home.
Now, we have the opportunity to creatively enhance our living spaces in the new year. With at-home offices, classrooms and gyms surging in popularity, designing multifunctional, high-efficiency spaces is one of the most prominent, overarching trends in 2021.
While people take the time to reimagine and decorate these spaces, they're gravitating to natural materials and colors that promote calm, peaceful environments to combat the chaos of the year. Today's post covers style trends, room-specific trends, and ways to revitalize your home to keep up with the latest and greatest in interior design. Let's dive in, shall we?
4 Overarching Style Trends in 2021
The upcoming year is all about creating an at-home oasis by maximizing spaces and using color palettes that promote peace and comfort.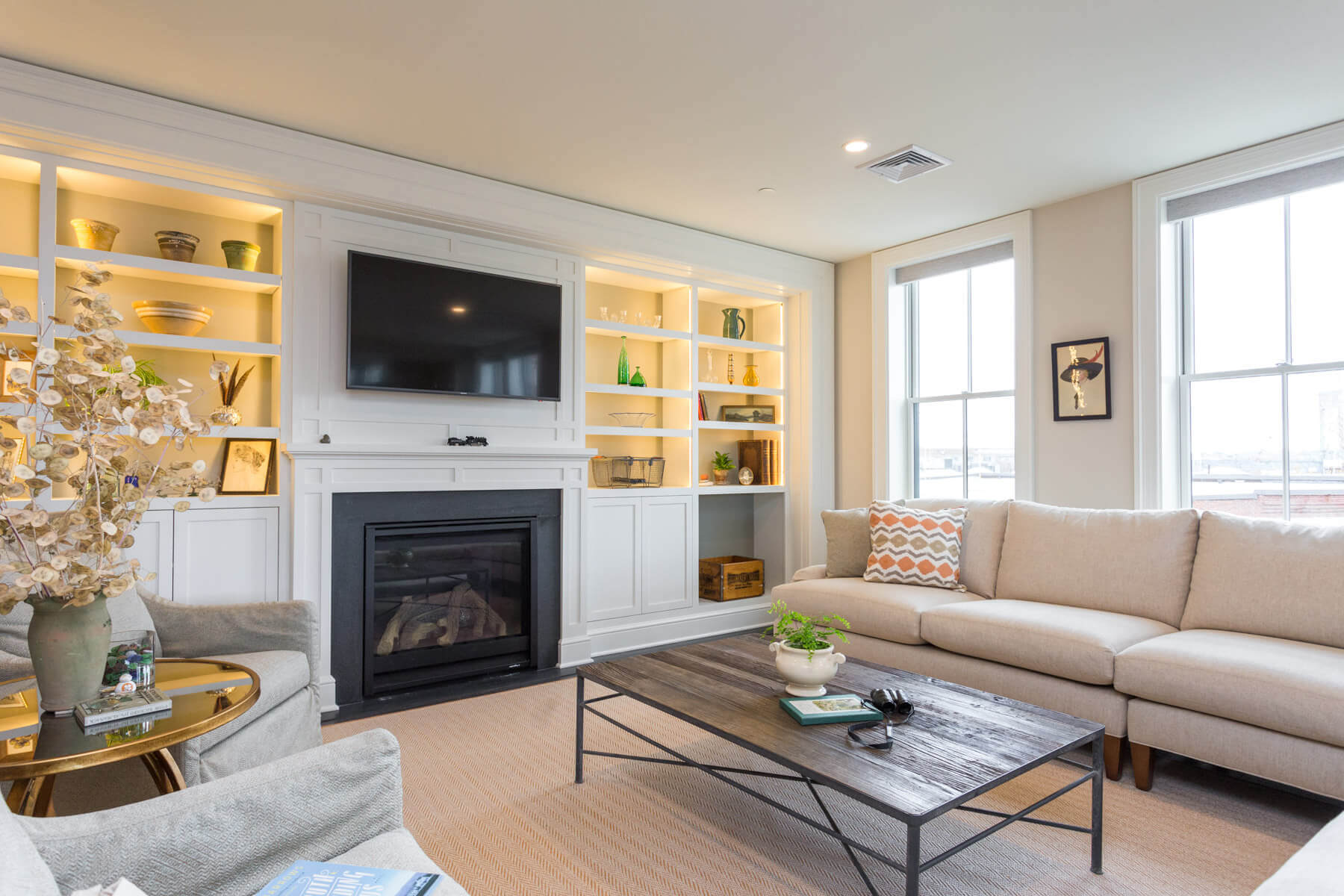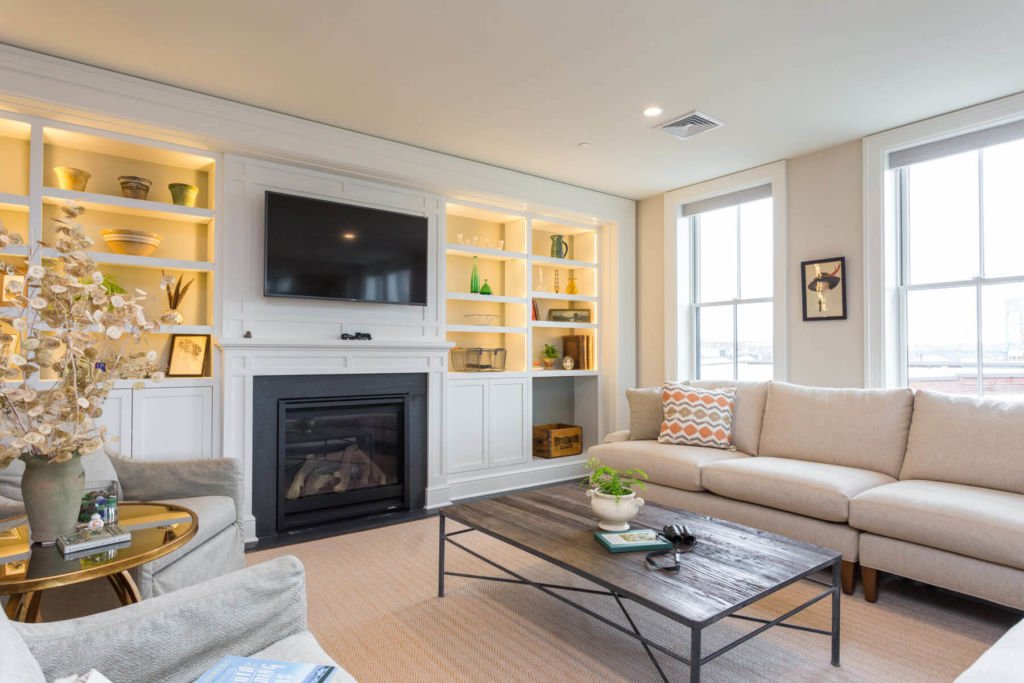 1. Multifunctional rooms and furniture.
You can transform — literally — any room into a home office. In fact, HGTV includes tips for each — even the bathroom (but we hope that's a last resort!). What are the two rooms where you're probably losing valuable space? Closets and basements. These spaces often appear filled to the brim, but reimagining them with closet organization pieces or basement storage ideas open up plenty of possibilities.
2. Statement pieces.
Furniture isn't supposed to be fully coordinated. In 2021, you'll see many interior designers drawing attention to a focal point in the room like oversized art, an antique piece or a velvet sofa in a vibrant hue to add style, cheer and charm to the space.
3. Creative storage solutions.
As you make room for desks, printers and free weights, don't let precious space go to waste! For example, take that precarious pile of blankets teetering in the corner and tuck them away in a storage ottoman.
4. Tranquil colors, patterns and textures.
We all want to become a little more grounded in 2021. Grays and beachy colors are still in (boho chic fans, don't fret!). That color palette is expanding to encompass more neutrals, earth tones and even moody mineral shades like deep emerald greens and indigo blues.
In fact, the 2021 colors have been released! This year, we'll see a lot of:
In addition to these gorgeous colors, wallpaper is back in style! To add personality to spaces like powder rooms and laundry rooms, textured wall coverings add unique depth and dimension.
Décor and Accents You'll Love
Speaking of wallpaper's comeback, light wood tones are also making a notable return. This year's décor and accent styles have gravitated toward natural materials that enhance human connection to nature.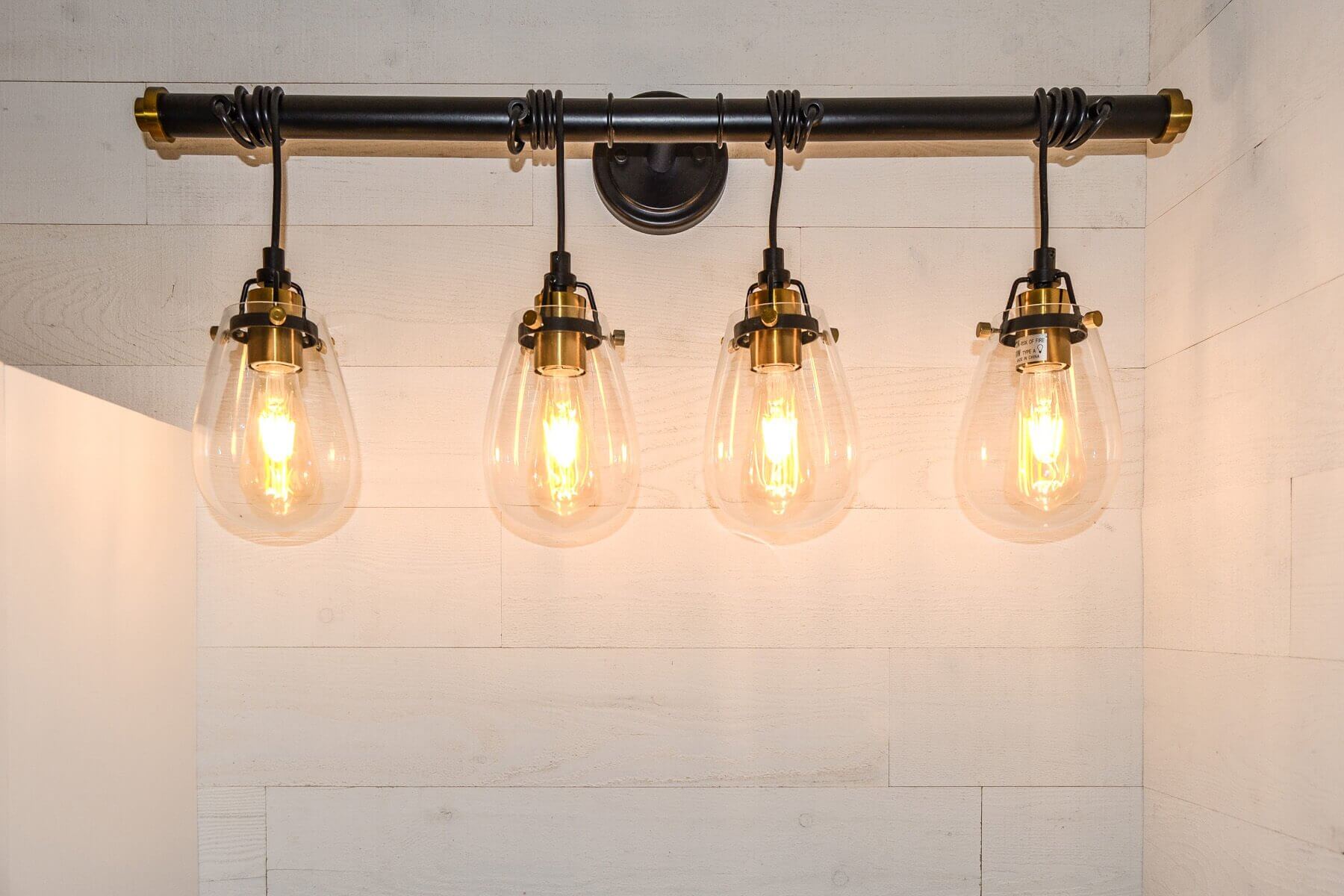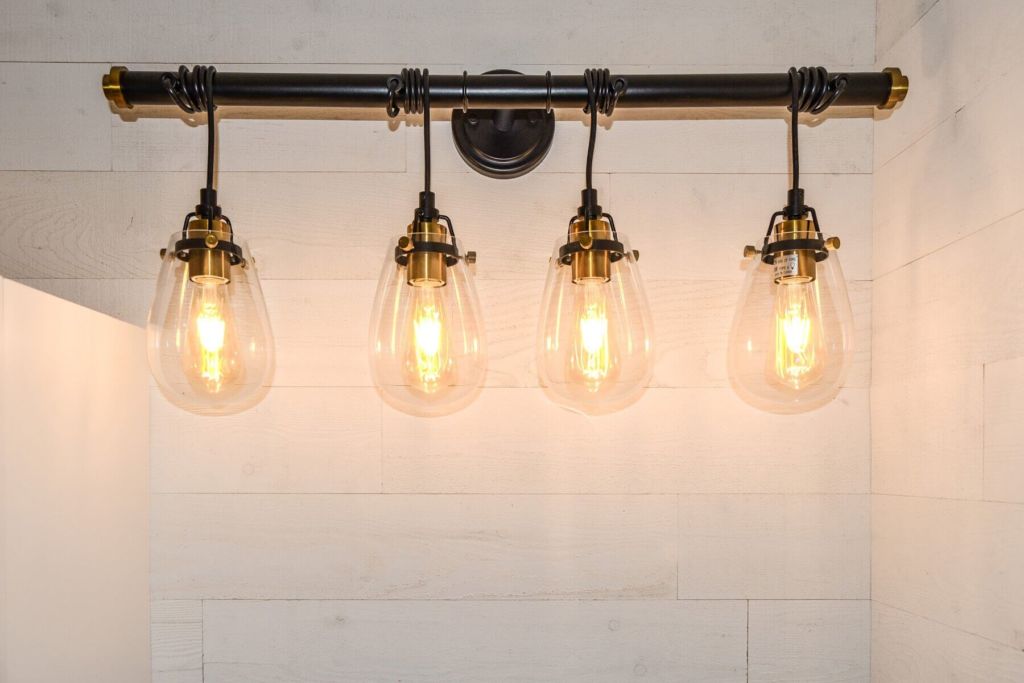 This blend of old and new incorporates mid-century modern furniture with earthy materials and accent pieces. Free-standing tubs in master bathrooms and oversized butcher blocks in the kitchen are two notable trends. The softer, rustic pieces perfectly complement the sleek lines of modern style.
Combines metal accents and mixed materials with streamlined design. Even if your home doesn't have the classic high ceilings and exposed beams, you can achieve this style with no-nonsense décor. Leathered granite helps create a unique matte appearance and draws attention to the contours and colors of your countertops.
This interior design style blends modern elements with character and showcases natural materials like wood beams, stone and clay. Rattan furnishings are wicker pieces that shouldn't be contained to the patio — they add a comfortable and stylish texture inside, too! Oversized pieces add a natural, airy feel and important dimension to indoor spaces.
The accent pieces and décor are important (and fun) finishing touches to reimagine each room. This year, we'll see a lot of:
Artsy, crafty pieces with an emphasis on handmade details
Layers of vintage, repurposed, salvaged and retro elements
Organic and tactile textures, including handmade tiles and handwoven, natural pieces
Brass hardware and lighting
Indoor plants
Room-specific Trends
Since many households participated in social distancing, baking, crafting and home projects have become popular pastimes. Multifunctional rooms certainly aren't the only room-specific trend that 2020 inspired! As people spend more time at home, there's renewed inspiration to reimagine and revitalize the home.

Kitchens
As people go out to eat less and cook more, they're more inclined to give their kitchens the facelift they've always wanted. The oversized islands of 2020 have continued to gain traction. And where two-toned kitchens were once a popular trend, in 2021, we now have three-toned kitchens.
So how can you achieve this look? Mixing natural wood elements with painted cabinets adds character and warmth to the space. Contrast two-toned painted perimeter cabinets with stained island cabinets, natural wood shelves, butcherblock counter tops or a custom range hood with natural wood tones.
We have to add that, although butcherblock islands are beautiful, they also function as a cutting surface and will patina, adding character over time. Similarly, open wood accent shelves create a visual break from the repetition of traditional wall cabinets. In addition to the warmth of natural wood, they function as an excellent place for heavy-use items like storage jars or plates.

Bedrooms
The same multifunctional and added storage trends overlap in the bedroom. Multipurpose furniture such as consoles, beds or ottomans with storage inside or underneath help free up space and declutter your room. Natural, sustainable bedding and mattresses are also becoming all the rage. As focus shifts to elevate the environment, choosing a mattress that helps reduce your carbon footprint is definitely in vogue.

Living Rooms
As living rooms take on many different shapes, becoming home gyms and offices, there's certainly the desire to maximize space. However, an older trend is coming back to life in 2021: house plants. Plants are an excellent way to provide pops of color and texture, and even promote healthy oxygenation in the room. Don't fret if you lack a green thumb, there are plenty of easy-keeping plants that will help brighten up this space.

Powder Rooms & Laundry Rooms
Remember when we mentioned wallpaper's comeback? These spaces are where we're seeing bold patterned wallpaper, textured wallpaper and bold accent colors. Even if you don't have the time or budget to completely renovate one of these spaces, a fresh coat of unique paint or wallpaper creates a brand-new look.
Revitalizing Your Home
Even if you don't have a large budget to incorporate the different trends and décor above, we have one tip for you: Maximize your window size to bring in natural light. You can accomplish this in four ways: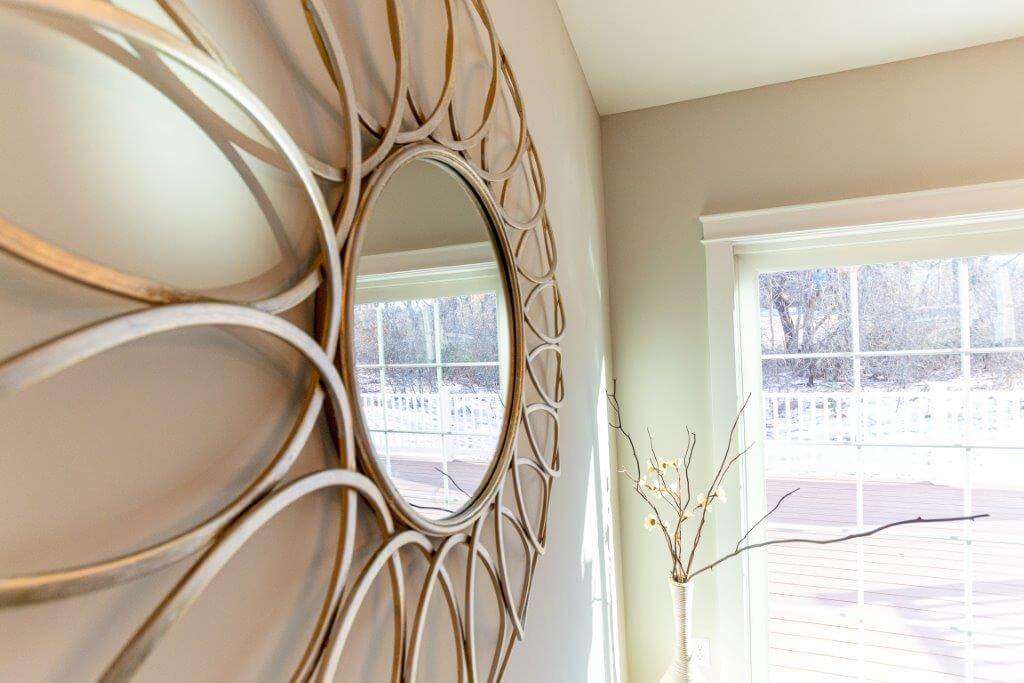 1. Window Placement
If you can, choose your window placement based on the view and available natural light.
2. Window Treatments
Select an option that enhances the view and allows dappled light to come through; this adds texture and layers of light. We suggest mounting window treatments inside your window frame to allow the trim to be visible.
3. Curtains
Long curtains can create the illusion of taller ceilings and add a nice design accent. We suggest mounting curtain rods at least halfway between the top of your window frame and the ceiling. The rod should be wide enough that when the curtains are open, the inner edges just cover the window frame, but not the glass.
4. Accent Mirrors
Adding these pieces reflects the view of the outside and helps bounce natural light around the room to make it feel even more open.
The year 2021 is all about a balance of form and function. As you reimagine spaces in your home, think about the day-to-day activities and routines happening there, and choose furniture and finishes that support and enhance these activities. This creates a beautiful, high-functioning space in which you'll enjoy spending time.