The key to custom home design is simple–make your home all your own.
Whether it is selecting appliances that will look best in the kitchen of your new home, or choosing what type of fixtures you want in your recently remodeled bathroom, the process of custom home design can and should be an entirely personal experience.

In this first edition of "Keys to Custom Home Design," we examine the importance of appliances, specifically:
a) How to select the right ones for you custom home project
b) How to properly integrate them within your custom home design
First and foremost: Choosing the right appliances for your new home should be an exciting experience. With so many ideas out there, a homeowner can have a field day selecting new appliances and trying to blend them within a new home.
But, before you going on that buying spree, take a second to consider the purchase you're about to make and whether it makes sense. Here are some buying tips—broken out by appliance type—that should help in your custom home design project:
Refrigerator
– Do you want a top freezer or bottom freezer?
– Do you want side-by-side doors or top and bottom?
– Do you want a water/ice dispenser?
– Is energy efficiency important to you?
Dishwasher
– How big or small do you want it?
– Do you need extras, like "forced-air mode" or "delay-start option"?
– Do you need multiple cycles and modes?
Range
– Do you want a freestanding, slide-in, or drop-in range?
– Do you want an electric coil cooktop or smooth top, a gas cooktop or modular cooktop?
– Are you an avid cook who needs a professional range?
– Do you need a warming drawer?
These are just a few examples of what to look for in the most common home appliances. Now let's talk about how to properly ensure your dream appliance will fit in with your custom home design project.
Having a solid design plan prior to purchasing an appliance is vital–and the last thing you want is to find out that the expensive refrigerator you purchased just won't work or that pricey stove just doesn't fit.
Here are a few questions to consider when looking at how an appliance can fit or not fit within a custom home design project:
– Will my appliance fit within my cabinetry layout?
– Do I go with stainless steel or something else?
– Is my appliance too big and will it look out of place?
It cannot be overstated how important it will be to have a firm design plan when looking at appliances. Don't be one of the many examples of custom home design mistakes.
Chinburg Properties offers a Design Center that can make this process that much easier and enjoyable. The design center experience includes meeting with our knowledgeable and experienced selections coordinators about the latest and most popular appliances including refrigerators, ovens, ranges, washers, dryers and so on. Contact us today!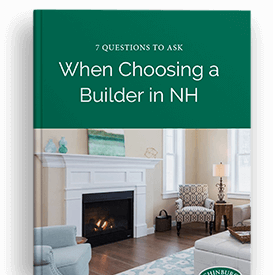 What You Need To Know Before Selecting a Builder
You're only 7 questions away from choosing the right builder for your home.
Download the Guide