The ever-changing seasons and natural beauty of New England have historically provided inspiration for artists both near and far. From the pristine, snowy winters to beautiful summer sunsets by the coast, the region is a treasure trove of subjects for creatives.
Adding pieces of New England art to your walls can lend your home some unique, local character. From landscape paintings to handmade sculptures, artwork can bring tasteful charm to any room. We're sharing some of the New England artists to know and highlighting galleries on the Seacoast that feature the work of talented local creatives.
But first, let's look back at some of the famous artists to come out of New England.
New England & Art: A Love Story
New England has long been a hotspot for famous artists in pursuit of creative inspiration. Here are some of the most well-known artists to come out of New England:
Andrew Wyeth
Andrew Wyeth was talented realist painter with a knack for recreating the beautiful New England landscapes and the people who inhabited them. His most famous painting, Christina's World (1948) is currently in the Museum of Modern Art in New York City.
Dahlov Ipcar
Dahlov Ipcar was born in Windsor, Vermont but grew up in New York City. To escape city life, she spent her summers on the coast of Maine, where she fostered a strong connection to nature and wildlife. "I think painting keeps me alive," Ipcar said in 2015. She was an active painter and illustrator until she passed away in 2017 at the age of 99.
Edward Hopper
Edward Hopper is considered by many to be the most important realist painter of the twentieth century. His best work includes paintings from beachy New England towns on Cape Cod. It was Hopper's frequent use of lighthouses in his paintings that cultivated them as enduring American icons.
James Whistler
James Whistler was a native of Lowell, Massachusetts who took his talents across the world. His work captured the parallel between painting and music, emphasizing tonal harmony. His signature took the shape of a stylized butterfly with a long stinger for a tail. He produced Whistler's Mother in 1871 as a homage to his pious mother. The work is presently housed in the Musee d'Oray in Paris.
Nan Goldin
Nan Goldin is a photographer known for her intimate images that celebrate "alternative" lifestyles. She grew up in Boston, Massachusetts, where she began taking photographs as a teenager in an effort to document the LGBTQ community. As student at the School of the Museum of Fine Arts in Boston, she began creating her most well-known project, The Ballad of Sexual Dependency. This work was presented as a forty-minute slideshow and included seven hundred intimate portraits of her close friends.
Norman Rockwell
A New York native, Normal Rockwell painted his very first commission at the age of fifteen. After moving to Arlington, Vermont in 1939, his work began to reflect small-town American life. Rockwell used his art to shape society for the better. The Norman Rockwell Museum in Stockbridge, MA is dedicated to preserving his legacy of American illustration.
Richard Scarry
Richard Scarry was born in Boston, Massachusetts in 1919. He served as a lieutenant in the Second World War before pivoting to a career in commercial art in New York. He is known for his ingenious children's book illustrations, and for possessing the unique ability to see the world from a child's point of view. Scarry's son, Huck, carries out his father's legacy to this day by writing and illustrating books that use his father's endearing characters.
Winslow Homer
Winslow Homer was a self-taught artist born and raised in Cambridge,
Massachusetts. He is recognized as one of the foremost painters of the nineteenth century, starting as a commercial illustrator and eventually taking up oil painting and watercolor. His largest and most famous work, The Fox Hunt, depicts a flock of starving crows descending on a fox slowed by deep New England winter snow.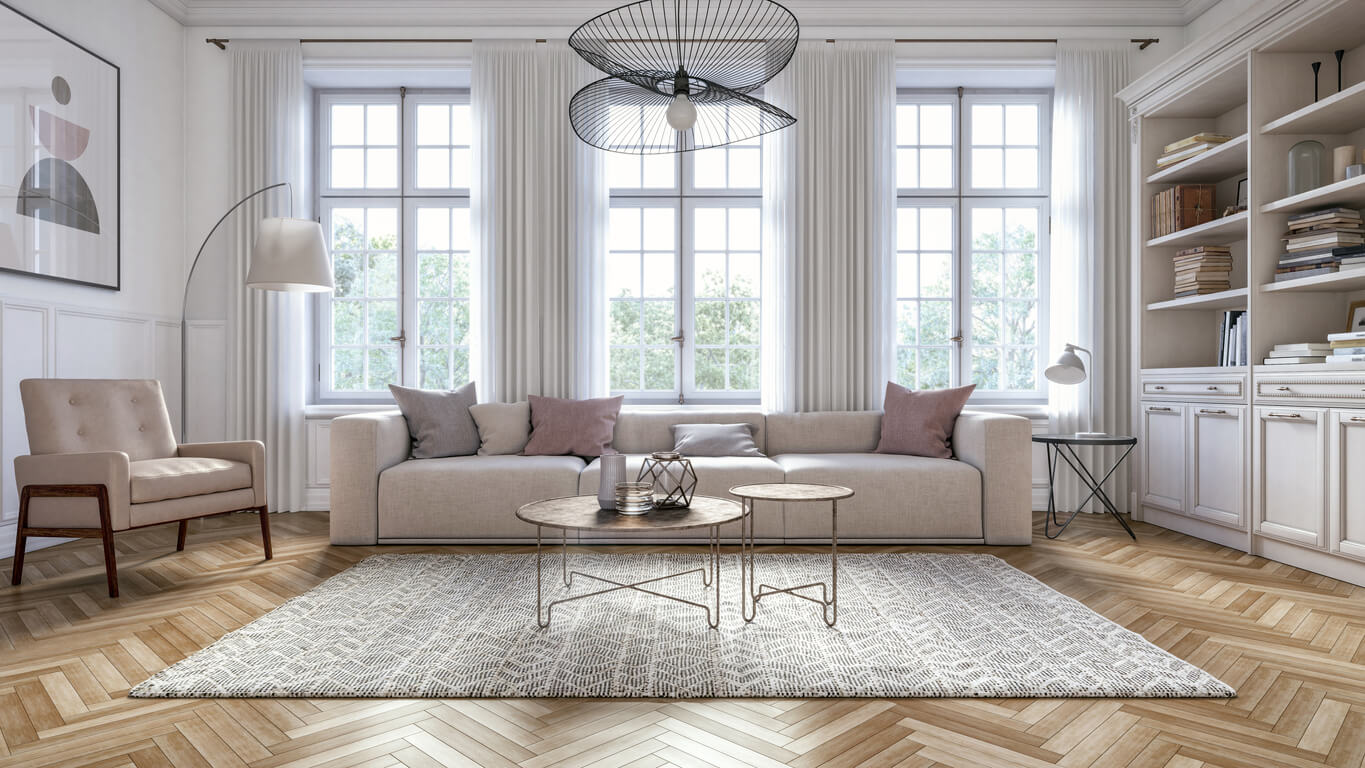 12 Contemporary New England Artists to Know
New England is home to thousands of artists with styles ranging from contemporary art to historic craft. We want to share with you some of the established and up-and-coming artists working and selling in New England today.
Alan Bull | Newburyport, MA
Alan Bull is a teacher and illustrator originally from Old Town, Maine. From seascapes and nautical paintings to nocturnes and landscapes, Bull's ability to capture the natural beauty of New England is unmatched. His paintings have appeared in many publications, including The Boston Globe.
Ali Chabot | Cambridge, MA
Ali Chabot started "My Home Plate Design" business after accidentally breaking a plate from her childhood. She turned the broken pieces into the shape of the state of Rhode Island to send to her brother as a little reminder of home. Now, she creates custom home plates of any place that you call home on various stained wood backdrops.
Chris Firger | Portsmouth, NH & Boston, MA
Chris Firger is an impressionist landscape painter with a passion for the outdoors. He emphasizes color, contrast and composition to share his own experiences with viewers. His work can be found in galleries and private collections, including Nahcotta in Portsmouth, New Hampshire and the Copley Society of Art in Boston.
Christina Keith | Prior Lake, MN
Christina is a multidisciplinary artist and educator based just south of Minneapolis (a non-New England exception to this list). Surrounded by lakes and trees, she is inspired by a variety of landscapes, seascapes and utilitarian structures. Her work is featured at Nahcotta in Portsmouth, New Hampshire.
Colin Berry | New Hampshire
Colin Berry is a contemporary realist painter out of New Hampshire. Growing up on the Seacoast, the ocean has always been part of his artistry. He views his paintings as water symphonies that have a "dreamlike, ethereal quality."
David Morgan | Bath, ME
David Morgan is a printmaker with a knack for woodwork. His passion for the "alchemy of printmaking" led him to pursue his artwork full time. You can purchase his prints online or in his studio located in Bath, Maine.
Don Gorvett | Portsmouth, NH & Gloucester, MA
Don Gorvett creates woodcuts that "express the abstract geometric shapes and distant configurations of Northeast architecture." He uses the seaside and harbors as the foundations of his work, with reduction woodcut naturally fitting the maritime rusticity of New England's harbor towns.
Kathleen Buchanan | Rockland, ME
An avid scientist turned artist and printmaker, Kathleen Buchanan finds inspiration right from her home on the coast of Maine. She is fascinated by relationships and enjoys viewing landscapes and their inhabitants as metaphors for the human experience. Her prints are available for purchase online or in various galleries throughout Maine, New Hampshire and Massachusetts.
Mary Bourke | Maine
Mary Bourke is based in midcoast Maine. Her work often reflects the natural world through landscape or animals, and her paintings are well-known for celebrating everyday places that resonate with everyone. Bourke reflects on her own work: "I am just trying to create something beautiful for people in a time when there is quite a lot of darkness."
Michael Updike | Newbury, MA
Michael Updike is a sculptor, artist and designer who works out of his home in Newbury, Massachusetts. He creates works of art in stone, with no two pieces ever being exactly alike. His most common underlying themes are drawn from nature, with the most prominent being the ocean and air.
Rhonda Besaw | Whitefield, NH
Rhonda Besaw creates beadwork in the same style and manner as her Wabanaki ancestors did. The artist says, "To me, beading is breathing. It is that natural and essential. Just as breathing keeps the physical body alive, beadwork keeps my spirit alive." Her traditional and contemporary beadwork designs are available on Etsy, or you can place a custom order directly through her site.
Eric MacDonald | Portsmouth, NH
Eric MacDonald is one of our favorite local Portsmouth artists. Many of his oils feature the iconic bridges between Portsmouth and Kittery, during day and night in all kinds of weather. In his own words, "My art explores the problem of expressing a subject comprised of infinite variance into the simplest language of shape, value and edges.  I find beauty in efficiency and strive to communicate as much as information in my art as possible without over-explaining my subject through unnecessary brush strokes or marks." Eric can be found in his studio at the Button Factory in Portsmouth.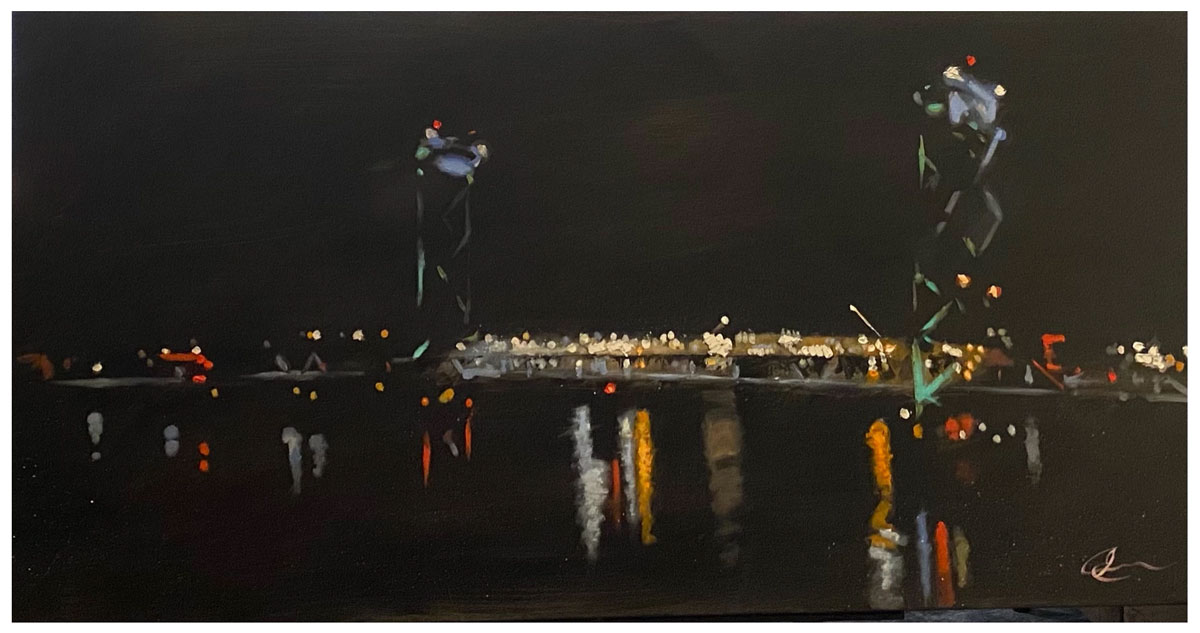 Seacoast Art Galleries to Explore
There are two things we love that go hand in hand: supporting local artists and curating our collections with local galleries! Visit these galleries and antique shops in New Hampshire to see a variety of work from some of the most talented visionaries in New England.
These are a just a few of the many galleries that can be found in the region. You can while away an afternoon or entire season visiting local galleries and getting to know the landscape of the local art world.
3S Artspace | Porsmouth, NH
3S Artspace is a nonprofit contemporary arts organization with a mission to create a space at the intersection of art and contemporary issues. Located in downtown Portsmouth, you can find this gallery right next to their restaurant partner, Barrio! Private gallery visits can be reserved on weekends, or you can view their virtual gallery.
Art Up Front Street | Exeter, NH
The talented artists of Art Up Front Street create, exhibit and sell their work right from the gallery! They produce in an array of art forms but remain dedicated to a style that is abstract and out-of-the-box. The gallery hosts two major events each year during the first weekends of May and November, respectively. They also host figure drawing nights, classes and demos year-round.
Don Gorvett's Pisquataqua Fine Arts Gallery & Studio | Portsmouth, NH & Gloucester, MA
The newly renamed Don Gorvett Gallery on Market Street in downtown Portsmouth, NH features original woodcuts, drawing and paintings from Gorvett himself. The gallery is open for viewing daily or an appointment can be arranged.
Additionally, the Don Gorvett Studio & Gallery is located on the second-floor loft at the Beacon Marine Basin in Gloucester, MA. This studio exhibits the work of Gorvett and many other talented artists.
Nahcotta | Portsmouth, NH
Nahcotta is vibrant space nestled on Congress Street in downtown Portsmouth that features an array of works from artists around the world. A staple of this gallery is the "Enormous Tiny Art Show," in which hundreds of pieces of artwork are shown from multiple different artists every month. Aside from selling art, they also hold events and carry gifts and art supplies. Shop in-store by appointment or order online and pickup your purchase for free!
New Hampshire Art Association | Portsmouth, NH
The New Hampshire Art Association (NHAA) has supported local art for over eighty years by featuring works from regional artists. They have nearly three hundred artist members, ranging from painters and photographers to printmakers, sculptors and textile artists. NHAA hosts monthly exhibits that feature the largest selection of original artwork from local artists on the Seacoast.
The Art Center | Dover, NH
Located in the Washington Street Mill is an innovative and collaborative space with studios for up to twelve local artists, as well as a gallery and retail shop. Performances, workshops and classes are offered as well.
Wrong Brain | Dover, NH
As an after-school art club, Wrong Brain was established to stand for underrepresented and marginalized voices. They promote atypical artists of all mediums on the Seacoast through publications, multimedia events, exhibitions, discussions and community projects. Wrong Brain is entirely run by volunteers and relies on donations and fundraising to operate. They host a variety of events at their headquarters in Dover, NH that can be attended for as little as a five-dollar donation!
Summer House Furnishings | Rye, NH
The owners of the Summer House curate local art to pair with the décor sold in this home furnishings store. Find your new favorite pieces and get tips for pairing your art work with the rest of your home's interior design.
Finding the right piece of local art for your home will add a spark of life to any space. Talented artists who tap into the New England environment for inspiration provide endless design options for your home.
Contact us to learn how you can leverage our expertise to create a home that is a true reflection of New England!
Before You Start to Build…
Make sure you're prepared for the many decisions you'll have to make. This ebook will guide you through the do's and don'ts of custom home building.
Get the eBook