Experts Expect New Home Construction to Gain Strength in 2015.
New home construction is expected to pick up in the new year. This bounce in new home construction will come about thanks to what many expect to be a flurry of first time homebuyers hitting the market.
With over 20 years of experience in construction in both New Hampshire and Maine, we at Chinburg Properties are starting to see this demographic trend. Our expertise in new home construction tells us that there are many reasons to remain optimistic for 2015. This optimism comes in part to what we're seeing locally, as well as nationally, but also because of what some of the leaders in new home construction are saying.
Here is what others are forecasting for 2015:
Realtor.com eyes modest sales growth
Realtor.com chief economist Jonathan Smoke predicted in early December that new home sales will increase by 25% in 2015—which is a substantial uptick from the 440,000 figure for 2014.
Smoke not only attributes the growth to an increase in first time homebuyers and entry-level buyers, but also because of a new approach some builders are taking toward new home construction. According to Smoke, more builders are starting to construct a larger volume of less-expensive housing. The growth will be modest because, as Smoke states, builders "simply don't have the capacity to handle such an increase in just a year."
NAHB believes building will boom 
The National Association of Home Builders (NAHB) is forecasting new home construction for single-family housing will pick up pace in 2015, while multi-family building will remain relatively the same. According to a recent forecast, NAHB expects building will increase 26% next year to 802,000.
The optimism from the NAHB stems from a combination of the growing economy, low mortgage rates and pent-up demand.
NAR sees "stratospheric" gains in 2015
Lawrence Yun, the National Association of Realtor's chief economist, believes home sales will gain significant momentum in the New Year. Yun predicts that sales of newly built single-family homes will surge by 41% to 624,000.
"We believe that builders will have to build more, and they will build more," said Yun.
As these experts predict, there are good reasons to remain optimistic about new home construction in 2015. We're confident things will continue to look bright in New Hampshire and Maine quality new homes.
At Chinburg, we take our reputation as a new homebuilder very seriously. We pride ourselves in building distinct, high-quality properties. Contact us today to learn more about our expertise in new home construction, as well as our reputation as a green homebuilder.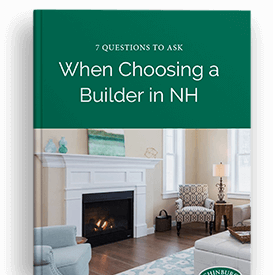 What You Need To Know Before Selecting a Builder
You're only 7 questions away from choosing the right builder for your home.
Download the Guide