The NH commercial real estate market is beginning to gain strength, thanks to what many experts consider to be a healthy labor market and an economy that is slowly pulling itself out of a post-recession slump.
The positive New Hampshire commercial real estate forecast follows a growing national trend highlighted in a recent report from the National Association of Realtors (NAR), which is America's largest trade association focused on all aspects of the residential and commercial real estate industries.
"The demand for leases and new construction projects is expected to slowly climb as businesses add to their payrolls and consumers reap the benefits of cheaper gas and any accompanying wage growth from a tighter labor market," said NAR Chief Economist Lawrence Yun. Yun expects commercial real estate activity to remain steady heading into the spring.
NH Commercial Real Estate Gaining Strength: More and More Companies Eyeing the Market
Just like the national outlook, a forecast for the NH commercial real estate market in New Hampshire also appears strong—particularly in the Seacoast region.
CBRE/New England, a commercial real estate services company with an office in Portsmouth, released a 2015 Market Outlook earlier this year indicating the Seacoast commercial real estate rental—particularly office space—is "strong and healthy."
The report, which covers the office and industrial/manufacturing markets, notes Portsmouth "has turned the corner, moving past the recovery stages from the effects of the 2008-2011 recession years." And because the commercial real estate market in Portsmouth is in such high demand, the report notes outlying communities will begin to reap the benefits.
But despite the pent up demand, the CBRE report cites various new commercial building projects on the Seacoast as potentially helping alleviate the crunch. This will give more options to companies that are considering moving to the region.
One of the projects cited in the report includes 233 Vaughan Street in Portsmouth, which is a unique development in the city's Northern Tier that includes 9,000 sq. ft. of first-floor commercial space. 233 Vaughan Street is unique within the Chinburg portfolio in that businesses can purchase their own space in downtown Portsmouth under the condominium form of ownership.
This development is one of several commercial real estate projects from Chinburg Properties, a leader in creating rental opportunities for all types of commercial space—such as Class A office, artist studios, food production, restaurants and manufacturing.
Each commercial property created and managed by Chinburg has its own culture, community feel and specific amenities including the architecture of the building, other complementary businesses, parking, location, loading docks and accessibility.
If your company is in need of commercial real estate and can't seem to find the right fit, be sure to contact us to learn more about our various commercial rental opportunities all throughout New Hampshire, Maine and Massachusetts.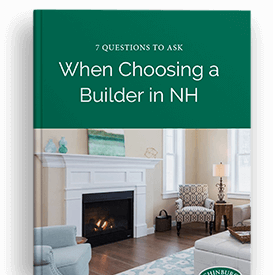 What You Need To Know Before Selecting a Builder
You're only 7 questions away from choosing the right builder for your home.
Download the Guide