We're excited to announce the development of a major renovation project involving the historic Saco Mills in Saco, Maine.
This newsworthy project involves total refurbishment of Saco Island's "Building No.4" into a mixed-use property complete with residential and commercial space.
We'd like to share some of the most up-to-date details.
What Is Coming with Saco's Largest Redevelopment Project: Saco Mills
Project History
Built in the 1880s, this historical mill space situated at the gateway into Saco was originally designed for manufacturing textiles. It housed many other businesses over the years before being abandoned in the early 1980s.
Since then, the massive property has remained vacant for more than 30 years—and is considered by many locals to be an eyesore due to its gaping vacancy.
In 2014, Chinburg's development group acquired the 225,000 square-foot property, and has since worked diligently with the local planning boards to gain all approvals needed to move forward with this massive property revitalization.
Today, local leaders and elected officials celebrate the upcoming changes that the mill project will bring.
"This is a new day for what will be Saco's biggest development project, and I'm happy that it will finally get to the finish line."
– Saco Mayor Donald Pilon
What to Expect at Saco Mills
This vacant mill property will eventually be transformed into a modern complex complete with retail and living spaces—not to mention various other innovative amenities for tenants.
Here's what we have so far:
• 150 +/- apartments (1 and 2 bedrooms on upper floors)
• 40,000 square-feet of commercial space (lower floors)
• Bike storage
• Fitness room
• Hospitality Wi-Fi
• Club room
• Creative nesting areas
The property is also perfectly situated within walking distance to much of downtown Saco, meaning residents and business tenants will have access to enhanced walkability and proximity to other attractions, including an easy commute by foot to the Amtrak transportation station.
Preserving History
While the Saco community should expect some major changes at the mill property, Chinburg Properties is committed to maintaining its historic charm. Rather than strip the property down to the bone, the plan calls for accentuating the character of the mill—most notably, its exposed brick and beams.
Similar to the Newmarket Mills restoration project that Chinburg completed in New Hampshire in 2012, the Saco Mill will be a breath of fresh air for the community it will serve.
With 15 completed mill projects throughout New Hampshire and Massachusetts, it remains the ultimate goal to preserve the history of any property we restore and transform them into vibrant and attractive places to live and work.
Project Timeline
The construction cycle for the mixed-use Saco Mill project is expected to be 14-16 months, meaning tenants and residents could be ready to move in by sometime in early 2016.
The Chinburg Properties management office will be handling leasing opportunities. Contact us today at (603) 749-3355 for more information, or sign up for our News & Tips in the sidebar to get the latest information delivered directly to your inbox.
And don't forget, you can also always view more of our residential mill space to get a sense for what mill living is like. Or, if you're a business, check out our commercial mill spaces for rent to see how we work to best serve the growing needs of other operations.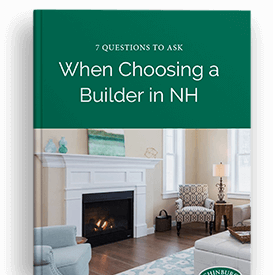 What You Need To Know Before Selecting a Builder
You're only 7 questions away from choosing the right builder for your home.
Download the Guide