Your Guide to Reading Floor Plans
It's happening — you're looking to build your own home! It's certainly an exciting endeavor, and one of the most important aspects of a new build are the floor plans, which show you all the details and measurements within your new space.
But if you aren't familiar with them, floor plans can seem overwhelming and hard to understand. Don't worry — that's where we come in. In this guide, we explain everything you need to know: what floor plans are (and aren't), common symbols and features, what to keep in mind when reviewing them and much more.
What is a Floor Plan — And Why It Is Important?
Simply put, a floor plan is a scaled two-dimensional diagram of a space — a room, floor, house or building — as seen from above in this Wendy Welton ArtForm Architecture Plan.
A floor plan shows you every space within a home: bedrooms, bathrooms, living and dining rooms, the kitchen, basement, stairs, etc. The plan may also indicate whether there is a deck, porch, garage or additional storage.
Each space will also be appropriately labeled (for example: "Master Bedroom," "Study/Bedroom 1" or "Balcony), and in most cases, a floor plan will include the measurements of each space.
It's important to remember that a floor plan shouldn't be confused with a site plan, which includes the location, orientation of the structure, boundaries and site features such as trees, landscaping, etc. or construction plan that details out all of the materials and elements needed by the project manager.
So why is a floor plan so important? It allows you to understand and visualize the home and how the spaces interact and flow. It also provides an accurate depiction of your new home to scale, so if something doesn't look right or needs a modification, you can often catch it on your floor plan and make the appropriate changes before construction begins. However, it's important to be aware of common mistakes that can be made when creating a floor plan, such as poor room placement or lack of natural light, which can have a significant impact on the overall functionality and comfort of your home.
Additional Items That Come With Your Floor Plan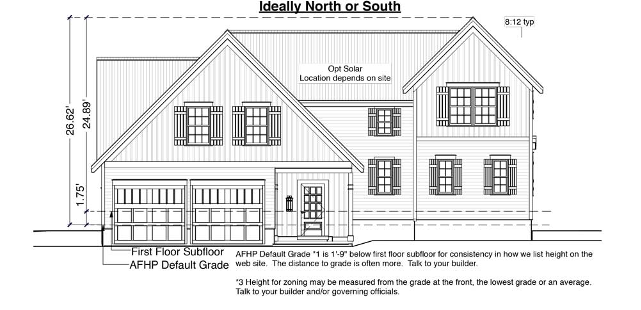 A floor plan is usually part of a larger set of plans, including the construction plans, which include the following:
Exterior elevation drawings typically show you what the house looks like from the outside.
Foundation and basement plans indicate the type of foundation, dimensions and the location of footings.
Building sections and details
Roofing information that's needed for construction, such as type, pitch and framing.
Electrical plans show the locations of all outlets, switches and fixtures.
General notes may include any other important information that doesn't fall into one of the aforementioned categories.
Common Symbols and Features on Floor Plans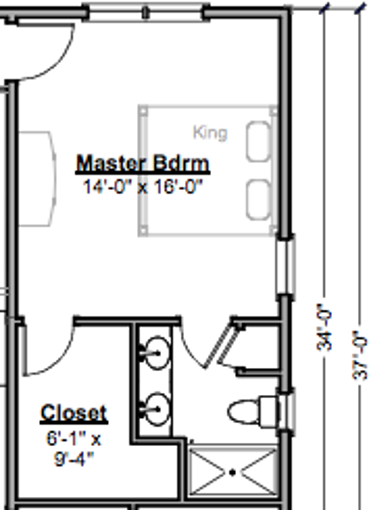 This example is from the Parker, which shows the master suite. The room dimensions are noted, and you can see how the door swings, how the space can fit a king-sized bed, the size of the closet, and the bathroom with a double vanity and linen closet. You can also see the placement of the windows.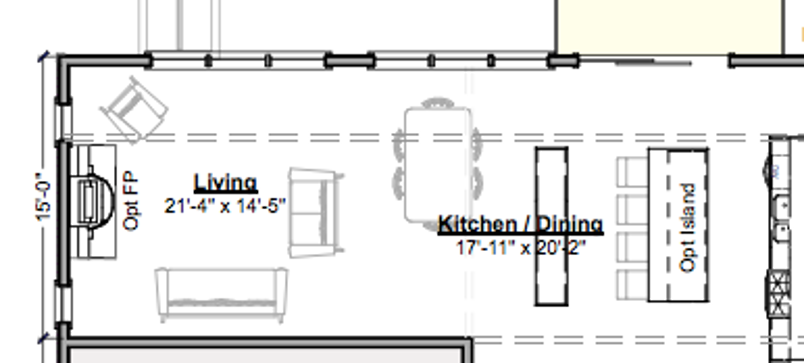 In this other example from the Parker you can see examples of an optional fireplace, and an optional island, a half wall, and the dimensions of each space to help with furniture planning and layout, including the windows and the sliding door to the deck space.
Many other elements are noted on the floor plans and some will be more further detailed in the actual construction drawings. The more you are educated about the terminology, the more you can be sure that what you think you see will be translated into what you expect the finished features will look like.
Other elements of the plan to consider:
Types of walls: Exterior and interior and possibly whether a wall is load-bearing
Types of windows: Sliding, swinging, skylights, etc.
Types of doors: Flush, panel, sliding, French, etc. Also includes exterior and garage doors
Other common symbols on the floor plan include:
Stairs
Closets
Washer/dryer
Stovetop
Kitchen Cabinet Layout
You may also see something called "open to below, " which indicates the space doesn't have a floor but has an entryway or great room with extra high ceilings.
Understanding Measurements and Scale
As is the case with many scaled drawings, your floor plan may include a legend, even though in most cases, the dimensions will be listed within each room or space in feet and inches. Here are a few other important considerations to keep in mind:
Room dimensions are presented in width by length
The scale of most floor plans is usually 1/4" or 1/8" inch, meaning that every 1/4 or 1/8 = one foot — but it's always important to double-check!
Things to Consider When Reviewing Floor Plans
Your floor plan should depict a home that fits your lifestyle, so here are some important questions to keep in mind:
Are you looking for a single-story or multi-story home?
Do you prefer an open floor plan or individual rooms that are sectioned off with partitions or walls?
Does the home depicted in the floor plan fit your budget?
Does the floor plan offer any room for future expansion?
We also recommend measuring your existing furniture before deciding on a home size. Will your sofa, chairs and kitchen table set fit comfortably in your new space? If you're looking for more room, now's the time to add it to your floor plan.
Safety is another component that may be overlooked, which is especially important if you have children or you're thinking about expanding your family in the future.
"Safety should come first and many floor plan amenities such as balconies, stairs that don't have railings, expansive glass shower enclosures and other features may look great for adults but may need to be modified for families with small children," according to MYMOVE.
Finally, it's important to remember that if you aren't sure about a floor plan symbol, or how something looks or is spaced, just ask. Your builder should be more than happy to answer any of your questions.
Tips on Experiencing Your Floor Plan and Visualizing Each Room
It's one thing to look at your floor plans, but how can you actually visualize the space? Here are some helpful tips:
Bring out the tape measure. This is probably one of the easiest methods. Compare a space on your floor plan to a room in your current home.
Visit a model home. This isn't possible for everyone, of course, but if you're able, pop in to a model home with a floor plan that's similar to yours. It will help you get a feel for the look, design and space of your floor plan.
Go digital. In some cases, you may have access to video footage that shows the inside of a home with a similar floor plan. There are even some software programs that will convert a 2D floor plan into a 3D image.
Visualize your new space. Close your eyes and take a mental stroll through each space in your floor plan. Think about common events or experiences and visualize how these might look. This could include:

Walking in through the front door or garage
Waking up in the morning
Getting ready for your day
Making dinner in the kitchen
Hanging out with family and friends
Doing household chores or maintenance, such as laundry
Customize Your Home with a Chinburg Featured Floor Plan
Chinburg Properties has collected, curated and built an extensive library of featured floor plans over the past 30 years, and most can be customized to create an ideal fit for your lifestyle. For more information, contact Chinburg Properties. We're happy to answer your questions and help you choose the right floor plan for your new home!