Don't choose a new home builder until you read our free guide: 7 Questions to Ask When Choosing a Builder. 
Chinburg Properties is one of the area's largest Artform Home Plan builders. Artform Home Plans is owned by architect Wendy Welton. Wendy's company specializes in plans for additions, renovations and predesigned, semi-custom and custom homes. Artform Home Plans is based in Portsmouth, and Wendy Welton is licensed to work as an architect in New Hampshire, Massachusetts, New York and Maine.
Wendy Welton's home plans reinterpret many classic styles to fit modern lifestyles and our fickle New England climate. Her modern take on the craftsman bungalow is a hallmark of many Chinburg Properties developments, and you'll find her spacious colonials, adaptable "three-generation" homes, and just-right cottages all over the Seacoast, southern New Hampshire and beyond.
Artform Home Plans maintains a catalog with hundreds of home plans that are ready for your custom touches. You can order these plans directly through Chinburg Properties, or go through Artform if you have more advanced customization wishes.
There are numerous customizations that your Chinburg team can make to these plans. Customers have the added benefit of being able to make an in-person appointment with Wendy Welton if they would prefer to build from a custom or semi-custom design. When you build with Chinburg, you benefit from this strong symbiotic relationship between architect and builder. The entire process runs more smoothly, and the resulting new home is everything you imagined.
Contact us to drop in and browse our portfolio of Artform Home Plans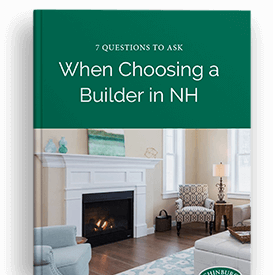 What You Need To Know Before Selecting a Builder
You're only 7 questions away from choosing the right builder for your home.
Download the Guide