Springtime is the best time to start something new—especially in New England. Once the weather breaks, it's not rare to see people out in their yards, tidying up and reclaiming their outdoor space after the long winter. But getting outside is the easy part. Figuring out which projects to tackle first is where things start to get challenging.
Because the hardest part of spring clean up is figuring out where to begin, the best way to get going involves making a list of the things you want to accomplish, followed by strategizing which ones should be done in what order. This is important because some projects can't be done right away, while others should be tackled immediately following the thaw.
Having a thoughtful and thorough plan of attack is never a bad idea—especially when it comes to making improvements to your property.
The following is a list of spring home maintenance tips, tricks and advice that every proud property owner or renter should follow this season:
(You can also access an abridged, pocket copy of this spring home maintenance checklist at the end of this post. Simply download it, print it out, and use it for quick reference to ensure your home is prepared for the warm weather ahead!)
The Top 12 Spring Home Maintenance Musts
1. Prune Trees/Shrubs
Chances are, the trees or shrub branches on your property have been damaged by cold, snow, and wind. Pruning damaged tree limbs and branches creates stems that will eventually lead to new growth—and new growth is what's going to make your property POP. If you're dealing with a large branch or limb, you may need a handsaw or a chainsaw. There are plenty of local tree companies that can help with larger jobs as tree maintenance can be quite tricky! Hand pruners work best on shrubs or bushes.
2. Prepare Flower/Garden Beds
Your flower/garden beds are likely overrun with decaying leaves, twigs, and anything else that managed to survive throughout the cold winter. Unchecked, these leftovers can smother future growth and even lead to disease. If you want your flowers and/or vegetables to grow and bloom this summer, it's best to dedicate your spring to getting them prepared for the long growing season. This is simple, and often involves raking out leaves and dead foliage, pulling up old plants and replacing old mulch. Be mindful of the pollinators and the best time to remove old leaves. According to the Tufts Pollinators Initiative, "Keeping leaves intact will still provide pollinators like butterflies with shelter and overwintering sites. Keep the leaves where they are until the weather warms and any pollinators using the leaves have emerged to start foraging." Spread some new natural fertilizers once the ground has fully thawed.
3. Reseed Damaged Areas
Grass in New England typically tends to start growing in mid April—meaning early spring is the best time to start treating damaged areas of your lawn. If an area of your lawn is in fact damaged, remove it and start anew. Apply a generous layer of natural fertilizer to the barren patch of land and apply your grass seed.
4. Clean Up Walkways
Equally as important as your outdoor area are the pathways you take to get there, so don't skimp on this task. While this ultimately depends on the type of walkway you have, be sure to clean, sweep and spray all of it away to ensure a smooth transition from your indoor living space to your outdoor paradise. If you have pavers that were re-positioned during winter, take this time to set them back in place. Some walkways may also suffer from algae growth or leaf stains. For heavy duty clean up you can rent a pressure washer, or simply grab a hose and a scrub brush and use some muscle to wash away the grit.
5. Power Wash Deck
Hopefully you still have that pressure washer you rented or borrowed and can tackle this project in no time. A quick hit of your outdoor deck will have it looking like new and will ensure it's longevity for years to come. Gauge the pressure to be sure that you aren't losing the finish as well, unless you are planning to apply a fresh coat of stain or paint.
6. De-Junk Gutters
When it comes to making improvements to your actual home, de-junking your gutters may be the most important of them all. Chances are, your gutters filled up with dead leaves and gunk during the fall, and then during the winter all of that was left to decay and then freeze. Come springtime, the last thing you want is for your gutters and downspouts to be clogged and unable to drain. Excess buildup can cause your gutters to take on more weight, and lead to weed and plant growth—both of which can cause damage and a bad smell. If you have a ladder, a tarp and some rubber gloves, get up near your roof and do your best to clear any and all obstructions. Throw what you find on to the tarp below. You can also grab a hose and thoroughly wash your gutters once all of the clutter is removed.
7. Clean Windows
You've probably already washed the interior side of your windows, but what about the outside? This may not be as simple, but it's equally as important. Wiping away mildew, fingerprints and smudges will have your windows looking fresh and clean. Cleaning out windowsills and washing dormers is also a good habit to get in to. There are handyman and window cleaning companies that specialize in making things sparkle!
8. Check Sliding Doors/Screen Doors
The sliding door/screen door you would normally use to access your yard was likely not used a whole lot throughout the winter. If this is the case, be sure to give them both a thorough examination. The best way to do this is to physically remove the door(s) from its hinges. This allows you to inspect not only the door itself, but also the track in which it is situated. Remove dead leaves from the track. Patch or replace any tears so you will be comfortable and protected when mosquito season begins.
9. Clean & Reposition Lawn Furniture
No matter if you left it out during the long winter or packed it away in your garage, your lawn furniture is going to need some sprucing up before you put it to use. It doesn't matter if your outdoor furniture is wood, plastic or metal, the steps to cleaning these pieces are basically the same. Brush off or vacuum any loose debris, wash down every surface with a cleaning solution and rinse thoroughly. Let it dry and you're ready to lounge.
10. Exterior Paint
Springtime is the best time to complete exterior paint projects. Exposure to moisture can lead your homes exterior to look worn and ragged, which in turn can cause cracking, blistering, flaking, and peeling. And when the sun comes out, the paint can then begin to fade—making your home look old and worn out. If you don't have the time to properly scrape, sand and repaint your home, trust a professional to do the work for you.
11. Inspect Storm Windows
After long, hard winter, it's a good idea to remove and clean your storm windows. Remember, the weather during the spring and summer can also be harsh, so taking a little time at the start of the spring to ensure all is well with your storm windows is a good discipline. Before cleaning your storm windows, inspect them for any chips or cracks. Note: It can be very dangerous to remove storm windows that have cracked glass so be sure to hire a professional or have a helper to stand by and spot for any hazards.
12. Inspect Roof
Inspecting your roof now can save you some serious heartache (and budget!) later on. If you have a ladder, and a spotter, get on top of the roof and give it a thorough look. Remember, be very careful. Inspections can also be done from the ground. Examine shingles to see if any were lost or damaged during winter. If your home has an older roof covering, and that wear and tear is beginning to show, it may be a good time to start a budget for replacement. The summer time can mean some windy and wet weather, so any shingles that are loose or damaged may end up on your lawn. If damage is evident, consult a professional roofer for next steps.
There are numerous other tasks you will likely undertake throughout the spring to get your home in tip-top shape for the summer months. The above spring home maintenance tips are simply suggestions on how to get started—as many of them involve close and careful inspections that often lead to other improvement and repair projects.
With over 30 years of experience building homes and managing residential and commercial properties in Maine, New Hampshire and Massachusetts, Chinburg Properties knows what it takes to ensure your property is prepared for New England weather—no matter the season. We want to help you keep your home and household running smoothly, no matter the time of year. Contact us today for more information or check out the rest of our blog to learn more home maintenance tips.
DON'T FORGET: Access your abridged, pocket copy of this spring home maintenance checklist below. Be sure to print it out, put it by your work boots or tack it up to your maintenance shed, and then you'll have it handy so you're ready to tackle the spring clean up with definitive plan of action!
Download your Spring Home Maintenance Checklist here.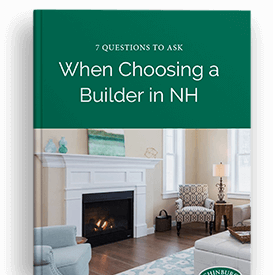 What You Need To Know Before Selecting a Builder
You're only 7 questions away from choosing the right builder for your home.
Download the Guide