Every company needs a place to call home—or headquarters—but not every company wants to claim ownership over their place of business. Instead, many rely on the commercial rental real estate market to satisfy their office needs.
While owning one's space can instill a major sense of pride for a business—it often comes with major costs associated with acquisition and/or construction. Opting to enter the world of commercial rental real estate is an entirely different story.
Reap the Benefits of Commercial Rental Real Estate
The following are the top four reasons your company should consider entering the commercial rental real estate market rather than buying:
Short Term Affordability — A company needs a sufficient amount of capital to invest in purchasing a place of its own. This is why most companies end up renting, rather than building or buying property. While owning may be a viable strategy in the long term—commercial rental real estate is the way to go if you're new to the game and your mind is on preserving your current bottom line.
No responsibility for maintenance or upgrades — The last thing you need to worry about if you're a new business is the amount of money and the man-hours it requires to keep up with your space. Renting commercial space allows you to concentrate on what's most important: running your business. If something breaks, your landlord will take care of it. You can work within your budget to plan for specific upgrades and many landlords will build those tenant improvement costs into your rent so that you don't pay out large sums of cash to make your space ideal for your business.
Opportunities for Growth — If your company is in fact growing, you'll want to avoid being tied down in a space that you will quickly outgrow. If you rent your commercial space, you will be free to move on to a bigger and better location once your lease is up.
Location, Location, Location — Renting commercial real estate can allow you to position your company in some amazing places. It provides your business with the chance to rent in a great location with a great image – not to mention the ways in which you may benefit from the traffic of surrounding businesses. This is especially important if you're in the retail or restaurant business.
Chinburg Properties offers commercial space for rent in various unique locations—particularly working mill environments across the Seacoast. We have a dedicated team to help you find the right space, and manage the property to our high standards.
Spaces range in size from 150 square feet to over 10,000 square feet, and accommodate all types of uses, from Class A office to artist studio, specialty food production, restaurants and manufacturing. Cocheco Mills in Dover, Canal Street Mill in Somersworth and Newmarket Mill in Newmarket are great examples of how businesses of all types have come to rely on the commercial rental real estate that Chinburg has to offer. This location features tenants that range from restaurants and fitness studios to breweries and office space.
Each of our properties has its own culture, community feel and specific amenities including the architecture of the building, other complementary businesses, parking, location, loading docks and accessibility. Contact us today to see if we have a space that works for your company.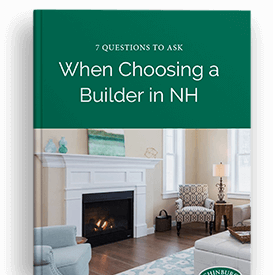 What You Need To Know Before Selecting a Builder
You're only 7 questions away from choosing the right builder for your home.
Download the Guide