Chinburg Properties is proud to be featured in Unitil's ENERGY STAR® Homes Program as part of the 2014 NHSaves Lights & Products Catalog.
NHSaves is a collaborative effort between New Hampshire's electric and gas utility companies and the New Hampshire Public Utilities Commission, designed and dedicated to identifying and then sharing energy efficient programs with New Hampshire's utility customers. These programs—like the ENERGY Star® Homes Program—help residents and businesses protect the environment and achieve economic success by encouraging energy efficiency that leads to overall lower costs and environmental impact.
The ENERGY STAR® Homes Program financially incentivizes new homebuilders to build to ENERGY STAR specifications, as determined by the U.S. Environmental Protection Agency (EPA). To qualify for an ENERGY STAR label, new homes built in New Hampshire must be 20-30% more efficient than a standard new home build, and an independent third-party expert must work with the builder to test, inspect, and validate energy-saving techniques. Upon review, a Home Energy Rating System (HERS) Index score is determined, ranging anywhere from 100 to 0. The lower the score, the more energy efficient a home is—meaning lower energy bills and a greater resale value for the home.
Chinburg & Unitil: Building Better Homes
Since 2002, Chinburg has worked closely with NH utility companies and independent HERS consultants to build new homes to ENERGY STAR® standards, participating in the ENERGY STAR® New Home Construction Program as one of the earliest adopters. An Energy Star home needs to score 80 or less on the HERS index (meaning it uses 80% of the energy of a recently built code compliant home).
In 2012 Chinburg Properties raised the bar with a high performance home subdivision at Laurel Court in Portsmouth. While Energy Star requires a score of 80 or below, high performance standards require a score of 60 or below. These homes achieved an average HERS score of 52.7, which is 55% better than energy code minimums for new home builds. Homebuyers loved the concept and Laurel Court sold out in 2013. Chinburg is now building high performance homes at Greenland Commons in Greenland, NH.
Chinburg's energy and eco-conscious new home builds supported by Unitil not only improve home living quality, comfort, and durability, but they also financially reward homeowners in two ways:
High performance homeowners save approximately $1,000 in annual utility costs by reducing energy consumption by about 1,000 kWh and 65 mmBTUs (natural gas heat)
These savings can be considered by mortgage companies thereby increasing the approved loan amount for the new home construction.
High performance new homes built by Chinburg feature:
Sustainable materials
Quality insulation systems
High-performance windows
High efficiency heating equipment
High efficiency cooling equipment
Energy Star lighting (and appliances)
It is Chinburg's superior attention to planning and strong, longstanding relationship with Unitil that has inspired the utility company to feature Chinburg as an energy conscious builder and partner. And as energy efficiency and environmental protection efforts increase in our communities, Chinburg and Unitil will continue to deliver economic gains to all new homebuyers and more ecological security to the land we depend on.
If you are thinking about building a high performance, high quality, high-efficiency ENERGY STAR new home in New Hampshire, Chinburg has you covered—contact us today!
Or, if you're interested in learning more about new energy efficient technologies and products, we encourage you to browse the NHSaves Lighting & Products Catalogue online—where you'll find Chinburg is on page 31.
* NHSaves programs are partially funded by NH utility customers through a monthly charge that is based on their electric and natural gas usage, and are also offered to utility customers of Liberty Utilities, New Hampshire Electric Cooperative, Inc. (NHEC), and Public Service of New Hampshire (PSNH).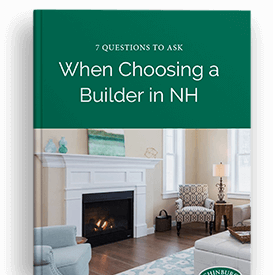 What You Need To Know Before Selecting a Builder
You're only 7 questions away from choosing the right builder for your home.
Download the Guide