Before you choose a custom home builder, download our free guide: 7 Questions to Ask When Choosing a Builder. 
So, you've decided to make the jump to a new home. Now you have a big choice: Do you buy an already built, quick delivery new home, or do you go through the process of custom new home construction? There are pros and cons on either side, but here's what you may want to consider most.
Building vs. Buying Your Dream Home—Breaking Down the Pros and Cons of Building a Custom New Home or Buying a Quick Delivery New Home
Here are 3 reasons why you should consider custom new home construction:
1. A Custom New Home Is Exactly What You Want
You can look at existing homes, but those were likely built by somebody else for somebody else's needs. Either that, or it's a cookie cutter home built by people who built what they thought the most people would want/need at that time. A new home built with someone else in mind will never be exactly customized for you.
The key to custom new home construction is that it can be designed with your specifications and on your budget—from the floor plan to the carpet, right down to the outlet locations (so you don't have to run extension cables all around your house). Everything about your new home is "you."
2. A Custom New Home Is, Well, New AND Customized
Whether you are building or buying a new home, new home construction has the advantage of the latest methods and amenities—so you can move in with the confidence that you won't have to sink your hard earned money into updating electrical systems, fixing aging building materials, or bringing it up to code.
But having everything brand-new, up to date, and just the way you want it is a tremendous advantage when choosing custom new home construction. For instance, there may be many green building innovations that you specifically want to incorporate, or maybe efficiency practices you are interested in. Whatever the case, how you save energy, money, time, or other amenity upgrades are entirely up to you when everything is truly customized.
3. Building Is Easier Than You Think
There are plenty of horror stories out there about projects that take way too long and exceed cost expectations, but it doesn't have to be that way if you select a reputable builder with a track record of delivering custom built homes to customer specifications.
Building new construction has also seen a noticeable uptick within the last year. According to a new release from the U.S. Census Bureau and U.S. Department of Housing and Urban Development, new housing starts in June were at a seasonally adjusted annual rate of 893,000, which represents a 7.5 % increase over the June 2013 rate of 831,000.
And here are 3 reasons why you should consider buying an existing, quick delivery new home:
1. Buying a Quick Delivery Home Can Be Simple and Stress Free
According to US News & World Report, buying a home is less stressful than building a home. It takes a lot of uncertainty and decision-making out of the process. You can see exactly what you are buying and you do not have to spend a lot of time and energy researching what you want and making choices. Buying an existing house means you don't have to worry about zoning laws, escalating construction costs, and other unexpected obstacles.
2. An Existing Home is Ready to Go
Existing homes already boast amenities such as appliances and other features. These amenities are often included in the purchase price, and don't have to be accounted for as upgrades when dealing with new home construction budget. Other than financing, the potential for major delays is nonexistent when buying a standing or almost complete new home.
3. Buying an Existing Home Can Be Less Expensive
According to the US Census, the average sales price of a new single-family home in 2011 came to $267,900. But according to the National Association of Home Builders (NAHB), the average cost of building a new single-family home in 2009 totaled $377,624. Nearly $300,000 of that cost was related to lot acquisition and construction.
---
At Chinburg Properties, we have over two decades of experience working closely with our customers to build custom, high-quality new homes. We also offer a wide selection of quality new homes ready to be moved in to within weeks. The quick delivery homes offer attractive floor plans and popular selections based on experience and a strong design aesthetic.
As the largest builder of homes in the Seacoast region, no builder is better equipped to deliver your dream home while providing exceptional service and exceeding expectations. Contact us today to get started.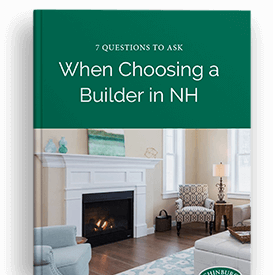 What You Need To Know Before Selecting a Builder
You're only 7 questions away from choosing the right builder for your home.
Download the Guide