Are you thinking about building a new home in New Hampshire? If so, then this is an exciting time! But do you know the right New Hampshire home builder for your project? To help, it's a good idea to interview potential builders and contractors to gain the clearest understanding of which company will work with you best.
Here are 8 basic questions you will want the New Hampshire contractor or home builder you choose to be able to answer:
1. Will I need to find open land?
Open space is of course the first requirement in setting a foundation for your new home, but you do not need to know of its whereabouts in advance. The right New Hampshire builders should have land in their portfolio and/or be able to work in a space you already have in mind or have already purchased.
2. Should I use online floor plans, or an architect's, and how will I identify the right designs for my needs?
It's up to you and a good home builder should be able to draft plans for you or work from existing plans. But, to be fair, an experienced New Hampshire home builder might warn you about relying on the square footage quoted in most online floor plans. Many do not take hallways, closets, and/or stairs into account. This can result in inaccuracies in budgeting, so try to prepare for this if you are considering online plans. Many of these programs also do not spec materials necessary to meet the demands of a New England winter, and again, this can underestimate costs. A good way to avoid complications down the road is to leverage a local architect's plans – this is also a great way to ensure that you remain compliant with local building codes. Or, even better, take advantage of a builder who offers featured floor plans for you to browse from – one stop shopping can be preferable to piecemealing a project together too much.
Examples of featured floor plans can be found here.
The right New Hampshire home builders will also have a design center to help you identify what designs will suit your specific needs. This design center should be fully staffed with trained professional designers who will help you through your selection process. The atmosphere should feel welcoming and never pressured. There should be no force-fed "cookie-cutter" designs and you should never feel that your options are limited.
An example of what a comprehensive design center should offer can found be here.
3. Do you regularly complete new homes similar to mine?
Luxury homes, small houses, and renovation projects are each different. Your New Hampshire contractor should be experienced in the type of New Hampshire new home you are seeking to build. To validate this, the builder should be able to provide a portfolio with recent projects in a scope similar to your own project – and they should also have interior/exterior photos of progress/completion in other projects, too.
4. Will there be a timeline to complete my build?
A n experienced home builder should be able to establish a ballpark timeline for your build, including a start date, completion date, and milestones in between. This is also good point in the relationship to identify how your builder is as a communicator.
5. Do you manage the entire build?
It's important to know who will be on site and managing your build. Your contractor should apprise you if they will be on site from start to finish or if they will be at other jobs, too. If the latter is the case, try to identify how much time the contractor will spend at your site versus their other sites (and who will be in charge when they are gone).
6. Do you work to ensure that the homes you build are safe and sustainable?
The answer to this should almost always be yes. Your builder should be capable and excited to work with you to construct a home that properly and proactively addresses the chemicals, toxins, and pollutants associated with building projects and the affect on indoor air quality. Your builder should also have expertise in building "green," including knowledge and experience using sustainable materials, products, and methods. If innovative initiatives and energy efficiencies are important to you, it is never worth hiring a contractor who is not well-versed in tailoring specs to accommodate your needs – you want a builder with a portfolio already layered successfully in these experiences.
Here are some examples of the highest quality green building standards and technologies.
7. Are all of your licensures up to date?
Do not put yourself at risk because your New Hampshire home builder has out of date licensures (i.e., license, bond, and general liability and damage insurance). It is important that your builder hold insurance against injuries, job site accidents, storm damage, and other unexpected hazards, and your builder should have this information readily available and included in your contract.
8. How comprehensive is the contract you will create for a new home build?
It's not always glamorous to read through a long document, but it's in your best interest to have a contract completed in writing with as much detail as possible. This works to avoid any verbal miscommunications and cost overruns in your build. This document should include start/end dates, who will work on each component of the project, when you are expected to submit your selections to your New Hampshire contractor, and what is excluded from the contractor's responsibilities. For more, check out these 5 Helpful Hints to Estimating What Your New Home Costs to learn about what other components your ideal contract should outline.
Need information on finding a New Hampshire home builder for your project? Contact Chinburg Properties or check out our New Homes page for our Free Guide to 7 additional questions to ask when choosing a builder.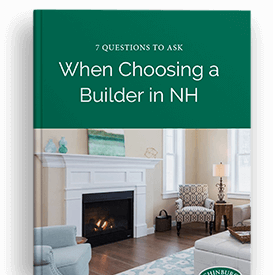 What You Need To Know Before Selecting a Builder
You're only 7 questions away from choosing the right builder for your home.
Download the Guide