For a more comprehensive overview of what to look for in a builder, download our free guide: 7 Questions to Ask When Choosing a Builder. 
Building a custom home? Selecting the right builder is the most important decision you can make. Ask yourself these five questions before you make your choice.
#1. Do you like the builder?
You are going to be spending 6-10 months working with your custom home builder. That's a long time to live with something you don't like. Chances are, if you get bad feelings in your initial meetings, those feelings are going to come back with a vengeance as work goes on. It is important to take personality into account when making such a big decision.
Building a custom home is a huge investment in time and resources, and there is only one chance to get it right. It's your home. It's your money. Make sure the custom builder you are working with appreciates that and works to make you happy. If you get bad feelings at the start, take your project elsewhere.
#2. Do you like the builder's work?
All the personality in the world doesn't mean a thing if you don't like the builder's work. You are allowed to be meticulous. Make sure to vet their portfolio. Look at it from every angle, and ask all of the questions you can. Good work stands up to scrutiny, and a good custom home builder will welcome your questions and concerns and put you at ease. Which brings us to our next question:
#3. Are they accessible?
Before and during the process, you are going to have questions and concerns. You want a builder you can talk to directly. Remember, custom builders are busy people, thanks to a recovering housing market, but they should be responsive and make themselves available to their clients. If your calls go unanswered and unreturned, that's a bad sign.
#4. Do they have good relationships with subcontractors?
A home is only as good as the subcontractors doing the actual handiwork. You should be able to ask who the subcontractors are, how long they have worked with the builder, and how experienced they are in their field. A good custom builder will retain good, reliable, experienced subcontractors.
#5. Do they have a good reputation?
There are multiple websites and consumer advocacy groups that will allow you to thoroughly vet your potential custom home builder before signing on. Though custom home builders are not as thoroughly reviewed as, say, restaurants, there are still a number of places to find reviews and testimonials about builders. There are also two major consumer advocacy organizations, Homeowners Against Deficit Dwellings (HADD) and Homeowners for Better Building (HOBB), that offer resources to help in your selection process. You can also contact the Seacoast Home Builders Association and ask local trades people who they would recommend.
Remember: It's your money; it's your home. You only have one chance to get it right. You are entitled to ask these questions and get satisfying answers. Don't settle.
Chinburg Properties is a home builder with more than 25 years' experience building custom homes. We pride ourselves on meeting and exceeding expectations. We are confident that we'll stand up to scrutiny, contact us today.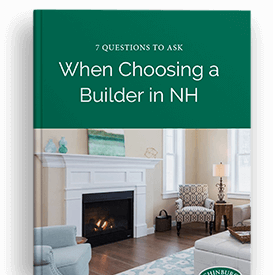 What You Need To Know Before Selecting a Builder
You're only 7 questions away from choosing the right builder for your home.
Download the Guide