No matter the type of new home you're looking for, this free guide will help you select the perfect builder: 7 Questions to Ask When Choosing a Builder.
Learn the differences in custom luxury home building.
When you're house shopping, the market can become overwhelming and disappointing. You may like a particular style in one house, but the features aren't what you hoped for. Or maybe you love the quality of the design elements, but the house is just too small for your family to live comfortably. No matter the case, you start envisioning "fixer-upper" on the front door of every house you visit, and nothing feels like home. So, you start to toss around the idea of building a custom luxury home or a semi-custom home – but what's the difference?
Custom Luxury Homes
A custom luxury home is a one-of-a-kind home designed specifically for a client and explicitly for the location chosen or owned by this client. These homes are built by custom luxury home builders who specialize in innovative projects and possess the experience and expertise to meet exact needs. With a custom luxury home, everything from the floor plan to sustainable initiatives to the type of kitchen sink you want is personalized and tailored to meet the client's high-end musts. As a result, the budget is determined solely by the choices of the client, and the functionality and quality of the home is to their standards alone. At any point in the build, alterations can be made but these homes can cost more per square foot, as many products and features cannot be ordered in bulk due to the uniqueness of the build. These homes can also take longer to build, and it can be more difficult to finance a custom luxury home through a lender since the depreciation can be more substantial and occur quicker.
Semi-Custom Homes
Semi-custom homes are pre-designed house styles determined by pre-existing floor plans. These homes are traditionally built on development land owned by the builder, but a client can browse through feature options and usually they are able to request layout changes prior to the start of construction. Changes can include adding a room, a bay, a garage, etc. Typically these homes can be completed faster and for less cost, but the buyer's personality will be less apparent in the final product.
As you determine which type of build will best suit you, remember to keep in mind how much time and budget you will be able to devote to your project.
For more information on estimating a new home construction project, contact Chinburg Properties or check out our New Homes page. Chinburg has a skilled team of custom luxury home building experts and also specializes in general contracting, energy efficiencies, historic renovations and restorations, and offers a complete design center to help meet and guide your building needs with the greatest ease possible.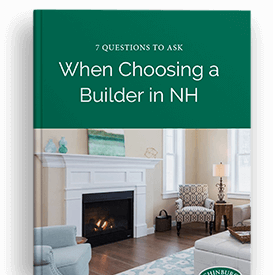 What You Need To Know Before Selecting a Builder
You're only 7 questions away from choosing the right builder for your home.
Download the Guide