A new video spotlighting our work helping people turn their dreams of home ownership into reality also sheds light on why Chinburg Properties is regarded as a top NH home builder.
The video introduces you to Chinburg's proud history helping hundreds of buyers move into high-quality, custom built homes in New Hampshire and southern Maine. It explains the process of building with Chinburg — paying special attention to the difference between a custom build and the company's "Quick Delivery Homes."
New Video Shines Spotlight On 'The Chinburg Difference' as a NH Home Builder
The Quick Delivery Homes program aims to simplify the home-buying experience by offering a portfolio of Chinburg homes that are at the final stages of completion, with only a few final selections for the homebuyer to make. Customers may choose from homes designed for a broad range of lifestyles and budgets — ideal for all types of buyers, depending on their preferences regarding how much customization and hands-on involvement they are interested in.
For instance, customers who'd rather not get too immersed in all of the choices (from flooring to cabinet knobs and more), preferring instead to completely streamline the process of taking ownership and moving in, will find that the Quick Delivery Homes process can be painless, pressure-free and fast.
Clients who prefer to be more involved in the details can choose to customize their ideal home at Chinburg's in-house Design Center, where customer service manager and selections coordinator Lori Bachand helps you choose from a wide variety of cabinets and countertops, door and window styles, carpet and flooring, kitchen and appliance options, plumbing and lighting fixtures, and color choices.
The hands-on relationship continues as Chinburg pairs each client with an experienced project manager or site supervisor who oversees builders and subcontractors handling the hundreds of different tasks that go into building your new home. Throughout the process, the primary focus is on quality.
And in an age where energy efficiency is more important than ever, Chinburg has long experience constructing Energy Star homes and employs professionals equipped with training and knowledge about best green building practices.
"At Chinburg, we take pride in providing high-quality places for people to live, in a home that meets their personal lifestyle needs," the narrator says, just before inviting you to "discover the Chinburg difference" as the video winds to a close.
We hope you'll check out our new video today. It tells the story of our absolute commitment to top-quality home building.
To learn more about building a Chinburg home, please contact us today!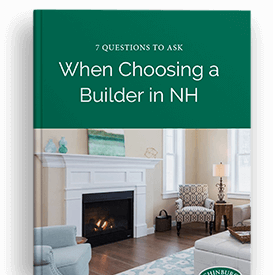 What You Need To Know Before Selecting a Builder
You're only 7 questions away from choosing the right builder for your home.
Download the Guide