Some renters may feel that they can't personalize their homes, since they don't own the property. There are actually many ways to make your apartment reflect your very own style. From indoor gardens to creative rug placement to locally sourced art, any apartment can feel one-of-a-kind with a little creativity.
Planning Your Apartment Décor
Before you start buying new furniture or crowding the walls with art, make a plan for each room. The first step is to determine the specific function of each area in the apartment. Think about the following:
Do you need an office or work area?
Will you be entertaining guests?
Do guests need a space to stay overnight?
How do you use your kitchen? For coffee prep only, or do you like to cook?
Where do you eat your meals?
Will certain areas serve multiple purposes? E.g. dining and working, exercise and relaxation, etc.
How much storage space do you need?
What kind of cleaning schedule can you commit to?
Of course, your ability to decorate hinges on the terms of your lease. Be sure to check whether or not your landlord allows tenants to paint or put holes in the walls. Lease terms vary, but be aware that altering permanent apartment fixtures may result in the loss of your security deposit or other penalties. At the very least, you may need to spackle and repaint the walls if and when you move out.
As you peruse apartment décor and design inspiration, keep function in mind. While certain furniture items and accessories may be beautiful, you want to be mindful of making small spaces too crowded and visually "busy," or ending up with too much to clean.
It helps to draw a bird's-eye view floor plan of each room to map out where furniture, rugs and even art pieces can go. Bring this floor plan with you on décor shopping trips or keep it nearby as you browse options online.
How to Make Small Spaces Feel Larger
The average apartment may be smaller than many houses, but there are ways to make the most of limited space without compromising comfort or functionality.
Mirrors: Large mirrors placed perpendicular to windows can reflect light around the room, making it feel brighter and giving the illusion of more space. Even small mirrors grouped together can give off a pleasing "sun-dappled" effect.
Lower furniture: Sofas, chairs and tables that sit lower to the floor can make the ceiling appear higher. Just be sure the height of the furniture doesn't impact its comfort and ease of use. By comparison, higher furniture can appear to cut a room in half, which is not ideal for smaller spaces.
Statement piece: An eye-catching coffee table or dazzling light fixture can draw the eye, becoming the focal point of a room, making the walls appear to recede, and helping to inform surrounding design choices. Depending on how bold the statement piece is, you may find you don't need to add much more décor beyond it.
Create a gallery wall: Speaking of shelving, creative storage solutions can also serve as decoration! Books, cocktail glasses, vinyl records and herb gardens can all find homes on strategically placed shelves, where they add to a room's character when not in use. Alternate functional shelving with art, and you've got your own personal gallery wall.
Lighting: Inadequate lighting can make small spaces feel downright claustrophobic. Use lighting wisely in smaller rooms: incorporate a mix of task lighting that serves a purpose layered with decorative lighting to create ambiance. Lamps that cast light on the ceiling give the impression of a larger space.
Dividing a Space
If you have an open-concept floor plan or a multi-use room, you may feel the need to designate specific areas in the space. Here's where paint colors and accessories can serve a strategic function.
For example, you can designate the "living room" area of an open-concept apartment with thoughtfully placed area rugs, furniture that faces each other, and even a different-colored accent wall (if your landlord permits painting). If you're unable to paint your walls, hang wall tapestries or art pieces in a cohesive color palette to designate the area as separate from the rest of the space.
If you need a true space divider, such as in a shared bedroom or office, you may be able to find beautiful folding screens from your local antique dealer.
Get Creative with Storage Solutions
Storage is often the number one challenge for renters, since space is limited enough without finding room for seasonal or seldom-used items. Luckily, there are plenty of creative storage solutions out there that can double as décor.
Look for furniture with built-in or "hidden" storage solutions, including hollow ottomans, beds with drawers underneath and couches with cubbies.
Low-profile, floating or vertical shelving gets items off the floor while adding visual interest to the walls.
Woven baskets are an attractive way to store blankets and extra pillows.
Some apartments come with odd nooks, bump-outs and cupboards — all great opportunities for storage! Use these unique features to your advantage by adding shelving, curtains and even lights to help you see into dark corners.
Choose narrow, vertical bookcases over long, low ones to save on floor space. These can be tucked into corners or behind doors while remaining easily accessible.
How to Work Around Features You Don't Like
Renters often have limited leeway when it comes to customizing the permanent features in their space. A standing radiator or wall-to-wall carpet might not be your idea of attractive décor, but there are ways to draw attention away from features you would not have picked yourself.
If your apartment has a large, empty wall, try breaking up the expanse with framed art, tapestries, hanging plants or plant stands. Depending on its location, you may also want to use this wall to "anchor" the room by placing the largest piece of furniture there, like a bed, sideboard or sofa.
You can also turn blank, cracked or unattractive walls into functional surfaces. Hang dry erase or chalkboards there for shopping lists and schedules, or mount a magnet strip or peg board for reminder notes.
Area rugs are the perfect solution to layer interest on top of existing floors. Whether you're looking to cover a worn carpet, scratched wooden boards or even cold concrete or tile, rugs of any size act as space dividers and art underfoot.
To draw attention away from features you don't like, create visual appeal elsewhere in the room. For example, if you're stuck with a retro pink sink in the bathroom, place a piece of art, a decorative shelf or flowers on the opposite or adjacent wall to draw the eyes up and away.
Apartment Entryway Décor Ideas
The entrance to your apartment sends an instantaneous message to visitors about your home style. Is it cluttered with shoes and coats? Do you have a mat for visitors to wipe their feet? Is it clear to first-time guests where to proceed after they cross the threshold?
Every entryway needs at least the following items to feel both welcoming and functional:
An area rug or floor mat for wiping shoes and boots
A temporary place to put bags, keys and mail (such as a shelf, table, hanging baskets or hooks)
A mirror for convenient hair and outfit checks
A place to keep shoes and coats, whether that's a closet or a designated storage area
Each of these items can double as décor. Consider decorative mirrors, floor mats that incorporate colors from the wall artwork and funky cabinets that provide storage and catch-all surfaces. Even colorful coat hangers can add a pop to your closet or coat rack!
Apartment Living Space Décor Ideas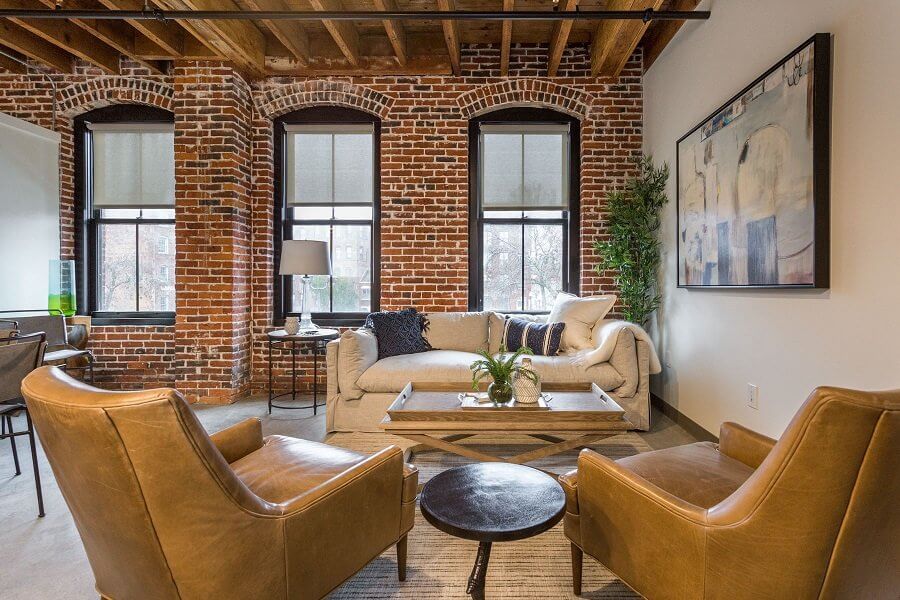 Besides the bedroom, the living room area is where most people spend their time at home. The living room provides arguably the most opportunity for personal style, where your taste can shine through in the furniture, artwork, rugs and accessories. Make your living room comfortable, attractive and inviting to guests with these tips:
Comfortable furniture is key. Couches, loveseats and armchairs in soft upholstery fabrics combine style and coziness. (If you're worried about spills and cleaning, just be mindful of the fabric and color you choose.)
Window treatments like curtains and drapes can soften the space and provide opportunities for added color and texture.
Area rugs add texture and color to the floor and can help designate seating areas.
A pullout couch can turn the living room into a guest room in no time.
Don't underestimate the power of a throw pillow. Decorative pillow cases, tapestries and blankets draped over the back of the couch add even more cozy touches while tying the room together.
Floating shelves get items off the floor and add an extra dimension to blank walls.
The living room is the perfect place to display local or handmade art, since it reflects your personal tastes and can serve as a conversation starter for guests.
How to Get the Most out of Your Kitchen
Kitchens are prone to gather clutter, so ease of cleaning should be top-of-mind when decorating. That said, the kitchen offers a wonderful opportunity for warm, textured and colorful decor.
Choose washable rugs and mats, such as those from Ruggable, so you can pop them into the wash with your other kitchen linens.
The kitchen is for cooking, so why hide it? Turn your kitchen implements into décor by hanging pots and pans from hooks or organizing your utensils in colored glass Mason jars.
If you have a tall counter or bar surface in your apartment kitchen, add visual flair with colorful or interesting stools and chairs.
The kitchen is the perfect place for plants. Herb gardens can be both attractive and functional, providing seasoning ingredients while purifying the air. Hanging plants add a touch of green while keeping the countertops clear.
Adding Personal Touches to the Bathroom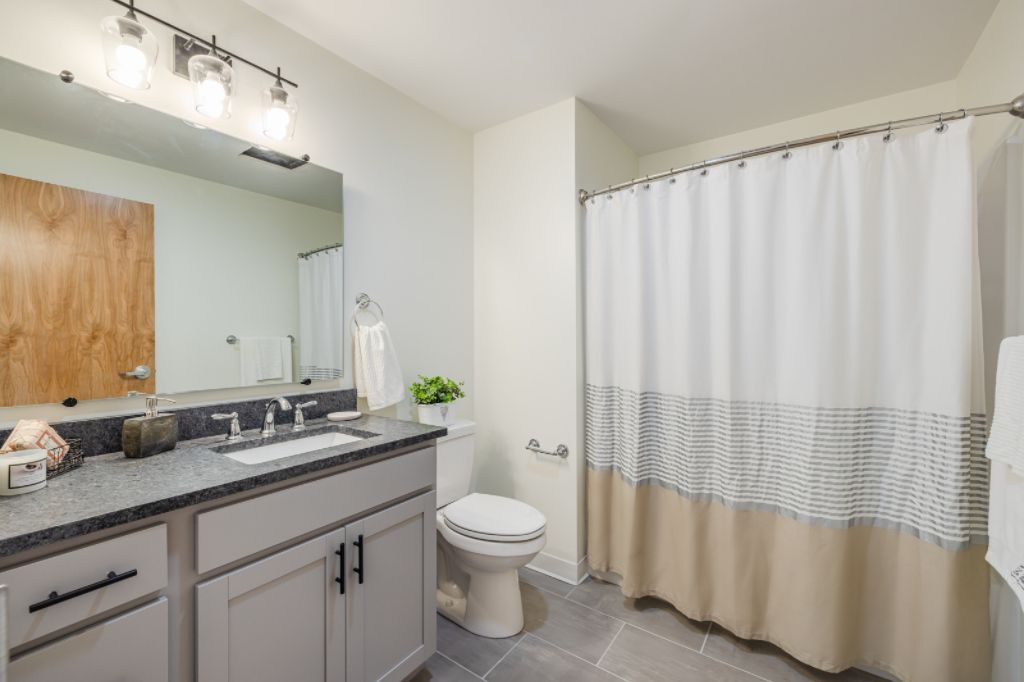 The bathroom can sometimes be an afterthought when it comes to décor, since it's not typically for show. However, this under-appreciated space provides great opportunities for fun personal touches. Keep in mind that anything placed in the bathroom should be resistant to moisture and easy to clean.
Storage may be hard to come by in a smaller bathroom, but look for opportunities to mount shelving behind the toilet, next to the sink or even hanging from the ceiling. Have fun with attractive baskets or interesting shelves.
Experiment with towels and linens in different colors, or switch them out depending on the season.
A patterned or graphic shower curtain can serve as hanging art when closed. You can even paint your own!
Candles add a soft glow to a small bathroom.
The same peel and stick tiles recommended for kitchens can be used in the bathroom! Decorative patterns make for easy-to-clean wall art.
Cozy Bedroom Décor Ideas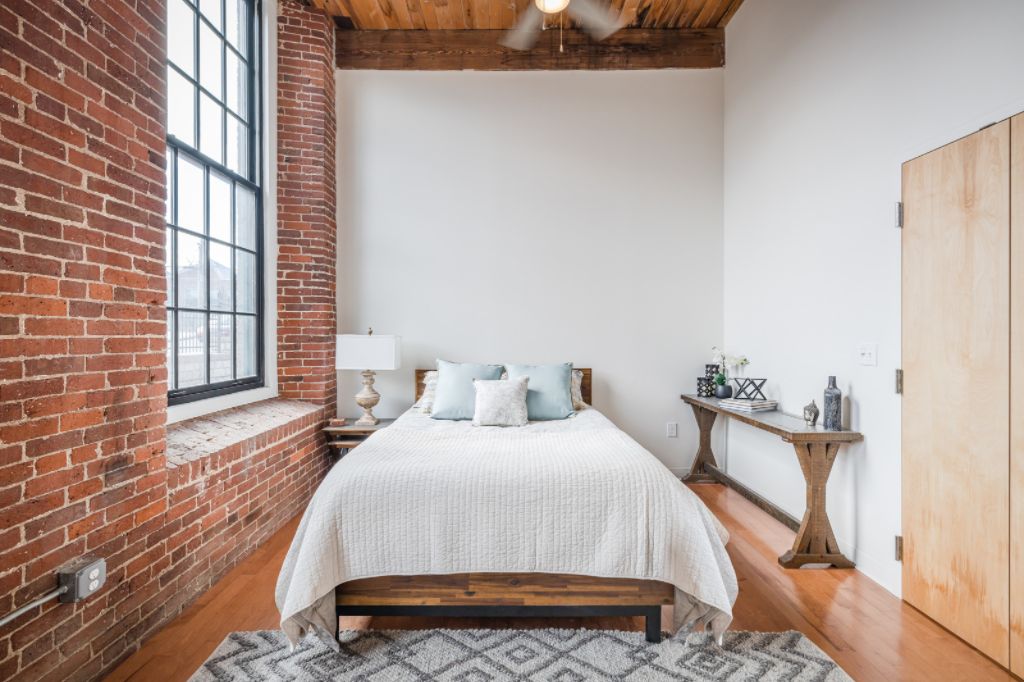 Your bedroom is all you, so the design should reflect your tastes. Here you can showcase your favorite artwork, your coziest blankets and most calming lighting. To ensure the room is relaxing and sleep-ready, follow these design tips:
Above all, don't overwhelm the room — go for cozy, not crowded. Take a less-is-more approach to decorating, especially at the start.
If your bedroom windows have blinds or blackout panels, soften the edges with curtains in an airy or textured fabric.
Match the window treatments to the comforter or rugs for a cohesive look and feel.
If your bedroom doesn't have a closet, utilize a clothing rack with shelves for folded clothes, socks, underwear and shoes.
Use low-profile storage wherever possible — thin plastic boxes for under the bed, thin or floating bookshelves and bedside tables with extra drawers and cabinet space.
FAQs About Decorating Your Apartment
Can I paint a rented apartment?
It all depends on the terms of your lease. Some landlords prohibit painting, while others permit it on the condition that the renter repaints the walls to their original color when they move out. Always check the terms of your lease before making any changes to the permanent features of your apartment. Any violation of lease terms may result in losing your security deposit.
How do I make a small space look bigger?
Use visual tricks like light colors, mirrors, lamps that cast light on the ceiling, tall drapes and low furniture. Err on the side of less-is-more when it comes to furniture and décor; if anything, choose one piece of furniture, art or a lighting fixture to serve as a statement piece that anchors the room.
How do I decorate my bathroom?
The key to decorating your bathroom is to choose décor that is moisture-resistant and easy to clean. Add pops of color with matching towels, floor mats and an artistic shower curtain. Brighten up the backsplash with peel and stick tiles. Candles, decorative mirrors and hanging plants can add texture and life to a small bathroom space.