It's exciting to move into a new space and have a blank canvas to personalize.
Decorating a rented space may seem like a big undertaking but breaking it down into separate projects can make it easier. From small apartments to large, a little DIY can go a long way. Before embarking on any DIY projects, we do recommend cleaning and decluttering. DIY home decorating projects can make your space feel new and refreshed.
DIY Décor Projects Ideas for Renters
A little TLC, new fabric or a new coat of paint can go a long way. Here are a few DIY crafts that are easy to do by yourself (or with a friend), and don't require you to be an artist or master craftsperson.
Be sure to seek permission from your landlord if you plan to make any changes to walls or flooring, so as not to jeopardize your safety deposit. It's smart to invest in non-damaging hanging options, like scotch hooks or putty that won't damage your walls.
Homemade key rack.
If you're always misplacing your keys, this homemade key rack is perfect for you. The materials can be found at your local craft store, and you can customize your key rack to fit your style. If you're not into the rustic look, you can play with other materials for the base.
Monogrammed doormat.
Create a great first impression for your guests with a custom monogrammed doormat — it is much easier than you think. You can trace a large circle or square plate with a sharpie, and then a slightly smaller one inside (think dinner and salad plate). Then, print and cut out your initial (or buy a stencil) and trace onto your mat. Paint the letter and outline in and you'll have a professional-looking monogrammed doormat.
Repurpose old furniture. 
You've seen it done on HGTV, now it is your turn! Visit an antique or second-hand store for furniture with the frame in good shape. Depending on the piece, you may need to replace the cushioning before covering it with new fabric. There are a variety of methods to reupholster, with and without needing a sewing machine. You can also stain or paint the piece to fit your design aesthetic.
Make your own art.
Support a local business and paint your own wooden sign. Welcome visitors, display a favorite quote or make your own artwork. There are a variety of rotating projects at local businesses, so be sure to keep an eye out. Painting pottery is also a fun way to create unique pieces, dishes or mugs.
Propagate your plants.
You can use leaf or stem cuttings to grow a new plant from an existing one. Plants are a great household staple to bring the outdoors inside and help clean the air. Spider plants, jade and pothos are just a few plants that work well for propagating. Houseplants can sit on the windowsills, hang as a statement piece, sit on a desk or table and more.
DIY Storage Solutions for Apartments
Easy closet storage.
For a closet storage solution that won't ruin walls, you can transform a bookcase (with a back) into convenient shelving. Line the walls of your closet with bookcases and adjust the shelves to your preference. You can also install rods for hanging items.
Minimalize clutter. 
It can be hard to keep a space clean, especially when you have roommates. An easy way to minimalize clutter is to use large baskets or ottomans for blanket and pillow storage. Consider creating a rolling book basket to store books, DVDs and tablets, yarn or other craft items. With a rolling book basket, items can stay out of the way when not in use.
Organize your cords. 
Phone and computer charging cords can look messy laying on a desk or table. An easy way to combat this is to attach binder clips to the end of the table and stick the cord through. You can use a label maker, washi tape or even duct tape to label your binder clips and cords. Not only are you now organized, but you also don't have to fish around under the desk to find the right cords.
Create your own shelves.
If you have a boring blank wall in your apartment, consider changing up the space with shelving, such as a giant pegboard. This gives you the choice of where to put shelves, hang artwork or plants, and display tchotchkes. You can also install your own floating shelves, which will be cheaper and are more customizable than buying shelving from a store. If you're feeling ambitious, a ladder shelf may be the project for you.
DIY Projects for the Apartment Bathroom
Decorate your shower curtain.
Shower curtains can easily be transformed with some acrylic or fabric paint. If you prefer not to freehand, you can use a stencil or stamp as a pattern guide. Another simple way to upgrade your shower curtain is to use embellishments such as pompoms or ribbons to create a top and bottom border.
Get creative with mirrors.
Turn your mirror frames into an art project by painting them. If your mirror doesn't have a frame, you can adhere it to a similarly sized wooden chopping block. Try color blocking to make your mirror a statement piece. Another idea is to write inspirational quotes or affirmations on your mirror frame to start your day with a positive spin!
Make space with wall baskets.
Mount baskets sideways to the wall to create extra storage space. These are ideal for towel storage.
Make your own soap and candles.
Fill your bathroom with your favorite scents by making your own soap and candles. These can also make great gifts for friends and family.
DIY Bedroom Décor for Renters
Your bedroom should be a reflection of your personality, but that doesn't mean it needs to be adorned with expensive artwork or new furniture. Try these simple tips to transform the space.
Hide the chaos.
If your closet doesn't have a door, you can hang a piece of fabric to separate the space. You can also use fabric to cover cubbies and other storage containers to hide the contents. Similarly, you can utilize under bed storage, which will be covered by your comforter or duvet, or add a bedskirt.
Create a gallery wall.
Use your favorite pictures and artwork for a creative display. Arrange them in a shape such as a diamond or a circle or use different size pictures to stagger the eye line. You can also hang pictures using string and laundry pins or display them on a large corkboard.
Here are a few more DIY bedroom décor ideas:
Hang a tapestry as art
Print your favorite art and frame it
Similar to the shower curtain, paint or decorate your curtains
Introduce patterns with wall stickers or wallpaper
Update the handles or knobs on your dresser
Living Room DIY Projects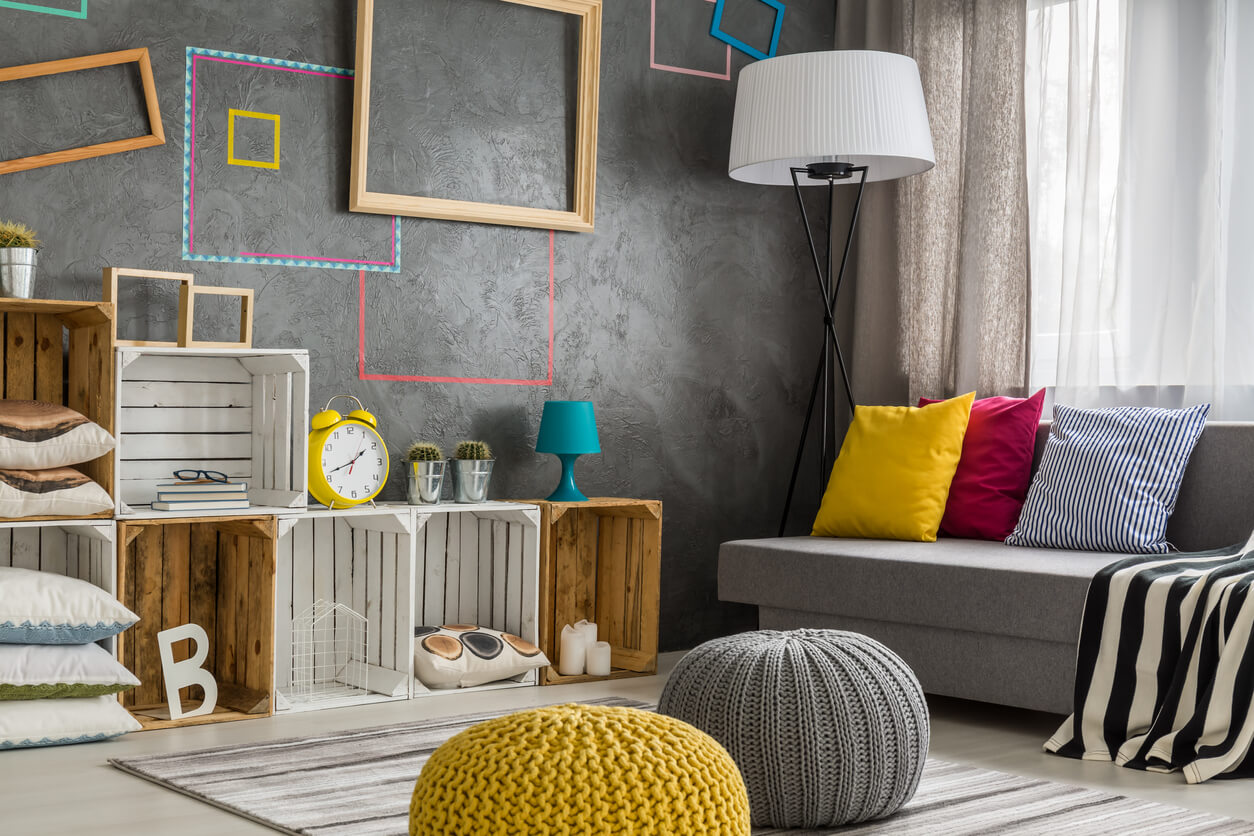 Creative coasters.
Create your own coasters with tile backed with adhesive cork or embellish Agate discs. Other DIY coaster projects include nautical rope, felt-based or leather coasters. Consider colorfully decorating your coasters for a pop of color in the room.
Update your things.
Create a "new" lampshade with decorative paper, make your own curtains and don't stop there! There are many ways to update old furniture, such as painting or reupholstering. You can also easily refresh your bookshelf by reorganizing it. Try color coding books, or creating stacks and adding in photos, plants or other eye-catching objects.
Artwork for the floor.
Area rugs are a great addition to any room. They make a space feel homey and welcoming and can add color or pattern to the space. Area rugs are versatile and can be subtle or a statement.
Apartment Kitchen DIY Essentials
Everything in its place.
Keep your cooking spices in order with a shower caddy. You can hang the caddy inside a cabinet for out-of-the-way and convenient storage. Take inspiration from Julia Child and make your own pegboard wall for hanging pots and pans. If you have a bit more space, you can create an organized wall rack with an old shutter or door. Invent your own storage with various containers and hooks. You can even make a magnetic knife holder.
Take your bar on the move.
As a host, you don't need to be stuck in the kitchen making drinks. Impress guests with a moving bar cart and join them in the living room or on the porch while playing bartender. You can paint or decorate your bar cart however you want.
Indoor herb garden.
Save a trip to the grocery store and build an indoor herb garden. You can grow mint, basil, cilantro, chives, parsley and more. The herb garden can be as big or as small as you want and you can rely on sunlight or buy a grow lamp for your plants. Be mindful of placement and keep out of the way of children or pets.