Adding an indoor herb garden to your home ensures that you regularly have your favorite culinary herbs and spices on hand in the kitchen. Not sure where to begin? This guide will help you with everything you need to know to start growing your own fresh herbs indoors.
The Best/Easiest Herbs to Grow Indoors
Here are some popular, easy-to-grow cooking herbs and their uses. [opp. for images]:
Basil
Basil is a popular herb that is commonly used when cooking Italian dishes. Whether it be tomato sauce or a caprese salad, this herb is a staple in many kitchens. Basil can also be used as a tonic to aid in digestion. Simply steep the leaves in hot water to make a delicious tea that supports digestive health.
Chives are a super easy addition to include in any indoor garden. This green vegetable's mild onion flavor is often used to flavor salads, dips, soups, sour cream and butter. Chives are also important for sleep and are packed with nutrients such as vitamins, mineral and antioxidants — this type of herb serves the ultimate dual purpose!
Cilantro may be consumed raw or used as a garnish. This herb is known for its strong aroma and is most commonly used in Latin American or Asian dishes. Cilantro is also low in calories, saturated fat and cholesterol.
Mint is a diverse herb with strong aromatic properties. It can be used fresh or dried to add flavor, or it may serve as an ornamental garnish atop your dish. There are several types of mint that can be grown, with the most well-known being peppermint and spearmint.
You probably already know that oregano is a vital ingredient in many Italian cuisines. This herb is hardy with an intense flavor, making it the ideal addition for sauces, pizzas and tomato dishes. Something you may not know is that this type of herb can be concentrated into an essential oil that is packed with antioxidants proven to provide health benefits. It works as a natural antibiotic and antifungal agent and can even lower cholesterol levels.
Parsley is another great kitchen herb that is grown for both garnish and flavoring. It pairs well when blended with other herbs and may be used in stews, soups and other vegetables.
Rosemary possesses a strong aroma that can enhance the flavor of meat, sauces, soups, or even pastries. You may want to use this herb sparingly as an accent when cooking, as the flavor can be quite pungent.
As your indoor garden comes to life, thyme will burst with gray-green leaves and white or lilac flowers. Common uses of this herb include flavoring cheeses, soups, stews, stuffing, poultry, casseroles and even honey. Thyme is distinctly fragrant with hints of clove and mint aromas.
How to Grow An Indoor Herb Garden
Whether you start your herbs from seeds or buy plants from the nursery, here are the things you'll need to do to keep your herbs growing all year round:
Water is the lifeline of your herbal garden! Routine watering is essential for growth, so you will want to keep the soil moist at all times. Indoor herbs should be watered when the soil feels dry a half inch below the surface, depending on pot size. You never want to allow the plants to wilt, yet you should also avoid overwatering. Soggy soil can lead to root rot, the most common problem of herbs grown indoors.
Be able to maintain room temperature (not too cold, not too hot)
Herbs thrive in temperatures that range from 60 to 70°F. For best results, keep your herbs in rooms that are around 65 to 70°F during the day and down as low as 55 to 60°F through the night
Have access to natural light or a grow lamp
The majority of herbs require six hours of direct sunlight to grow and flourish. The higher the intensity of the light, the more oils will develop within the glands of foliage and stem. These oils enhance stronger fragrances and seasonings in culinary herbs. If you do not have access to natural light, a grow lamp is crucial. Most indoor-grown herbs will need twelve hours of artificial light to maintain proper health.
Keep them out of reach of pets
If you own a particularly curious pet that loves to play around, you may want to look into buying a wall or hanging planter (Check out some of our favorites here). Keeping your indoor herb garden out of reach from your beloved four-legged friend is best for your pet's health and for your peace of mind.
Protecting your blooming herbs from pests is important for maintaining healthy growth. You can easily make an at-home solution to control insect pests by mixing 1 to 2 tablespoons of a mild dishwashing soap with a gallon of warm water. Use a spray bottle to mist infected plants once a week while pests are visible. Make sure that you remember to always wash your leaves off before you get cooking!
You will trim and prune your plants by removing dead branches that have been injured by disease, insect infestation or other damage. Pruning changes both the form and growth of a plant, so it is important to trim and prune periodically throughout the growing season to maintain productive maturation. This process will also act as a preventive measure for insect and disease damage.
Where to Place Your Indoor Herb Garden In Your Home/Kitchen
What to consider when setting up your herb garden:
Place it out of high-traffic areas to avoid spills and tip-overs
Keep it away from the stovetop to avoid overexposure to heat
If it's a countertop garden, keep it away from counter edges/secure it so it won't fall
If using natural light, keep garden near a window/in a spot that gets enough ambient light
It's best to keep your garden out of direct sunlight; too much sun can "fry" the herbs
Make sure plants have enough space/airflow around them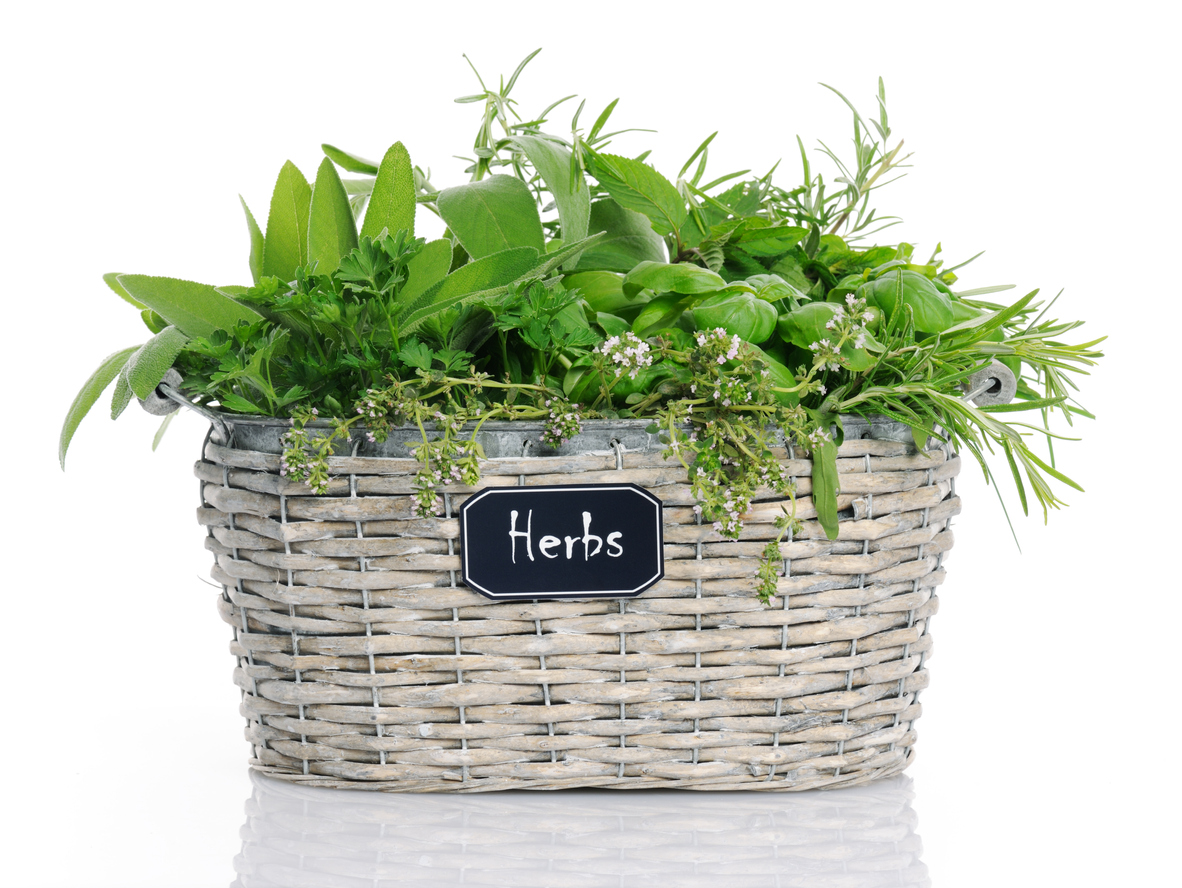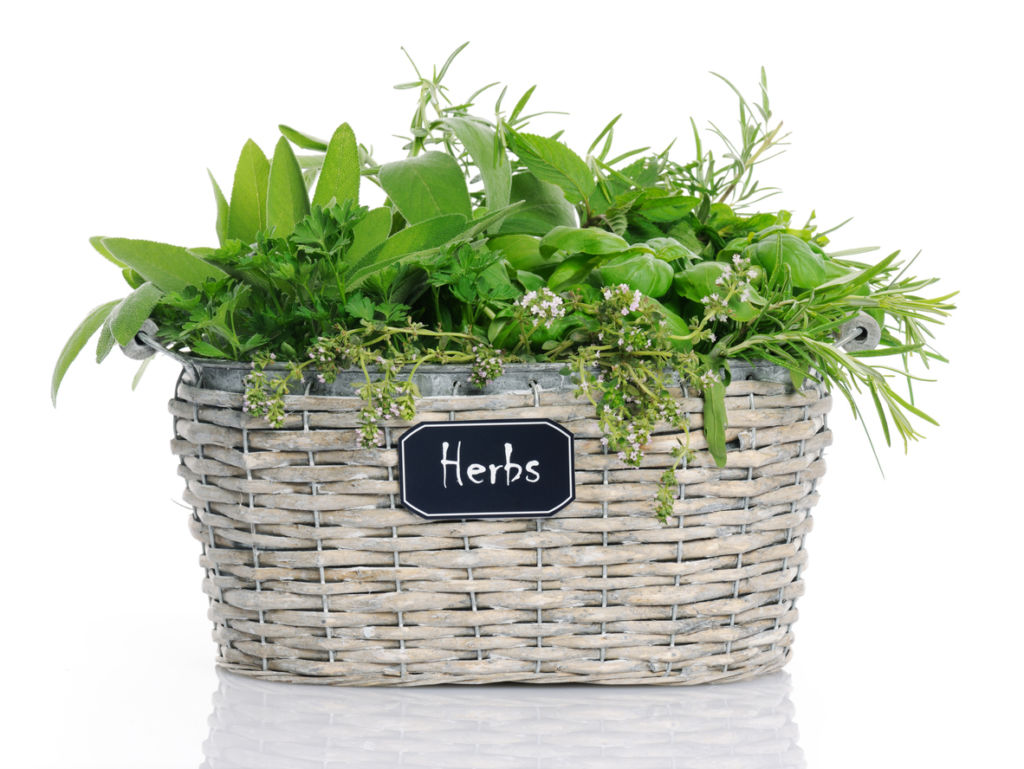 Lighting Considerations For Your Indoor Herb Garden
Next we will cover the best lighting options, the pros and cons of natural light vs. grow lamps and the different types of grow lamps available (also where to buy).
There are several factors to consider when choosing the best lighting for the types of herbs you are growing in your personalized indoor garden. All plants need light to perform photosynthesis, but the amount and type of light that a plant needs to thrive is highly variable. Natural sunlight provides the full spectrum of colors at a level of power that technology is not capable of matching, yet grow lights are often the most practical option when it comes to indoor gardening.
Natural Light Pros
Sunlight is free!
More powerful than grow lights
Natural Light Cons
Unpredictable based on season/region
Not ideal for indoor gardening because windows filter out a lot of the intensity of the sun
Risk of window not facing the sun / something blocking the light
Cannot control the sun's proximity to meet your plants' needs
Glass can amplify heat from the sun and may harm plants that like cooler temperatures
Risk of drafty/frozen window may not permit plants to stay warm enough
Grow lamps are the best option for indoor gardens that lack access to natural sunlight. The use of grow lamps will give you the ability to place plants in spots you want. It ensures that plants get consistent, year-round sufficient light and mitigates the risk of damage from extreme temperatures.
Grow Lamp Pros
LED

Better meet the needs of indoor plants
Boost of blue light to stimulate stronger roots, enhance photosynthesis and ensure peak growth
Energy efficient
Long-lasting
Wide spectrum of light
Do not produce too much heat
Wide variety of sizes/styles

Fluorescent

Moderately energy efficient
Cheaper up-front cost
Can be kept closer to the plants (great for small indoor spaces!)
Good choice if you are new to indoor gardening or grow only a few plants

Incandescent
High-pressure sodium and metal halide

Emit substantial light over a wide surface area
Most commonly used commercial light source
Grow Lamp Cons
LED

Higher up-front cost
Bright lights can be distracting

Fluorescent

Do not last as long as LEDs
Use more energy than LEDs

Incandescent

Energy inefficient
Create heat
Do not last as long

High-pressure sodium and metal halide

Large size; need to be hung at tall heights
Older technology
Release a lot of heat
Not all of the light usable to plants
It can be overwhelming to decide which grow light is the best fit for your unique indoor herb garden. Here are some of the different types of grow lamps available (also where to buy).
Modular Bamboo LED Grow Light
High-output LEDs 2x as bright as standard LED
No height adjustment needed
Furniture-quality construction – strong, renewable bamboo
Tall model lets you grow plants up to 45" high!
Large-Capacity SunLite
4' of growing space
Grow thriving seedlings, houseplants and herbs
Dual-bulb, adjustable light fixtures
Choose energy-efficient LEDs or affordable fluorescents
Sturdy aluminum frames will never rust
Accommodates maximum plant heights of 14" to 30"
Space-Saving SunLite
Just 2' wide
Dual-bulb, height adjustable 2' light fixtures
Choose energy-efficient LEDs or affordable fluorescents
Each floor model has casters, so you can roll it where you need it
Modular Stack-n-Grow Light
Energy-efficient LED and fluorescent options
Dual-bulb, height adjustable light fixtures
Lightweight, super-sturdy plastic frames and shelves
Easy assembly and light fixture height adjustment
Oslo Customizable Grow Lights
High-output LED lamps need no height adjustment
Repositionable magnetic light fixtures
Shelves flip up for maximum headroom
Smooth-rolling, lockable casters
Frame sets up quickly out of the box
Folds up flat for storage
Where to Buy Indoor Herb Garden Supplies Locally
We take pride in being strong supporters of local businesses. Here are six of the best plant retailers in the Seacoast area:
Churchill's Garden Center (Exeter)
Cymbidium (Exeter)
Newton Greenhouse (Newton)
Rolling Green Nursery (Greenland)
Stratham Circle Nursery (Stratham)
Woodbury Florist & Greenhouses (Portsmouth)
Where to Buy Indoor Herb Gardens Online
These are our favorite online retailers that carry quality, attractive, user-friendly grow kits.
Our Top 10 Indoor Herb Garden Picks
Garden Republic Herbs in the Burbs at Amazon ($33)
This indoor kitchen herb starter kit is an affordable, well-rounded option for a new gardener to dive into the process. This kit comes with four types of culinary herb seeds, a grow box, grow bags, soil discs and a pair of trimming shears.
Pixel Kitchen Countertop Garden ($46)
For the avid chef — this planter can grow eight herbs at a time so that your culinary herbs and spices are readily available on your kitchen countertop. These BPA-free planters are engineered with first grade recycled plastic. This planter is economical, affordable and adds a lovely green touch to your home!
Triflora Hanging Window Planter ($43)
This stylish planter hangs three pots on an adjustable metal rod to meet the size and display of your indoor garden. Each pot is made from a durable melamine inspired by the shape of church bells. All mounting hardware is included, so you're just a few clicks away from having everything you need to begin!
Mason Jar Indoor Herb Garden ($20)
Starting your indoor garden with Mason jars will allow you to harvest fresh culinary herbs with limited work and minimal space. Cultivate a vintage look with these Mason jars that use a passive hydroponic system to bring nutrients up to the plants' roots and regulate moisture. It's as simple as planting the seeds of your choice, adding water to the reservoir and placing the jar in your sunniest window!
The Smart Garden 3 ($100)
This self-watering planter with a built-in grow light is the ideal option for the on-the-go gardener who may not have the time to consistently water their herbs. Its advanced technology will have your kitchen herbs flourishing in no time!
The Smart Garden 9 ($200)
This larger version of the Smart Garden 3 offers the same features but can accommodate up to nine plants. It also includes seed pods for growing cherry tomatoes, basil and green-leaf lettuce.
AeroGarden Harvest with Gourmet Herb Seed Pod Kit ($90)
Defy planting norms and garden all year round with this soil-free option. An easy, three-button control panel uses an automatic timer to turn the lights on and off and generates a reminder to water your herbs.
Window Plant Pod ($25)
The Window Plant Pod can stick to any window so that your herbs get plenty of natural sunlight! This is a great option for any apartment that may not have a ton of free space to grow indoors. This planter adheres tightly and can hold up to 15 lbs. Move and restick to any window whenever you please!
Worth Garden Self-Dripping Vertical Garden Wall Planters ($40 for 9)
A vertical wall garden depicts a lively aesthetic that can tie a room together. Each planter is made up of three connected pots that can be hung vertically to incorporate a self-dripping watering system.
Syndicate Sales Stacked Herb Garden ($20)
This is a simple, affordable option that is perfect for growing culinary herbs indoors. It's shape and design promote plant growth by watering from the bottom up. Mix and match colors to brighten up any room!