With the highly anticipated summer season on the horizon, it's time to start prepping your summer bar cart for the fun that awaits. A great bar cart will of course feature refreshing summer drinks and cocktails — and with our expert design help, it may even serve as the main attraction for your home's summer interior design.
Ready to run your home bar like a pro this summer? Look no further – we're sharing tips and tricks on how set up your bar cart to make the best summer cocktails this season! Better yet, we are even sharing 10 popular summer cocktail recipes to try at home!
Benefits of Using a Bar Cart
There are several benefits of using a bar cart at home, especially in the summer season. Let's talk about why a bar cart is an absolute must-have in your home.
Functionality
A bar cart is a practical way to store the various tools and supplies used to make any cocktail. It will organize all of your barware into one place, making your life as a host a whole lot easier.
Versatility
Bar carts are often put on wheels to become a full-service, portable bar that can be easily moved to your porch or patio for outdoor entertaining. Roll your bar cart out for easy access when your guests arrive and tuck it away into a corner as needed.
Serves as décor
By adding just few accessories, a bar cart has the decorative potential to transform a room. Style your bar cart to enhance your home's summer décor or use it as a grounding centerpiece that caters to your unique preferences — the design options are endless!
Enjoy hosting
We've all been there… as a host, you often spend more time entertaining than actually enjoying the moment. For larger gatherings, a bar cart can utilize a pitcher filled with a premixed cocktail for guests to refill their drink as needed. This takes the pressure off of you as a host to sit back, relax and enjoy a nice summer gathering.
Where to Find a Quality Bar Cart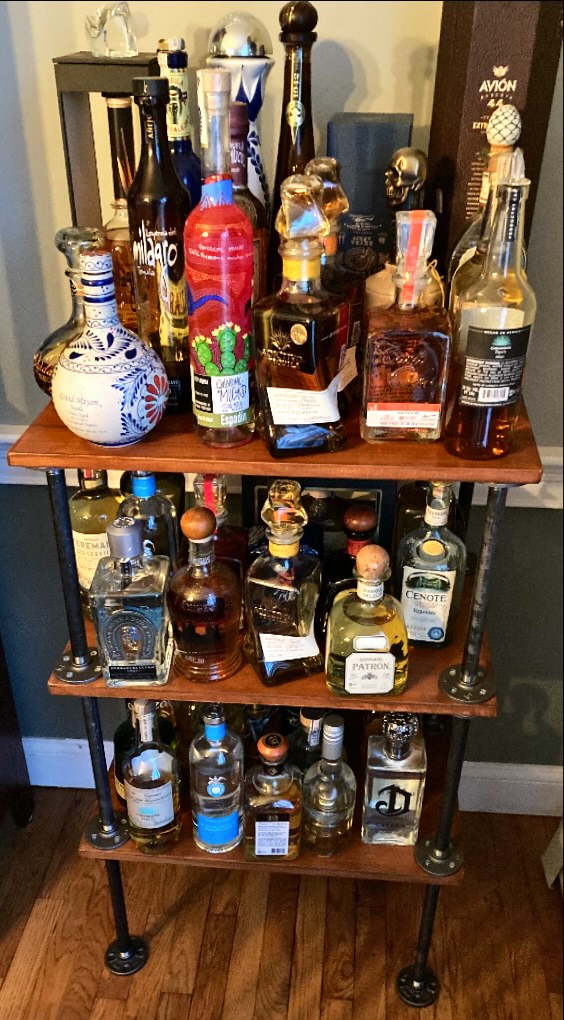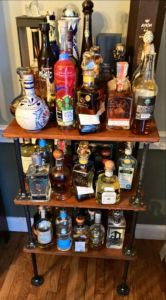 Shop Local
We believe that shopping local is your best bet for finding a quality bar cart and everything it entails. Find the perfect bar cart and accessories at local shops right in downtown Portsmouth such as Stonewall Kitchen.
Buy Online
There are additionally many options to buy a bar cart online. Pottery Barn offers a wide variety of traditional metal rolling bar carts. For a more modern style cart, we recommend checking out One Kings Lane or West Elm.
Other bar cart essentials such as pitchers, drinkware and ice buckets can also be found online. Crate & Barrel will have you covered for anything and everything related to bar accessories. For the more specific bar tools such as cocktail shakers and juicers, we recommend checking out Williams Sonoma.
DIY Bar Carts
Buying is always an option, but for many, putting together a DIY bar cart can be just as fun as using it. Moreover, a DIY bar cart can provide the same style benefits at a fraction of the cost of buying new. We love the idea of repurposing wood from an old cabinet or even transforming furniture such as a TV stand or office cart. A simple coat of paint can do wonders!
How to Set Up a Bar Cart for Summer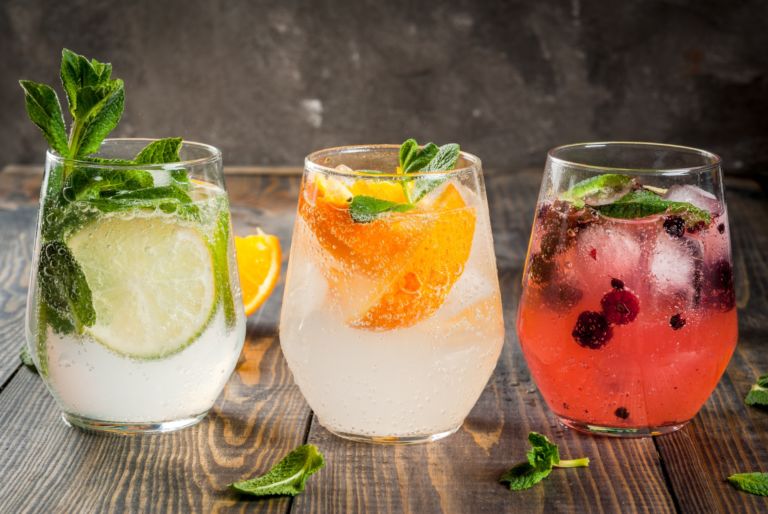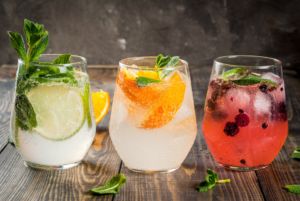 To better prepare for your gatherings this summer, we asked Brendan Vesey, chef and owner of restaurant and gin bar Botanica, for home tips on what every summer bar cart should have.
The typical summer cocktail often contains fruit juices or simple syrups. To make a truly great cocktail, Vesey recommends balancing that sweetness with acid from something bitter such as fresh citrus. "We use lots of spirits that are bittered with gentian root and other botanicals. Most people are familiar with Campari, but there are lots of others out there. Look for Sales, Suze, Cocchi Americano or Bonal. A little goes a long way and you don't need much to start," Vesey says.
Ultimate Summer Bar Cart Checklist
Glassware
Pitcher or beverage dispenser (to serve summer drinks on tap such as sangria)
Cocktail shakers & strainer
Muddler & jiggers
Citrus juicer & peeler
Bar spoons & knives
Ice bucket
Standard base liquors (catered to the summer season)

Vodka, gin, tequila, rum and a bourbon or rye whiskey

Liqueurs & mixers
Tonic & soda water
Citrus fruits
Sugar or simple syrup
Elevate Your Summer Bar Cart Set Up
Include a handmade local tray to place on top of the bar for portable drink serving
Add books (vintage books for design or your favorite cocktail recipe book)
Add vintage décor atop
Fresh herbs for garnish
Have bitters and aperitifs on hand
Vesey's expert home bar tips are the same as his expert kitchen tips — practice, practice, practice and be realistic about your abilities. Here are some of the do's and don'ts for your summer bar cart from the drink connoisseur himself.
Don't make something for the first time when your guests arrive.
Find a classic cocktail that is underserved like a Hemingway Daiquiri.
Get the best ingredients you can afford for that cocktail then riff on it.
Don't try to take on a list of 15 drinks, or stock your bar cart for that.
Swap the rum for tequila and you have a killer margarita. Use whisky and you have the makings for a nice sour.
If it's too sweet, work in one of the bitter spirits to balance it.
Use a digital scale to measure your creations and take notes. For a novice, it's a lot easier and cleaner to make consistent drinks with a scale than it is with a jigger or free pouring.
Once you have something interesting that you enjoy, offer it to your guests. Making one great cocktail and offering beer, wine, and nonalcoholic beverages will make you a more relaxed host who is enjoying the party rather than catering it.
Make sure if you are outdoors that you have an insulated container for ice (Pro tip: Stash a cooler packed with ice nearby. You don't need king cubes or anything fancy, just get more ice than you think you need.)
Syncing Bar Cart Design with Interior Design
We know that for many, styling your bar cart to serve as a focal point can be equally as important as whipping up delicious summer drinks. In any home or apartment, there are several ways to align bar cart décor with summer interior design trends.
Nautical: Add Natural Materials
For homes by the water, nautical décor is a common summer interior design option. Tie in the traditional blues, grays and whites and use a natural material such as wood for the base of your bar cart.
Pops of Color: Use Cocktail Ingredients
Pops of color are always a beloved interior design trend for summer. Citrus fruits are a staple ingredient for summer cocktails that can also be used to brighten up any space. You can also add a small dish of nuts or candy to add color and give your guests something to pick at when socializing around the cart.
Natural Fibers: Go Green
Natural fibers within interior design are a timeless summer trend. Including a vase of fresh flowers on your bar cart can bring life to both the room and your summer gathering. The greenery atop your cart will complement the natural textures of the surrounding design.
Holiday Themes: Get Accessorizing
Hosting the fourth of July party this summer? Bring out the red, white and blue and add decorations such as sparklers or American flags to cater to the holiday.
Popular Summer Cocktail Recipes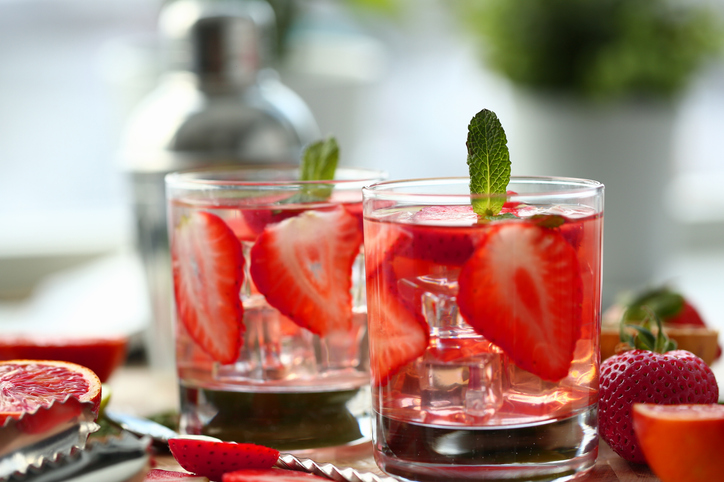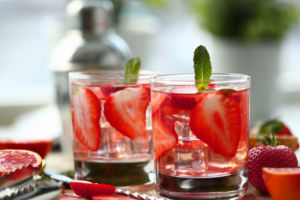 About time we got to the important stuff, right? These 10 delicious summer cocktail recipes are a must-try this season.
INGREDIENTS
Grapefruit wedge, for rimming
2 tsp. granulated sugar
2 tsp. chili powder
Ice
2 oz. cognac
2 oz. grapefruit juice
1 oz. Cointreau
Grapefruit slice, for garnish
DIRECTIONS
Rim glass with a grapefruit wedge. Combine sugar and chili powder on a small plate and dip rim into mixture, turning to coat.
Fill a cocktail shaker with ice and add cognac, Cointreau, and grapefruit juice. Shake until chilled.
Strain into rimmed glass and garnish with a grapefruit slice.
INGREDIENTS
2 lime wedges, for rimming glasses and garnish
1/4 c. kosher salt or coarse sea salt, for rimming glasses
4 oz. tequila
2 oz. triple sec
1 1/2 oz. freshly squeezed lime juice
Ice
DIRECTIONS
Place salt on small shallow plate. Rim two glasses with lime wedge, then dip in salt to coat rim.
Divide tequila, triple sec, and lime juice between 2 glasses and stir to combine. Top with ice, garnish with lime, and serve.
INGREDIENTS
1 tsp. salt
1 tsp. chili powder
Lime wedges
2 oz. fresh lime juice
2 tsp. hot sauce
Dash of soy sauce
Ice
12 oz. light Mexican beer, such as Modelo or Tecate
DIRECTIONS
On a shallow plate, stir to combine salt and chili powder. Wet rim of large serving glass with lime wedge and dip into chili salt to coat rim.
Combine lime juice, hot sauce, and soy sauce at the bottom of glass and stir to combine. Fill glass with ice, then top with beer. Stir lightly, garnish with a lime wedge and serve.
INGREDIENTS
6 oz. beer
6 oz. lemonade
Lemon slice for garnish
DIRECTIONS
Fill a standard pint glass half-way with beer and fill the rest of the way with lemonade.
Garnish with a lemon slice and serve.
INGREDIENTS
1/2 c. blackberries
Handful fresh mint leaves
Juice of 2 limes
1 tsp. sugar
1/2 c. light rum
Crushed ice
Club soda
DIRECTIONS
In a small bowl, muddle blackberries. Set aside
Place mint leaves in bottom of glasses. Divide and spoon blackberry mixture on top
Add rum, sugar, and lime juice and stir to combine. Top with crushed ice
Add club soda and garnish with mint leaves and more blackberries.
INGREDIENTS
1 (750-mL.) bottle red wine
1 c. orange juice
1/2 c. brandy
1/4 c. granulated sugar
1 orange, sliced
1 apple, sliced
1 c. blueberries
1 c. sliced strawberries
1 (12-oz.) can seltzer
DIRECTIONS
In a large pitcher, mix together wine, orange juice, brandy, and sugar then stir in oranges, apples, blueberries, and strawberries.
Refrigerate until ready to serve, preferably 2 hours. Top off with seltzer before serving.
INGREDIENTS
4 oz. coconut rum
4 oz. pineapple juice
2 oz. vodka
Ice
1 oz. grenadine
Maraschino cherries, for garnish
Pineapple wedge, for garnish
DIRECTIONS
Combine coconut rum, pineapple juice, vodka, and a few ice cubes in a cocktail shaker and shake until cold. Strain into martini glasses and slowly pour 1/2 ounce of grenadine into each glass.
Garnish with cherries and a wedge of pineapple.
INGREDIENTS
FOR THE ROSEMARY SIMPLE SYRUP
1 c. water
1 c. granulated sugar
3 sprigs fresh rosemary
FOR THE DRINK
2 oz. gin
1 oz. freshly squeezed lemon juice
1 oz. rosemary simple syrup
1 large egg white
Ice
2 oz. seltzer
Lemon round, for garnish
Rosemary, for garnish
DIRECTIONS
Make rosemary simple syrup: In a small saucepan over medium heat, combine water, sugar, and rosemary. Bring to a boil and stir until all sugar is dissolved, pressing rosemary against the bottom of the pot with a wooden spoon to release its oils. Let cool to room temperature, then strain into an airtight container and refrigerate until ready to use.
Make drink: Combine gin, lemon juice, simple syrup, and egg white in a cocktail shaker. Shake for 10 to 15 seconds to combine all ingredients. Fill shaker with ice and shake 10 to 15 seconds more, or until chilled.
train into serving glass, top with seltzer, and garnish with lemon and rosemary.
INGREDIENTS
Orange wedges, for rim and garnish
Sugar, for rimming glass
2 oz. tequila
1 bottle champagne
1/2 c. orange juice
Grenadine
DIRECTIONS
Rim glasses with an orange wedge and dip in sugar.
In each flute, pour 1 ounce tequila and top off halfway with champagne.
Top off with orange juice and a splash of grenadine.
Garnish with an orange wedge and serve.
INGREDIENTS
FOR RIM
2 tbsp. kosher salt
1 tbsp. granulated sugar
Zest of 1 lime
Lime wedge
FOR DRINK
4 c. chopped watermelon
1/4 c. lime juice
1/2 c. silver tequila
1/4 c. triple sec
4 watermelon slices, for garnish
4 lime rounds, for garnish
DIRECTIONS
Place watermelon on a large baking sheet and freeze until hardened, at least 2 hours.
Combine salt, sugar, and lime zest on a small plate and stir to combine. Use lime wedge to wet rim of margarita glasses then dip rims in salt mixture.
In a blender, combine frozen watermelon, lime juice, tequila, and triple sec and blend until smooth. Pour into rimmed glasses and garnish with a watermelon and lime round.
The warm weather is rolling in and the countdown to summer entertaining has begun. Now that you're an expert on bar carts and summer cocktails, it's time to start prepping. Visit our website for more tips on anything and everything related to your home — cheers to summertime!