Introducing the Second Floor Suites at Cocheco Mills
Chinburg Properties is happy to announce the creation of the newest business and creative district within Cocheco Mills. The second-floor suites at Cocheco Mills will offer independent professionals industrial chic, class A office space in Dover, NH, allowing some the opportunity to both live and work all right in downtown.
In 2013, renovations were completed to make the Cocheco Mills a premier mixed–use community. This phase of construction at Cocheco Mills added 75 apartments with a mix of studios, lofts, one- and two-bedroom apartments, a fitness room, bike storage and a clubroom.
Joining the mix this fall are the "2nd Floor Suites" commercial space created specifically for entrepreneurs, creatives and business professionals. The suites will be ready in October of 2015.
The Cocheco Mills business community is already home to cool companies like Ascentium and Nemo, Childlight Yoga, Noggin Factory, and the popular 7th Settlement and Blue Latitudes restaurants.
What Will the Second Floor Suites Offer?
Designed to nurture likeminded businesses that include entrepreneurs, creatives and independents, these second-floor, class A office suites offer a unique environment that blends both modern and historic details.
Turnkey or custom build suites are available ranging in size from 500–2,000 +/- sq./ft., depending on your needs. Space will be delivered as "vanilla box" or you can choose to make your own selections to customize your space based on your own personal tastes and budget. Plus, the second-floor suites offer creative nests areas for impromptu meetings or to step away from your own office, and shared kitchen, cafe and conference room spaces overlooking the Cocheco falls and downtown Dover. Also offers free access to an on-site fitness room.
Other benefits include:
Concrete floors, exposed brick walls and ductwork, mill timber ceilings
Oversized windows with natural light
Kitchen and cafe space, creative nest and social spaces
Conference room and hospitality Wi-Fi
Secure shower area for walk or bike to work and mid-day runs
Convenient walking distance from downtown shops, restaurants, cafes and public transportation
Living opportunities within the same building
The Class A Office Space Difference
Class A office space is the most prestigious office space, offering a prime location, the highest quality construction, state of the art technology systems and energy efficient policies. It also typically means that there will be a central lobby, high ceilings and high-end furnishings.
In addition to Cocheco Mills, other examples of class A office space can be seen in the Newmarket Mills and Canal Street Mill properties.
When compared to the other grades of office space, B and C, class A is the top of the line in aesthetics, fixtures, amenities, systems and management. And while class A may cost a bit more, the price is reflected in the quality of the building and management, not to mention the location.
Making the Move to a Commercial Real Estate Rental
At some point, for many entrepreneurs and small business owners, the need for an office space outside of the home becomes apparent, as your company grows and your needs change. But making the leap to commercial property ownership can carry some harsh costs. And for a new business that can be risky. This is why many entrepreneurs decide to lease commercial property instead. Reasons for renting commercial property as opposed to purchasing include:
Short-term affordability
Less responsibility for common area maintenance and upgrades
Opportunities for growth
A prime location that may not be affordable or available for purchase
A built-in community of other interesting business with whom to potentially collaborate and interact
What's more, when you lease a commercial space at the "2nd Floor Suites" through Chinburg Properties, hospitality Wi-Fi and access to conference rooms, kitchen and café spaces, and storage and shower spaces. You'll also have the opportunity to live in the same building that you work in, if you really want to maximize convenience—and you can't get a much easier commute than that!
If you are interested in joining a community of creative professionals in one of the newest and most vibrant business districts in downtown Dover, NH, contact us. We look forward to showing you the second floor suites at Cocheco Mills — currently leasing and available for occupancy.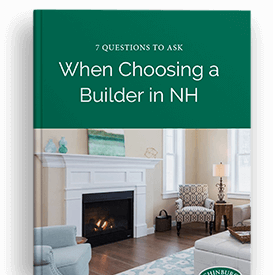 What You Need To Know Before Selecting a Builder
You're only 7 questions away from choosing the right builder for your home.
Download the Guide