With a long history of brewing dating back to the 17th century, New Hampshire holds its own in the golden age of craft beer. The state is home to everything from tiny "nanobreweries" to nationally recognized institutions like Cisco Brewers, plus independent wineries, distilleries, meaderies and more. New Hampshire currently ranks 8th in the country for craft breweries per capita, with 93 craft breweries bringing in over $506 million in annual revenue.
Though beer lovers in New Hampshire have their pick of the litter now, the go-to spot for local brews throughout the 19th and early 20th centuries was the Frank Jones Brewery in Portsmouth. By 1896, Frank Jones was one of the largest producers of ale in the U.S., turning out over 250,000 barrels every year. The brewery was located at 90 Brewery Lane, and the original fermentation and refrigeration facilities have been renovated to house studio, one- and two-bedroom apartments as well as commercial space. You can explore the Frank Jones Brew Yard, including the residential Brew House and the 1884 House businesses here.
The Frank Jones Brewery closed in 1950, but thankfully, New Hampshire has more than made up for its absence! We've compiled a list of some of the best breweries in the state, ranked in no particular order.
New Hampshire Brewery Guide
Let's get exploring! Here is your guide to the best breweries in Portsmouth, Dover, Newington, Central NH, and even the White Mountains. Plus, options for those who prefer something a little less hoppy. Let us know what your favorites are ~ and help us expand our list to Maine and MA!
* = Chinburg Property
Deciduous Brewing Company*
12 Weaver St., Newmarket
Located adjacent to the stately granite Newmarket Mills in downtown Newmarket, Deciduous Brewing offers a relaxed atmosphere for adventurous beer lovers (and their dogs!). Their menu features a plethora of fruit-forward beers and hoppy interpretations of popular cocktails, including a Watermelon Cooler pilsner, blueberry and pomegranate gose style ale and candy-shop-in-a-glass sour ale named Lollipop Fluff, to name just a few.
—
Garrison City Beerworks
455 Central Ave., Dover
Calling themselves a "nanobrewery," Garrison City still manages to fit a robust beer program and a full street taco menu into their compact footprint. The brewery is a must when strolling through downtown Dover, perched alongside the winding Cocheco River amid revitalized mill buildings.
—
Smuttlabs Brewery & Kitchen*
47 Washington St., Dover
Located in the dynamic Cocheco Mills property, Smuttlabs is the innovation center for the Seacoast-based Smuttynose brand. This is where the brewery tests out new beers with its fans, some of which go on to become menu staples at Smuttynose's other locations. Come for the funky new brews, stay for the good eats and crackling atmosphere.
—
Woodstock Inn Brewery
135 Main St., North Woodstock
Stop into any liquor store in New Hampshire and you'll likely find this brewery's clean, white cans featuring colorful mountain tableaus. Woodstock Inn Brewery distributes their beers far and wide, though the best place to enjoy their brown ales and IPAs is at their headquarters at the foot of the White Mountains. Book a room at the cozy inn and enjoy the inn's full menu — hiking is not mandatory.
—
Stoneface Brewing Co.
436 Shattuck Way, Newington
Live free and drink craft beer — that's the Stoneface Brewing motto. The rotating brews in their tasting room on the water's edge are accompanied by a full menu, and their high-ceilinged warehouse space gives visitors plenty of room to spread out.
—
Sea Dog Brewing Company
10 Chestnut St., Exeter
Top off a visit to picturesque Exeter with a pint at this casual brewery on the Squamscott River. Sea Dog Brewing features a full menu with entrees, dessert and, of course, their signature beers. Walk off your meal with a stroll along the water, through Founders Park, past the String Bridge falls and Exeter Mill. Keep your eyes open for herons and eagles!
—
Throwback Brewery
7 Hobbs Rd., North Hampton
How about a sunset with your beer? Throwback Brewery is the perfect place to stumble upon at the end of a long day at the beach. Located on a 12-acre working farm with chickens, donkeys and a lush hop garden, Throwback invites visitors to spread out on the lawn with a Kölsch, stout or Sangria and watch the swallows swoop through the evening sky.
—
Earth Eagle Brewings
175 High St., Portsmouth
Earth Eagle North
350 NH-108, Somersworth
In addition to their inventive beers (including a strawberry sour and a lemongrass lager), Earth Eagle has a beer garden, a full bar, live acoustic music and homebrew supplies. Their flagship brewery is located just outside the bustle of downtown Portsmouth, where you can enjoy a relaxed atmosphere with a house-made burger or hot dog.
—
Stripe Nine Brewing Co.
8 Somersworth Plaza, Somersworth
Pizza and beer — is there a more classic combination? At Stripe Nine, you can watch as the head chef prepares your wood-fired pizza to order while you enjoy what's currently on tap. If you're feeling like another pint, head past the Canal Street Mill, cross the Salmon Falls River bridge and hit Corner Point Brewing Company in Berwick, Maine.
—
Pipe Dream
49 Harvey Rd., Londonderry
Pipe Dream is known for getting creative with their brews, infusing them with gummy bears, teas or hundreds of pounds of fresh fruit. Their casual, colorful taproom serves fully loaded nachos and pizza while visitors enjoy live music, craft nights or yoga sessions.
—
Liar's Bench Beer Co.
459 Islington St. #4, Portsmouth
Walking into Liar's Bench is like reuniting with an old friend. The taproom is in a former plumbing supply storeroom in Portsmouth's West End, complete with a loading dock and garage door that slides open in the warm weather. The beer garden out back is suitably rustic, complete with weathered wooden benches under shade sails and string lights. They stock a rotating list of original brews, plus a house-made food menu and to-go snacks.
—
Kettlehead Brewing Company*
407 W. Main St., Tilton
Currently with one location in Tilton, Kettlehead will soon open a second location in the Stevens Mill in Franklin. The company is known for its rainbow-hued brews and cans, including a blood orange IPA, a sour ale brewed with green Sour Patch Kids, and electric blue slushies (for kids and adults). Kettlehead also offers a full menu and lots of fun merch.
—
Vulgar Brewing Company
378 Central St., Franklin
Located across from Stevens Mill in downtown Franklin, Vulgar brews beer for the common man. Their name refers to the term used by the aristocracy to describe the lower classes, inferring that beer is to be enjoyed by all, no matter how well-to-do they are. They brew classic beers and serve a menu full of locally sourced ingredients in their taproom and on their patio.
Non-beer Options in New Hampshire
For those looking for a different kind of brew, New Hampshire has lots more to offer.
Auspicious Brew*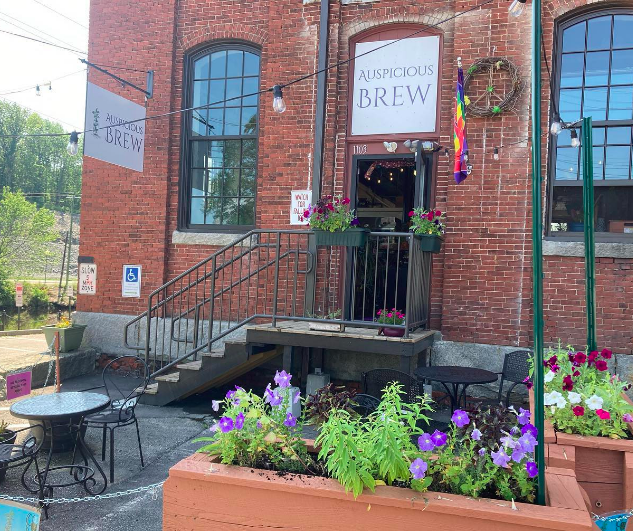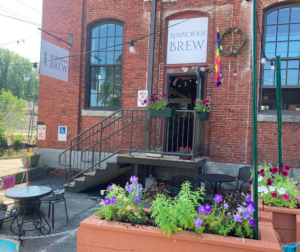 1 Washington St. Suite 1103, Dover
The state's first licensed kombucha brewery, located in the Washington Street Mills on the banks of the Cocheco River. The ingredients used are influenced largely by the season they are brewing in. They are most inspired by what's available locally and in-season, so what we brew changes throughout the year. Helen and Bri love using fresh herbs from their gardens or throughout the colder months, ones they're harvested and preserved. When they cannot source their own ingredients, they take pride in supporting other small scale growers around the world.
—
Tamworth Distilling
15 Cleveland Hill Rd., Tamworth
Unique, hyper-craft spirits inspired by the Transcendental movement and bottled at the foot of the Whites.
—
Flag Hill Distillery & Winery
8030 S Willow St. Unit 1-7, Manchester
A picturesque vineyard and the oldest distillery in New Hampshire, offering tastings and a seasonal dinner series.
—
Ancient Fire Mead & Cider
8030 S Willow St. Unit 1-7, Manchester
A unique watering hole that offers educational tours alongside pours of its fermented, apple-based beverages.
—
North Country Hard Cider
3 Front St #160, Rollinsford
All-natural craft cider press featuring classic cans and experimental bottles. If you're more inclined to stay closer to home, there are plenty of delicious cocktails and mocktails you can make using locally sourced ingredients. Cheers to Granite State brews!