Building commercial office space requires the imagination to guess what the tenant/business will want. The developer/builder creates and adds the amenities that they think will be most attractive to the occupant. They design and construct a workspace optimal for their prospective tenants. Instead of moving into a turn key space, many businesses want to create their own amenities, layout and choices that will suit their specific needs.
In commercial leasing, this concept is known as build to suit. In this case the builder/developer offers the option to construct a space to fit a tenants specifications. It is, in essence, the customization of commercial office space to a customer who has committed to lease the space for an extended period of time.
So, what are some of the advantages of creating a build to suit office space?
Growth

A business can benefit from "build to suit" office space when their current space no longer fits them due to the growth and evolution of the company. Customized commercial office space allows a company to achieve greater efficiencies related to workspace needs.
Energy efficiencies
A build to suit commercial space can also enable a company to go greener. A builder can design and construct a space that leverages all of the latest industry-leading energy technology, which if done correctly can lead to lower operational costs.
Brand Identity
Starting fresh in a build to suit commercial space can also help a company further identify its brand. A customized office space means the walls don't have to be only white, they can be blue, green, red or even orange.
Cost Savings
There's something to be said for not having the burden of owning your commercial office space. A build to suit office allows a company to customize its space without the burdens of ownership. The cost of the build out can often be built into the long term lease and therefore paid over time, rather than up front. This is a cash flow benefit for growing companies.
Another option for builders and tenants alike is something known as tenant fit up, or tenant fit out. Similar to the idea of build to suit office space, this practice involves a building owner/developer providing a "vanilla box" space which the tenant can then modify to meet the needs of their business.
Most often used in office development, this approach involves the developer constructing the building, but the occupant ultimately determines the final fit out of the interior space. This process can include alterations to; office layout, heating, lighting, water supply, waste disposal services, air-conditioning, security protection and more.
At Chinburg Properties, we have our own experienced building company that works alongside the management company to create what the businesses owners want in their customized space. Chinburg Properties can successfully manage both build to suit options, and simple to complex tenant fit ups. Contact us today!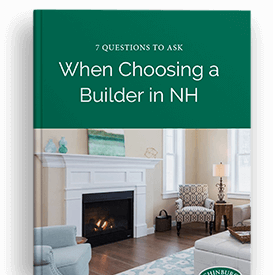 What You Need To Know Before Selecting a Builder
You're only 7 questions away from choosing the right builder for your home.
Download the Guide