Don't Let Your Custom Built Home Fall Victim to Winter's Wrath.
Winter is coming and in some places across New England, has already arrived. Are you prepared? Just like you would dress yourself appropriately with hats and mittens or outfit your car with snow tires and ice scrapers, so too you should prepare your custom built home for the long winter ahead.
A custom built home not suited for a New England winter can experience some major problems—some of which can be disastrous. For example, not shutting off the water line to an outdoor faucet can lead to burst pipes, which can then lead to water spewing into interior walls. If unnoticed, this can lead to major water damage as well as unwanted issues with mold. And this ultimately can cost a pretty penny to repair.
Luckily there are some simple winterization tips you can follow to ensure your custom built home is prepared for the frosty months ahead:
Check roof
Checking to make sure your roof is free of any leaks or missing shingles is a good habit to get into as winter approaches. The last thing you want is for water to seep in and mold to grow within your roof frame. And similar to your gutters, be sure to clean all debris from the eves of your home to ensure ice dams don't build up. Ice dams can tear off gutters, loosen shingles, and even cause water to back up and pour into your house.
Check major home heating appliances
Unless you're capable of doing so yourself, consider hiring a technician to come into your custom built home to check your boiler, as well as your heating unit to ensure all are up to par and all filters are clean. Dirty filters can impede airflow, lead to mold growth and in some situations, cause fires.
Fill cracks and gaps around doors and windows
Cracks and gaps around doors and windows can result in heat escaping your home, and even worse, allow cold air to enter inside. Consider using caulking, among other handy solutions, to fill in these unwanted gaps and cracks.
Protect pipes
Protect your pipes from freezing when the temperatures plummets by identifying vulnerable pipes in the outside walls of your custom built home, especially those located on the north and windward sides of your house shaded by trees and shrubs. If these pipes are in unheated areas, consider covering them with foam wrap that is at least 1 inch thick.
Check chimney
If your custom built home has a chimney, consider hiring a professional to perform a check up to ensure it is free of debris, such as animals, leaves, nests, etc. This will be important if you plan on having fires throughout the winter.
Fill up on your fuel supply
Now is a good time to order wood if you have a fireplace. Also to check your boiler or furnace if you need to have supply delivered so as not to run out when the weather turns frigid.
Check your supply of sand and salt
One thing that is inevitable during a New England winter is the there will be icy walkways and pathways at different times throughout the winter. Make sure you have a supply of either sand, snow melt or salt on hand to keep your family safe from slips and falls. Don't forget to check the labels to see what is safe for your pets.
Have a boot tray near your main entry
Although they will help you from falling; salt, sand and snowmelt will eventually cause damage to your floors. Consider buying a boot tray to place at your entry so that you immediately remove outdoor footwear upon entering your house.  Keep slippers or indoor shoes close by to welcome you home. Protect all of those flooring selections that you made for your custom home.
The good news is that there's still time to check off all of these winterization to-dos for your custom built home before the snow really begins to fall. There are also plenty of other winterization tips out there as well. Don't let your custom built home take a beating this winter – save yourself the aggravation of having to pay for it come springtime.
With nearly 30 years of experience building homes and managing residential and commercial properties in Maine, New Hampshire and Massachusetts, Chinburg Properties knows what it takes to ensure your custom built home makes it through a New England winter. We want to help you keep your home and household running smoothly, no matter the time of year. Contact us today for more information or check out the rest of our blog to learn more home maintenance tips.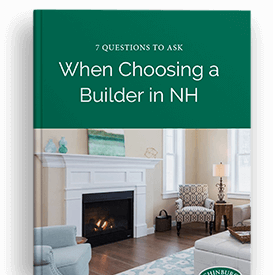 What You Need To Know Before Selecting a Builder
You're only 7 questions away from choosing the right builder for your home.
Download the Guide