Decorating a New Home: Tips and Tricks
You've just moved into your new home — congratulations! This is an exciting time, but it can also be intimidating. In terms of home décor, you are essentially working with a blank slate, whether you're renting an apartment, moving into a new house or building your own home.
We're here to take some of the pressure off with practical, creative and step-by-step tips for decorating a new home.
How to Make Your Living Room More Inviting
FAQs About Decorating Your Home
Decorate Without a Deadline
You know that saying, "It's a marathon, not a sprint"? The same applies to decorating your home. There is no deadline for finishing your home décor journey — in fact, it's perfectly fine if you never stop decorating or updating your home aesthetic!
But before you spring off the starting block, take some time to research and collect design ideas for your new home.
Before moving in
As you pack for your move, pare down your possessions to things you use frequently or things you know you can't live without. Donate old clothes, furniture or décor to your local second-hand store and get rid of broken or outdated items. It's perfectly normal — even encouraged — to trim your belongings by 25–50 percent at this time.
Find inspiration
Search online inspiration boards, home design blogs and image-sharing apps like Pinterest and Instagram using relevant keywords or hashtags.
Depending on your personal tastes, try keywords like "farmhouse," "contemporary home design," "eclectic home décor," etc. Or you can try searching for interior design ideas based on your home's exterior style, i.e. "Cape Cod," "mill building," "craftsman," etc.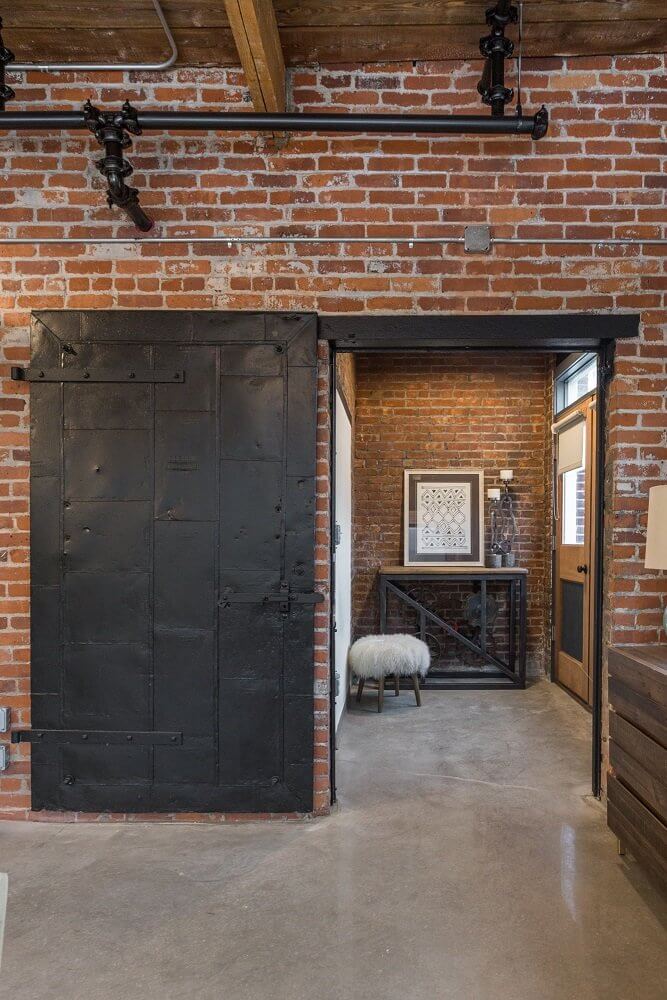 Remember that your entire home does not need to match. If you love multiple design styles, you can give each room its own aesthetic, using one common accent color or material to tie separate rooms together.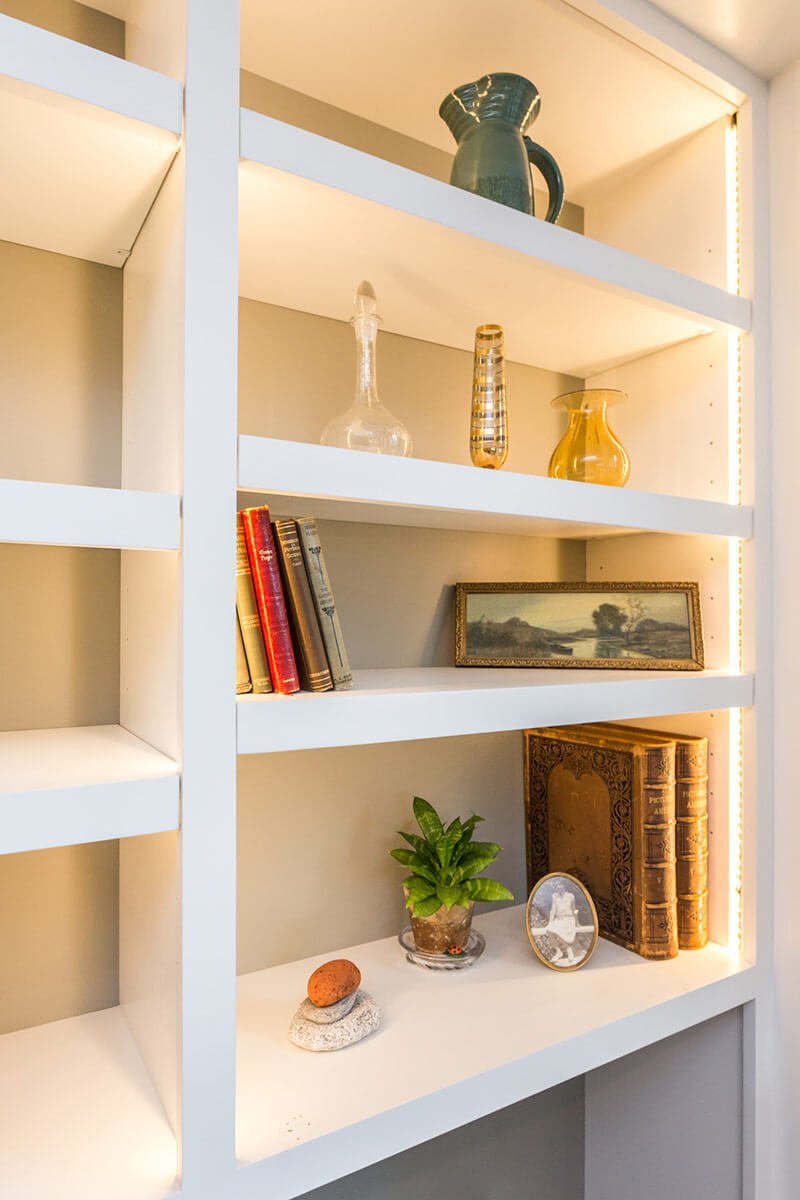 Above all, your home décor should reflect you. If you keep seeing a popular style on inspiration boards that just doesn't feel right, you don't have to use it in your home. Use your own belongings to inform your personal style — take inspiration from your favorite piece of art, vacation souvenirs, cherished family heirlooms or anything else that speaks to you.
Plan the decor
Think about which room is most important to make feel like "home," and prioritize decorating that room first. If you are working with a limited budget, pick two to three rooms to decorate at a time.
Start by making a floor plan of the first room you want to furnish. Measure the length and width of the entire room, taking into account any nooks, bump outs or other permanent elements you'd need to work around. Don't forget to note the ceiling height too, as that will inform the height of the furniture and décor, as well as the kinds of lights you can use. If you are moving into a newly constructed home, you should be able to find all of these measurements in the architect's floor plans.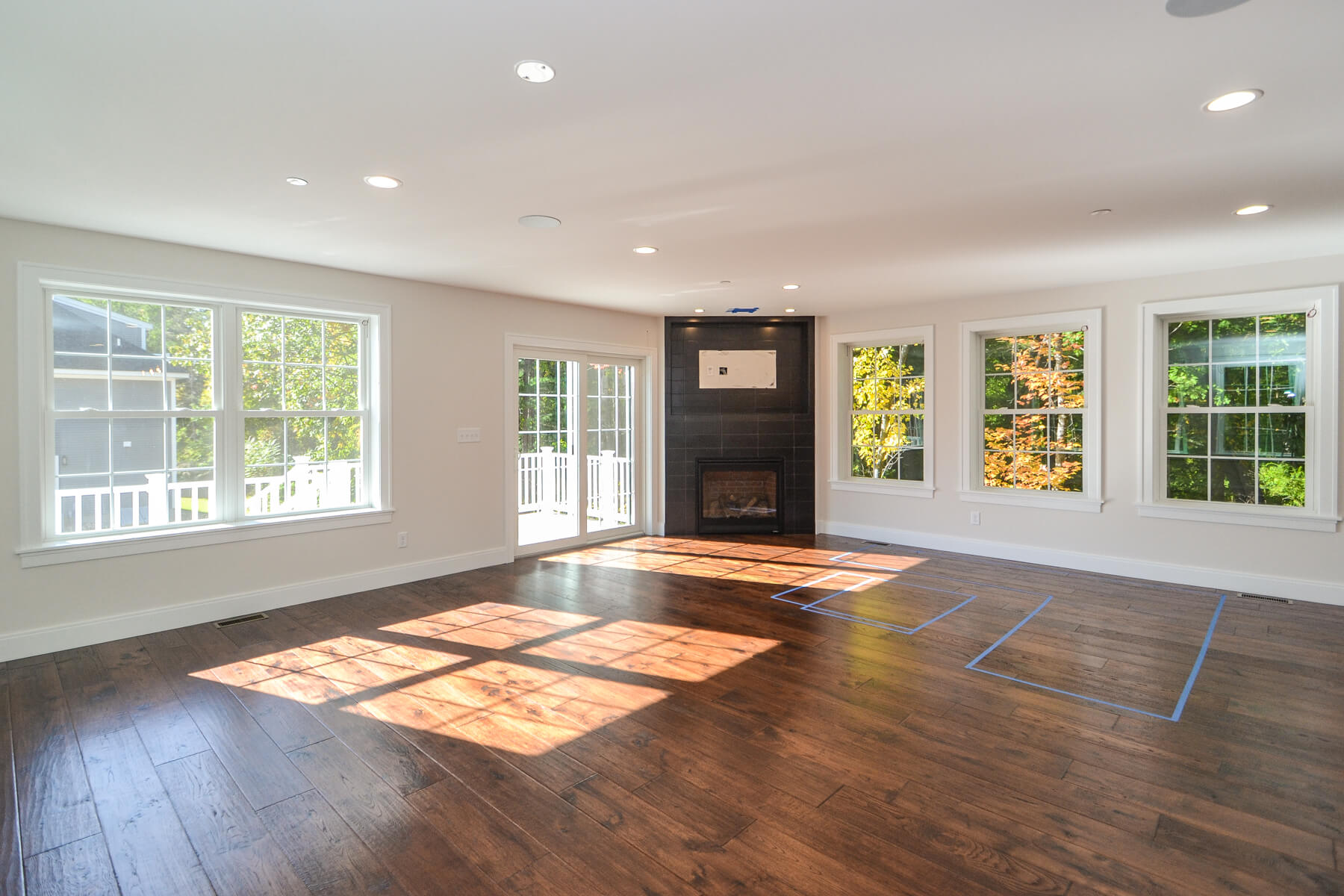 Use painter's tape to block out where you think the furniture should go, both on the floor and against the walls. If you're repainting or buying new furniture, now is also the time to collect paint chips and upholstery samples to see how they interact with the space and each other.
Buying new décor
The number one rule at this stage: Don't start planning in the store. You can visit furniture and home goods stores to find inspiration, but don't commit to buying anything until you've taken measurements, ordered samples and verified that it will fit in your space.
When you're ready to make a purchase, start with the largest piece of décor in the room. This might be a sofa, table or bed and will likely see the most use (it will also probably be the most expensive). Use this piece as the room's "anchor," both in terms of proportions and style, and build the rest of the room's aesthetic around it.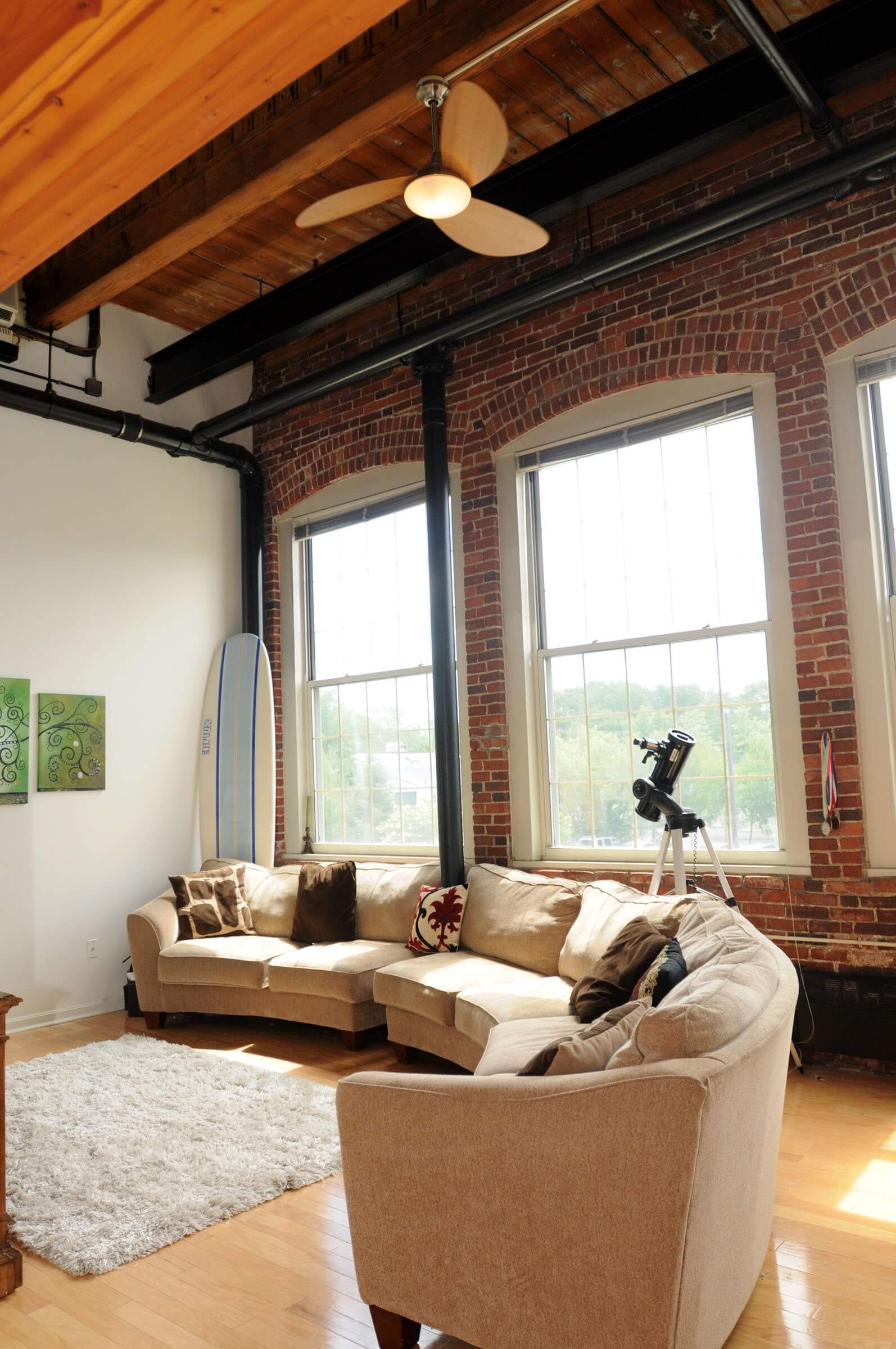 It's wise not to skimp on these larger pieces since you want them to last a long time. Prioritize high-quality anchor pieces for each room, and save a little money on accessories. Many big box home stores offer free or low-cost design consultation services to help pull an entire room together around a key piece — Ikea, Crate & Barrel and Pottery Barn are three widely accessible examples.
Decorating the space
Once the largest piece is in place, start filling in the décor around it. While each room can absolutely have a different aesthetic, try unifying your entire home with a common color, texture, shape or material. Maybe a lot of your décor features circles, or maybe there's a specific shade of blue that appears in every room. If your home has an open-concept layout, area rugs are a great way to connect separate zones.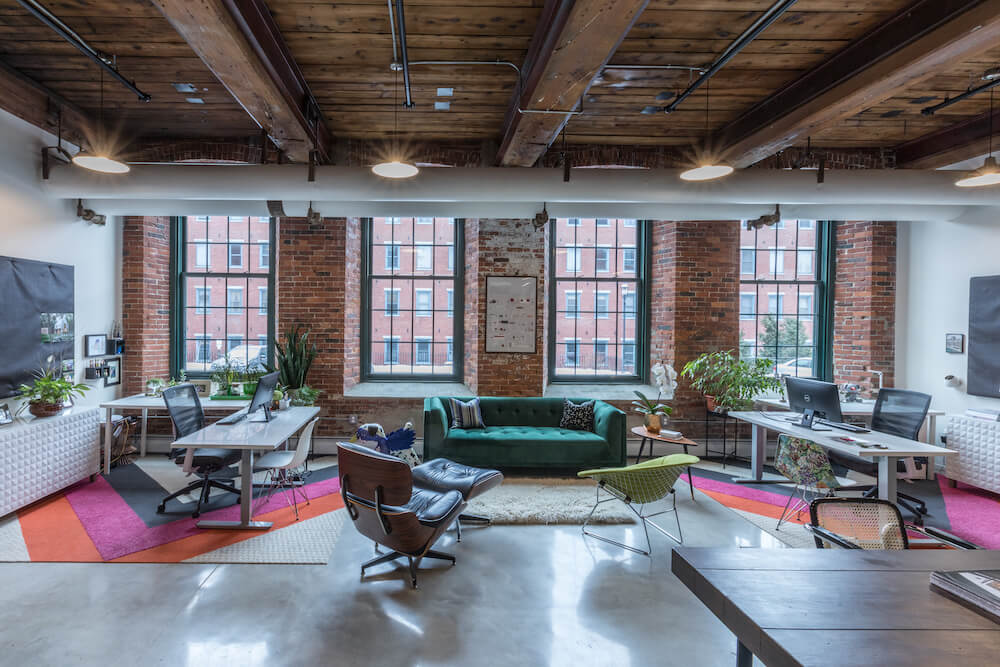 Just like prepping for New England weather, think of your home décor in terms of layers. Your staple pieces like sofas and tables can stay the same, but you can add or switch out window treatments, wall art, throw pillows and even side tables over time. If you find that a room feels crowded at any point, simply remove a layer of décor.
If you're decorating a small space, try painting two adjacent rooms the same color (preferably a light shade) to make them appear larger. Mirrors are also a great way to open up a space, especially in a room that cannot be painted; place them next to or perpendicular to a window to reflect the most light.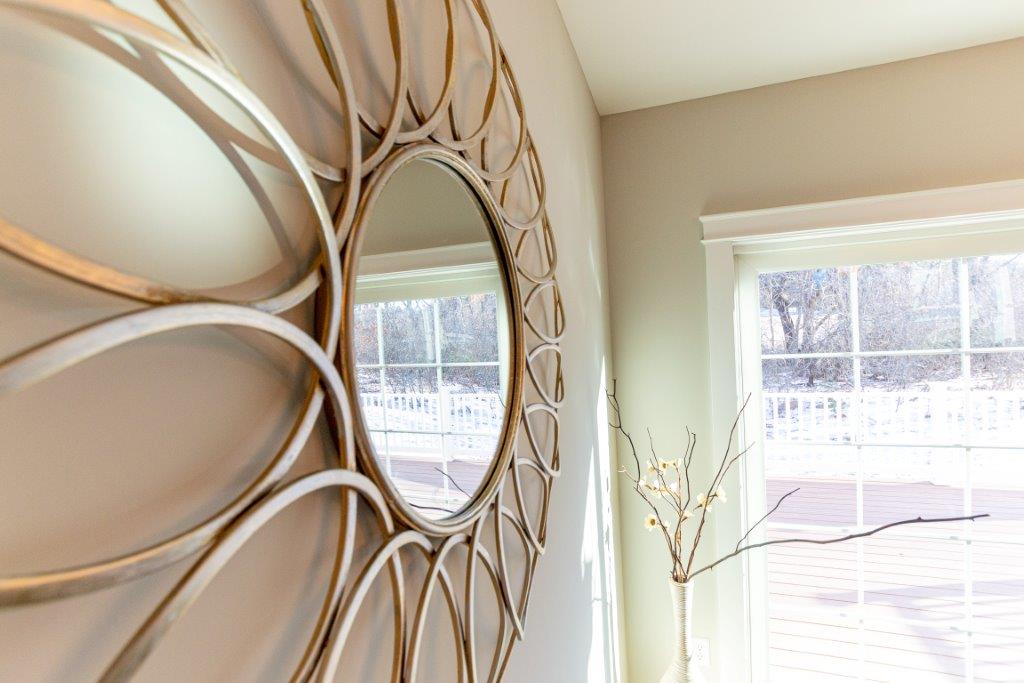 Above all, remember that decorating a new home should be fun! Don't take on too much at once, and take advantage of professionals who can help make your house a real home.
Home Entryway Décor
Now we're moving on to the fun part — a room-by-room decorating guide! Of course, any of these recommendations should be altered to accommodate your unique style and tastes, but these are some best practices we've seen and used in our line of work.
The entrance to your home sets the tone for the rest of the house, so choose décor that communicates your home aesthetic without overwhelming the senses. Lighter or warm, neutral colors can brighten up a front hall or compact entryway and provide enough flexibility that you can easily swap out accessories.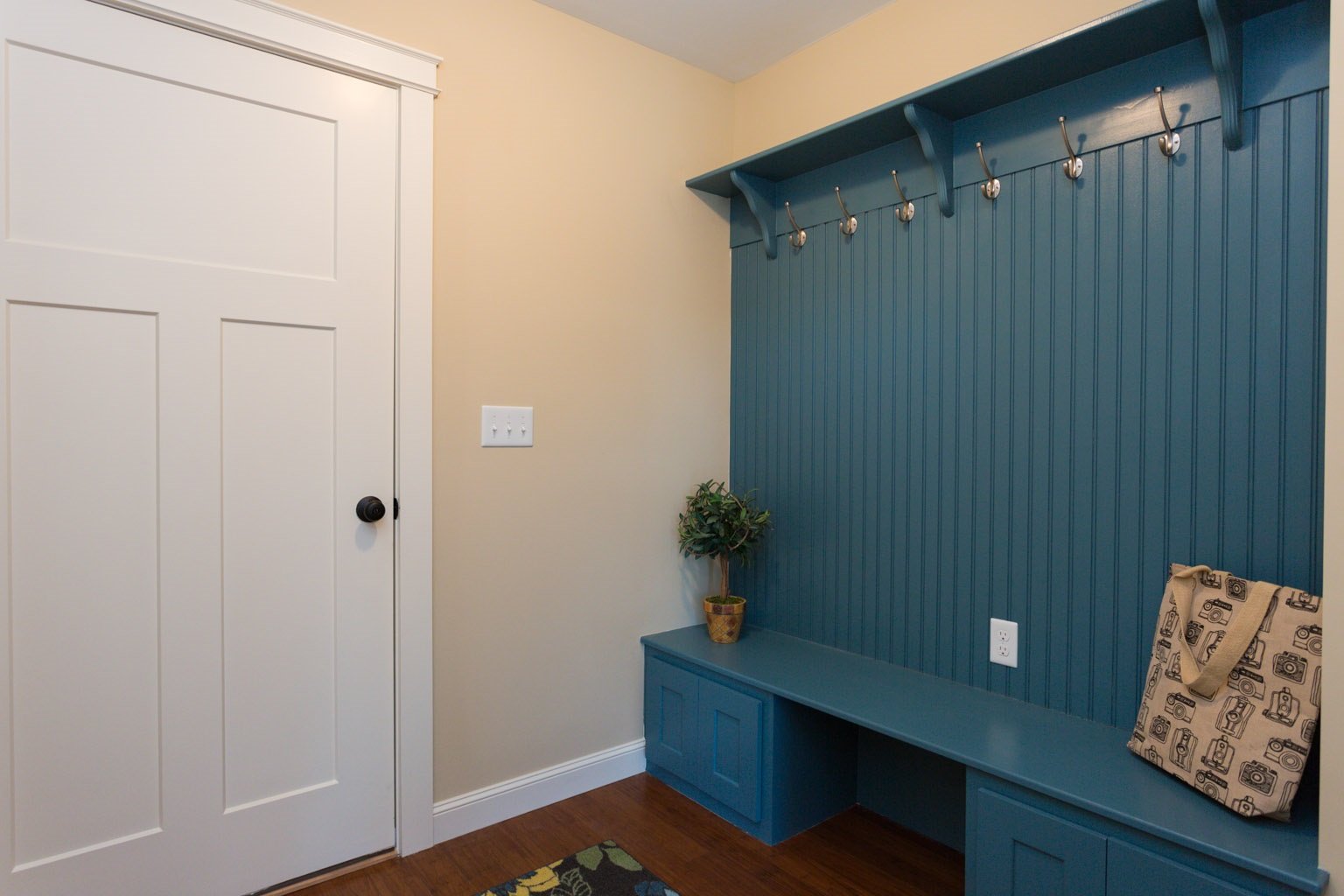 The entryway to your home is also a functional space, your first stop in and your final stop on your way out the door. Design the space around your daily routine: you can express your style through functional pieces like a side table, catch-all, keyrings, mirror, coatrack, umbrella stand, shoe mat or any other items that make leaving and returning home more convenient.
How to Decorate Your Kitchen
The kitchen is probably the most functional and informally popular room in your home. This is where we prepare and sometimes eat our meals, so any surfaces need to be easy to clean and moisture-resistant. Opt for light paint colors and materials, since they will resist fading and make stains and spills more apparent for cleaning.
Kitchens also benefit from natural light; if you have large or south-facing windows, hang lightweight window treatments that are easy to clean and let in lots of sun.
If you're stumped on where to start decorating your kitchen, focus first on high-touch areas such as appliances, counter space or the sink. Choose materials and designs that feel good and will last a long time (and, again, are easy to clean). If you are decorating on a budget, a fresh coat of paint or vinyl decals provide cost-effective ways to cover up outdated or unattractive surfaces.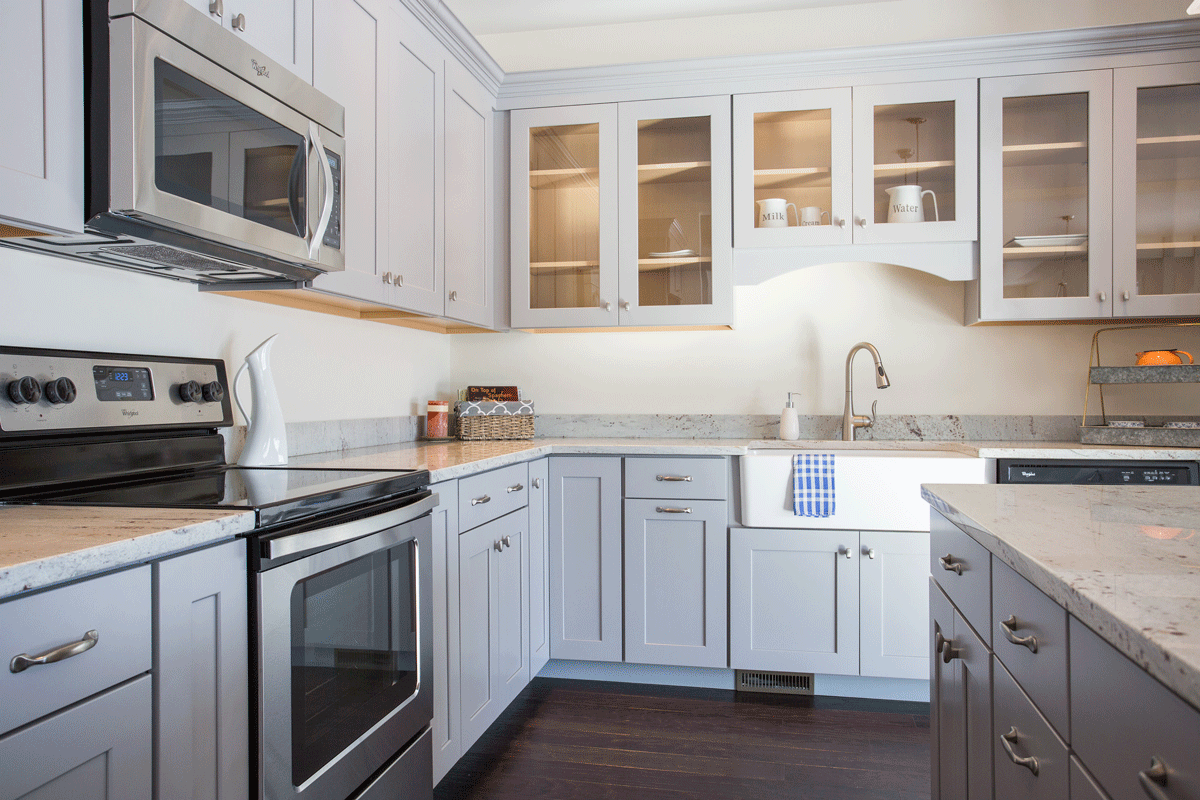 Small details can go a long way in making a kitchen feel clean and bright. Replace cracked switchplate covers with new brushed metal or plastic ones; add or replace a sink backsplash with clean tiles or a funky mosaic; and add a touch of fragrant greenery with an indoor herb garden.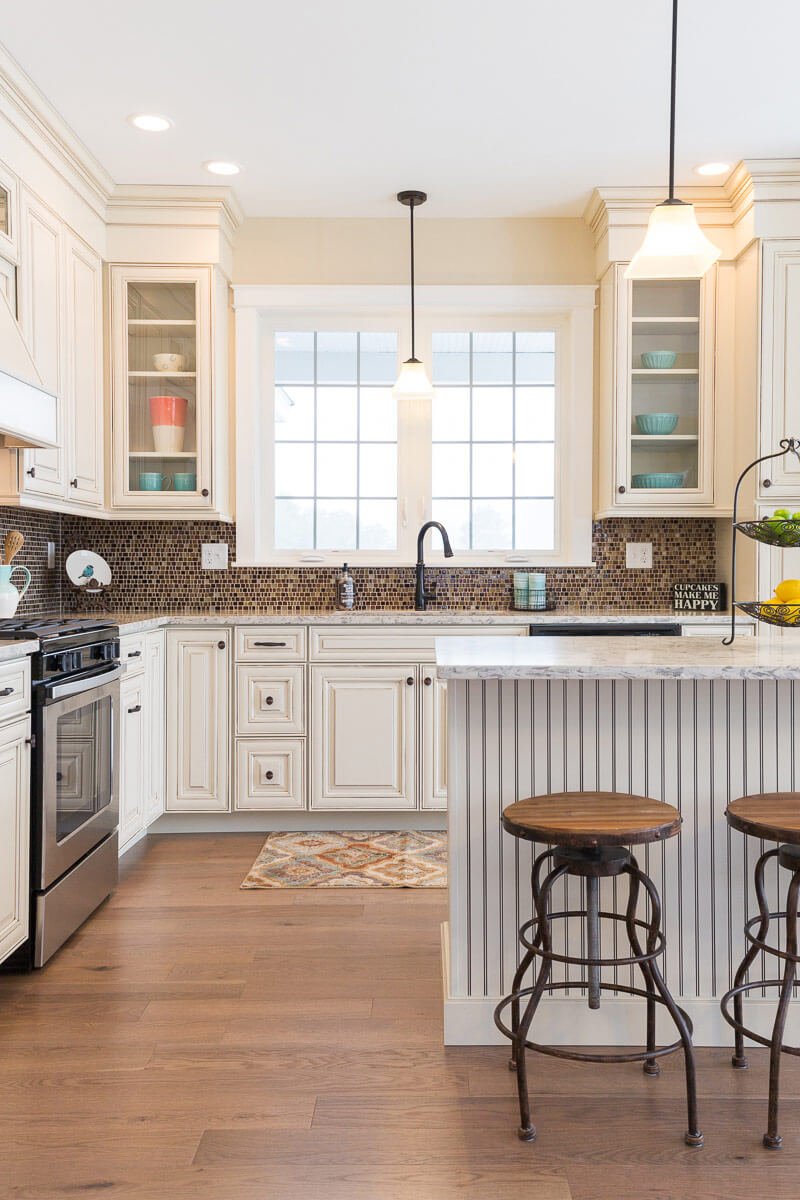 Dining Room Décor Ideas
We often think of the dining room as a formal showroom, but it should still be designed for functionality first. You want the furniture to provide a comfortable dining experience — that means a table of an appropriate size and shape, chairs that match the table's height and décor that does not get in the way of the meal.
When decorating a dining room, think in terms of proportions: don't put a low-slung table in a room with cathedral ceilings, or a high top bar in a cozy den. Lighting should not be so dim that diners have a hard time seeing what they're eating, and not so bright that it feels like a mall food court. Install one overhead chandelier or several smaller pendant lights to illuminate the dining area, and place other sources of ambient light around the perimeter of the room, if desired.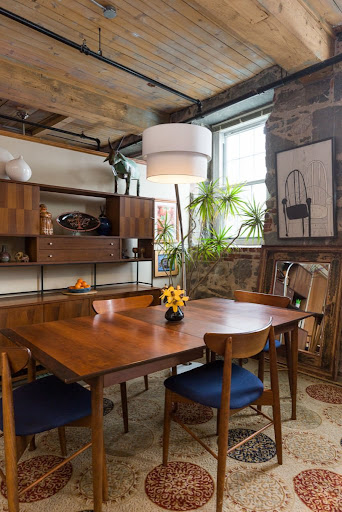 If there is room, a sideboard or credenza provides the perfect place to keep extra food or dishes, so diners don't have to leave the room repeatedly to serve themselves. And no matter how many people you entertain at one time, it's a good rule to have the same number of dining chairs as seats in the living room.
How to Make Your Living Room More Inviting
It's called the living room for a reason! After the bedroom, the living room is where you likely spend most of your time at home. This is also where you will probably spend the most time with guests, so it's a great place to show off your best art, most interesting décor and most comfortable and stylish furniture.
Start decorating your living room by placing the largest items in the space first, such as the sofa, chairs and coffee table. Distance between the pieces is key — you don't want the pieces so far apart that they're practically against the walls, but you also want to leave enough room between them for clear walking paths.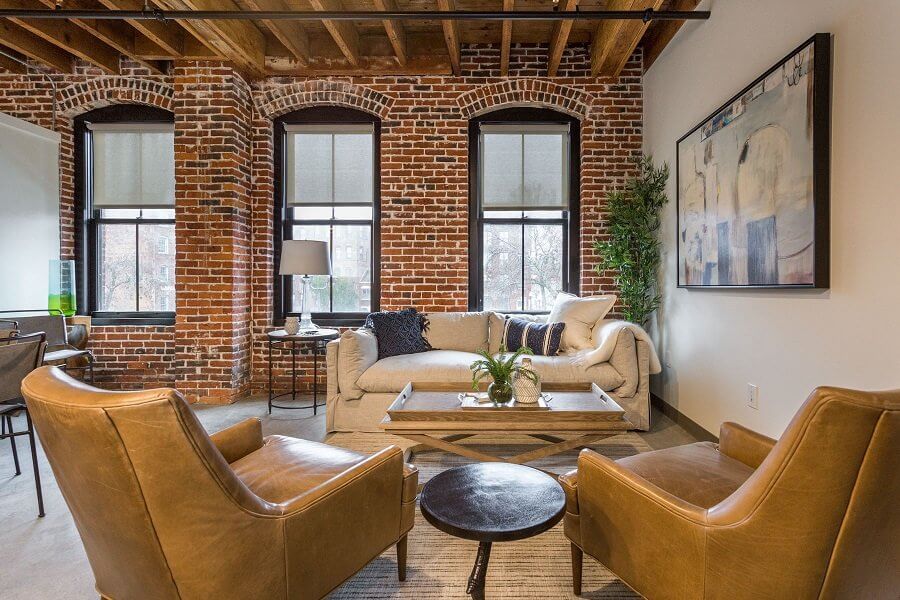 Arrange the pieces so that they're facing one another, and make sure that the furniture all sits at a similar height so it's easy for people to converse. Place an area rug underneath the coffee table (even if the floor is carpeted) to add color and further delineate the space. If you have multiple area rugs, anchor each one underneath a piece of furniture.
Once you have these larger elements in place, start accessorizing. Depending on your taste, you can do so with throw pillows, blankets, vases, coffee table books, candles and statement objects like sculptures or large geodes. Low-maintenance houseplants can soften the space even further while purifying the air.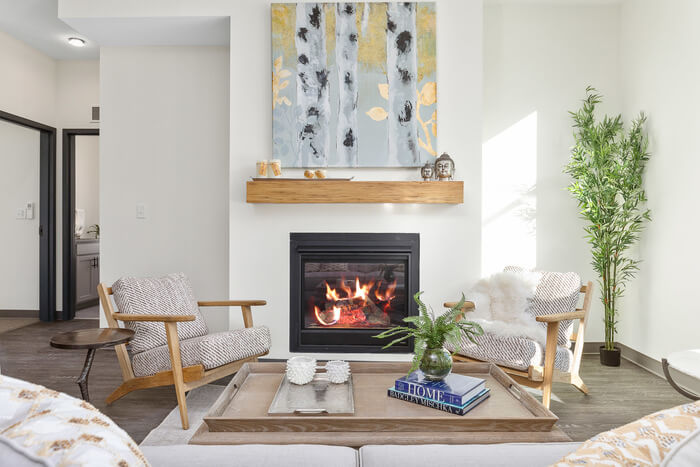 When choosing your living room artwork, scale each piece to the walls; that is, make sure the pieces are not so large that they overwhelm the room, or so small that they look odd against an otherwise empty wall. Place each piece so that the center is eye-level when you stand in front of it.
Whatever décor you choose for the living room, be sure to consider your functional needs. If your living room sees a lot of foot traffic or activity, it might not be the best place for a priceless sculpture. If the room has low ceilings, refrain from installing a decorative pendant light or the largest painting you own. If you feel as though your décor options are limited due to space or budget, get creative with your existing belongings: organize the contents of your bookshelves by color, install floating shelves to display your favorite keepsakes or arrange your family photos in interesting geometric patterns.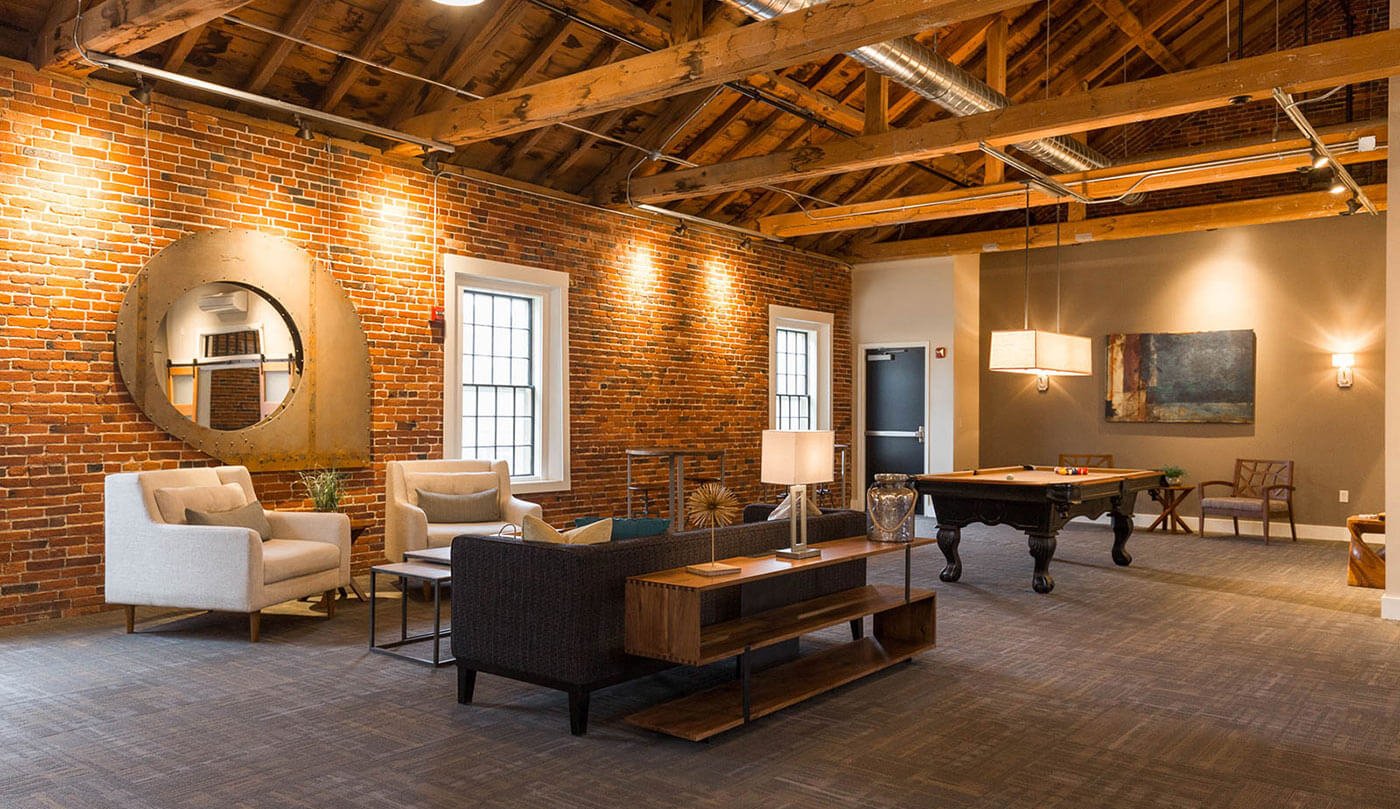 In general, the living room does not need to be as brightly lit as the rest of the house, but it does benefit from different layers of light. Upward-facing wall sconces or wall-facing gallery lights cast a pleasant ambient glow, tabletop lamps provide warmth and character and floor lamps or task lights are great for reading or other contained activities. A general rule of thumb is to light your living room with at least 3 watts (42 lumens) per square foot.
Bathroom Décor Tips
In the grand scheme of decorating a new home, the bathrooms often get overlooked. Bathrooms are private, functional spaces that withstand a lot of moisture, so any décor needs to be water-resistant and easy to clean. But that does not mean you can't have fun with this space!
Just like in the kitchen, focus first on high-touch areas. Swap out old fixtures for new ones, or reinvent them with spray paint or refinishing kits. Paint the walls with an eggshell or satin finish, which is easier to clean than a matte finish. Replace old bulbs with R-type bulbs that cast a more diffuse light, or incorporate some vintage dressing room vibes with Edison bulbs. Stay away from fluorescent lighting or PAR-type bulbs, which can give off a yellowish hue. Look for bulbs in the "soft white" range of light at 2700K–3000K. You can even install dimmer switches to control the level of light.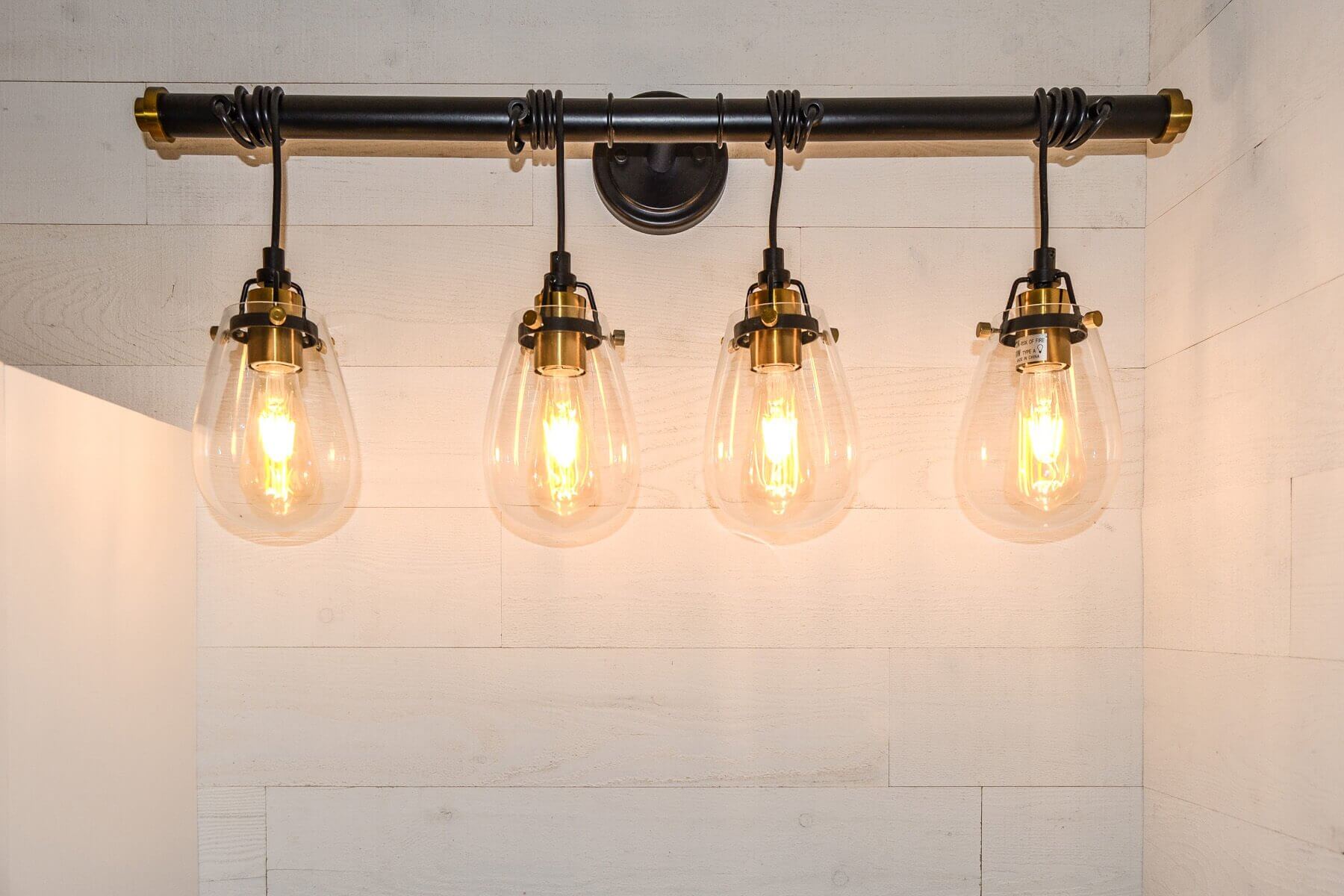 If your bathroom lacks color, add some pop with everyday linens like towels, washcloths and bathmats. Use the "common color" trick: if there is a piece of art or décor in the room that features a certain color, use that color to create cohesion throughout the space. Even utilitarian items like the toilet paper roll or towel bars provide opportunities for customization and character.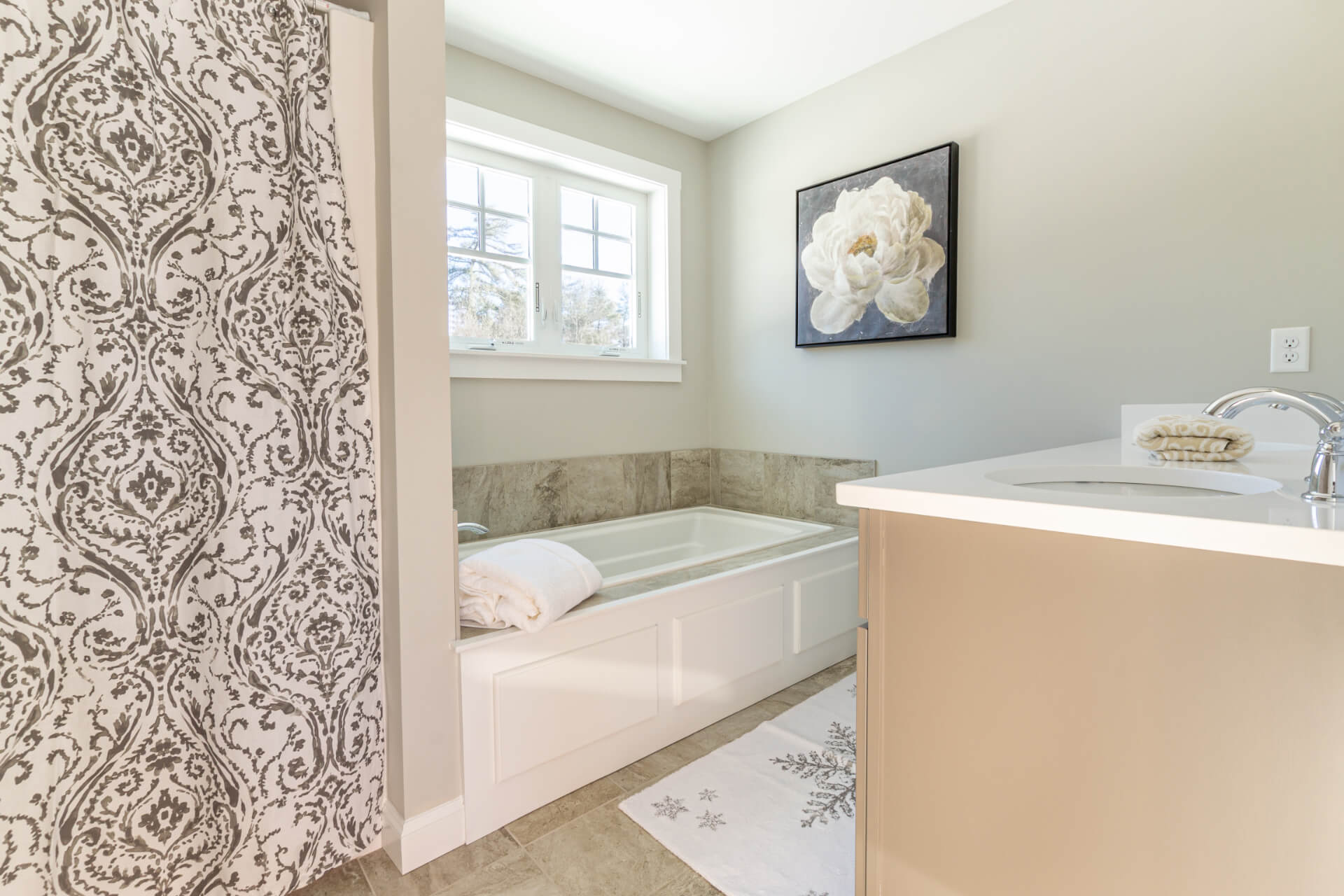 Bedroom Design Aesthetic
The bedroom should be designed for comfort above all else. Technically, we spend one-third of our lives asleep, so our bed and any light-limiting window treatments are crucial pieces of décor.
Whether you're moving with an existing bed or buying new, make sure it's not so large or ornate that it overwhelms the space. The center of the room is typically the best place for the bed, provided you have enough room to move around it. If you're working with a smaller bedroom, place the bed with one side against a wall to free up the most floor space. Depending on available space, one additional piece of furniture like a chair or vanity provides another opportunity for functional décor.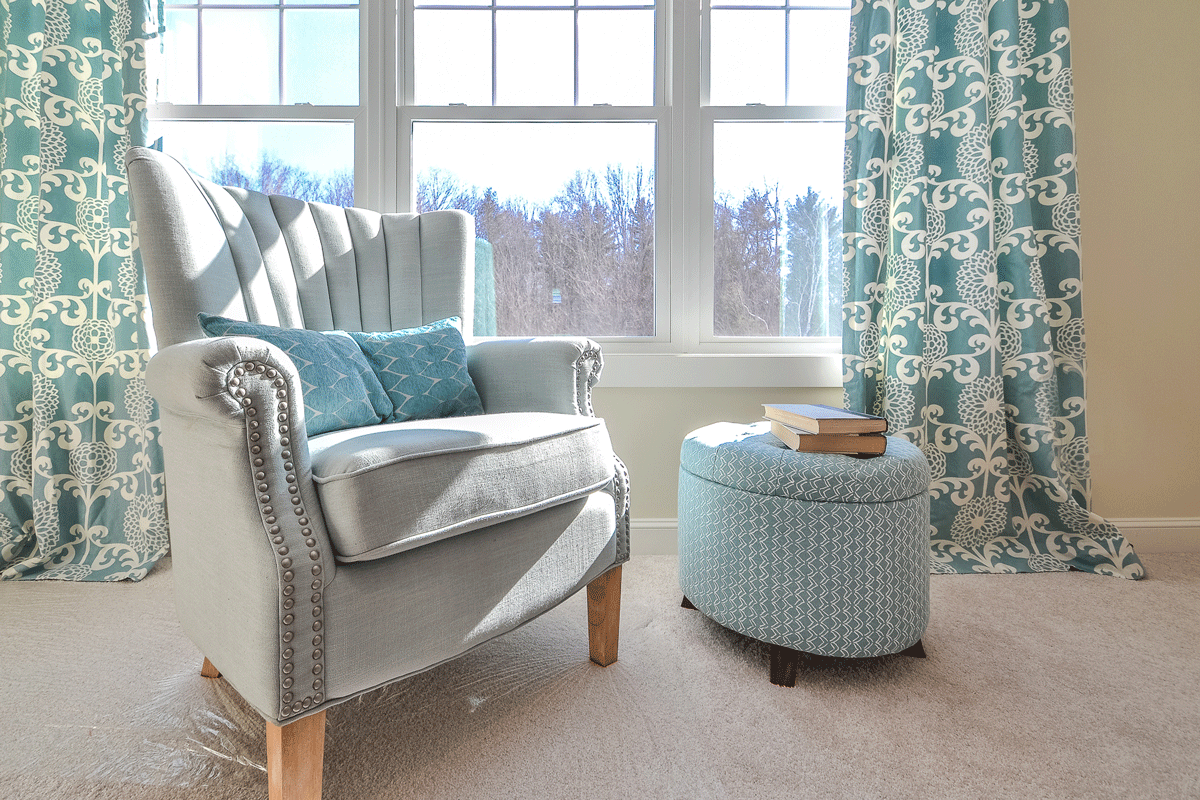 Since the bed is the star of this room, high-quality bedding is a must. Start with new sheets and pillowcases, then accessorize with a duvet cover, throw pillows and blankets. Use your new bedding to inform the color of the walls, or vice versa, and add window treatments to match. Place a cohesive nightstand on either side or a low table at the foot of the bed for convenience.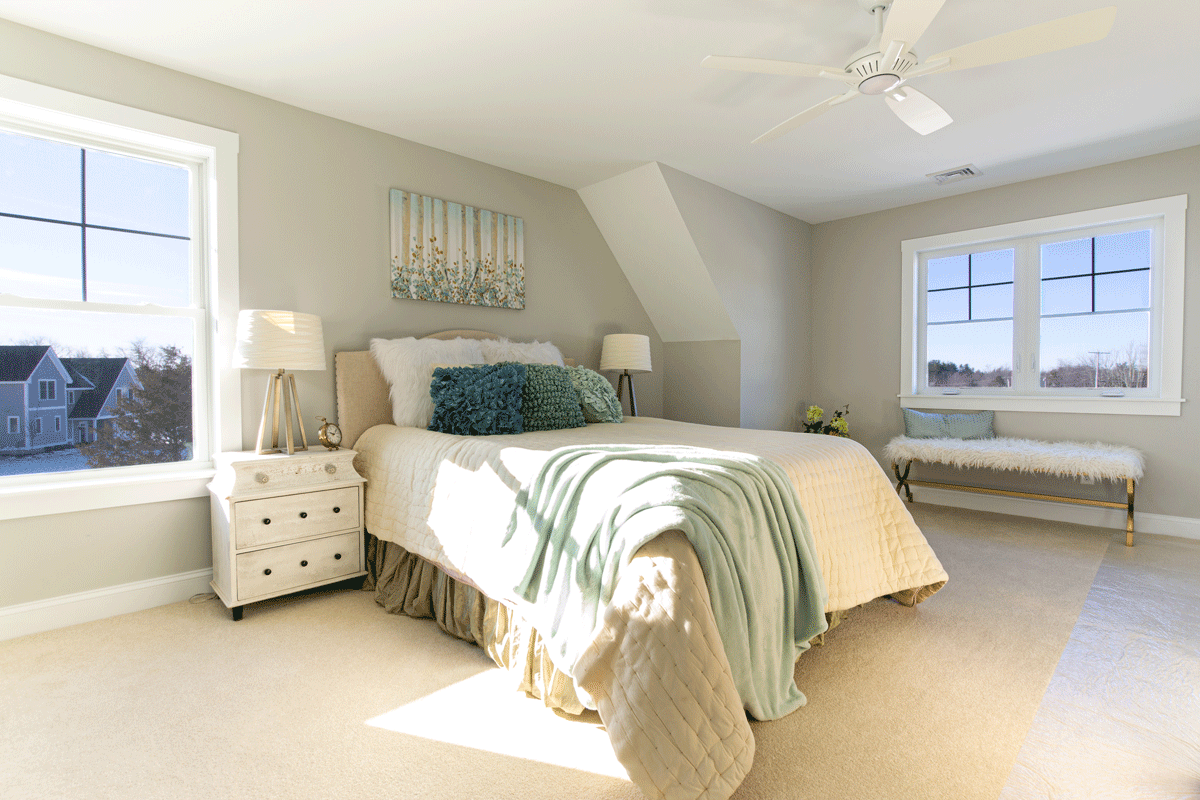 If your bedroom floor is not carpeted, use area rugs to add literal and visual warmth. You can also use textiles as wall art, especially if your bedroom walls are difficult to paint (or your rental terms prohibit painting).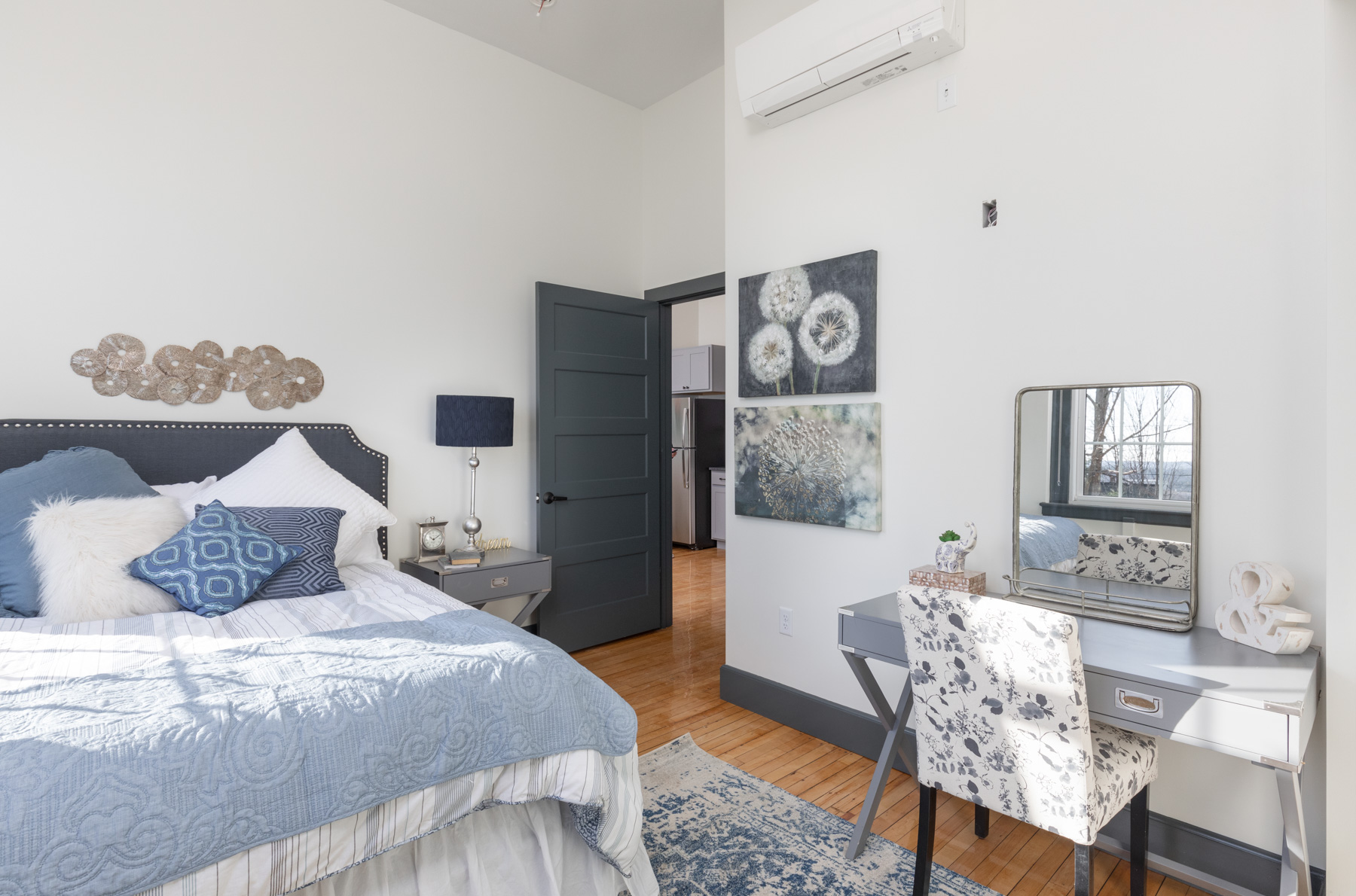 There are a few visual tricks you can use to make a small bedroom appear larger. Paint the walls a light color, covering the baseboards and trim to make the walls appear to recede. Make a low-ceilinged room feel taller by hanging drapery above the top of the windows; bonus if it reaches all the way to the floor. Cast extra light around the room and create an illusion of more space with a large mirror.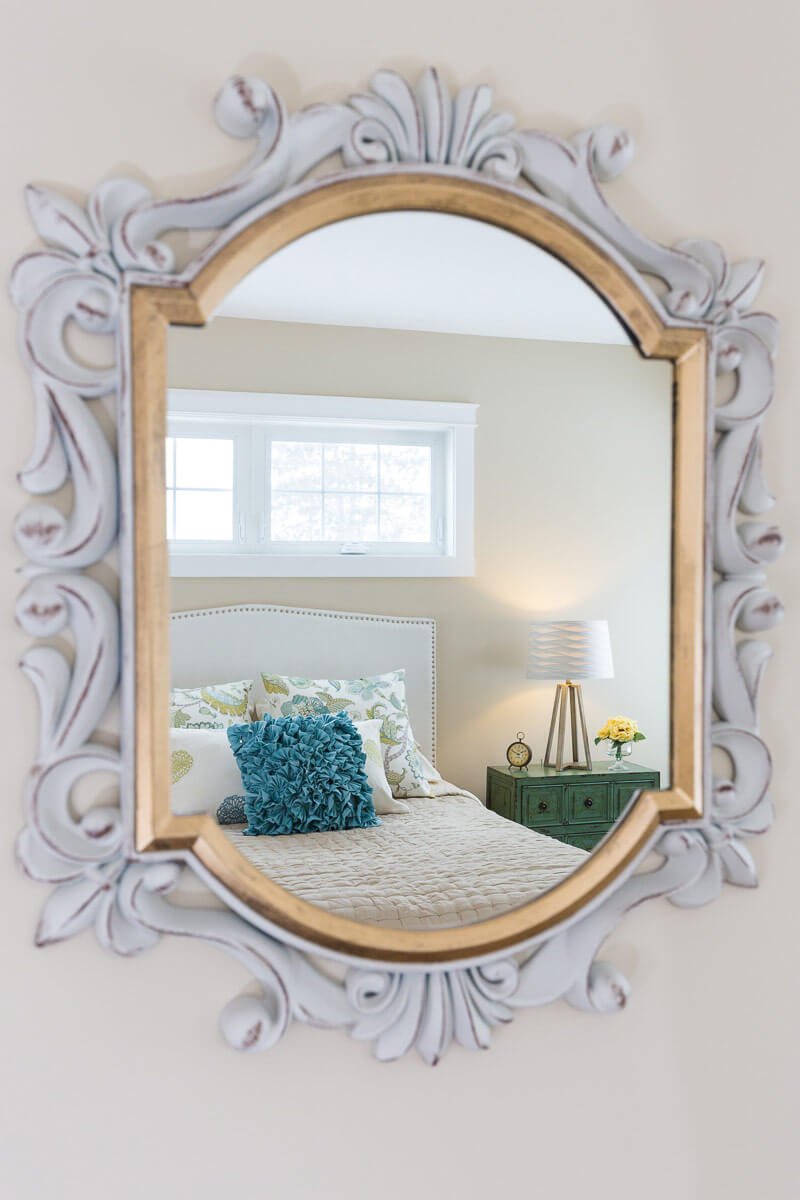 If your bedroom has an overhead light, install a dimmer so you can adjust it accordingly. Accessorize with bedside lamps or task lights that fit your style. You may even want to add another, ambient layer of light with string lights or wall sconces.
The tips in this article are merely suggestions — your home is your palace! If you're still stumped for home design ideas, take a scroll through online visual resources like Pinterest and Houzz, or take a design quiz to find your own personal style, such as these from The Ginger Home or The Designer Society of America. This is an excellent way to swap ideas with your housemates and connect with others who share your tastes.
Our Design Center at 55 Main Street in Newmarket, NH is open to all Chinburg home buyers. This is where our community members will select many of the staples for their home, including lighting, flooring, appliances, cabinetry, carpeting, hardware and much more. View our Design Center video here.
FAQs About Decorating Your Home
Q: How do I decorate an apartment?
A: If you're a renter, you may have some limitations on how you can decorate your home. If you can't paint your walls, you can always hang art (using removable hooks) or cover your walls with textiles. Express your personal style through your furniture choices, accessories and area rugs, which can also help divide up open concept floor plans or connect adjoining rooms. Check out our blog post here for some easy DIY décor for renters.
Q: How do I make a small room appear larger?
A: There are a handful of visual tricks you can use to make a room seem larger than it is. Light colored walls make rooms seem both wider and taller, and mirrors can reflect light around the room and create the illusion of more space. Try not to place large pieces of furniture or art in small rooms, since the piece will overwhelm the space and make it feel claustrophobic. As a general rule, take advantage of natural light whenever possible.
Q: What kind of lights work best in the bathroom?
A: Bathrooms are functional spaces, so you need enough light to see what you're doing. It's also where most people tend to their appearance, so flattering lighting is important. Use R-type bulbs that cast a more diffuse light, and stay away from fluorescent lighting or PAR-type bulbs, which can give off a yellowish hue. Look for bulbs in the "soft white" range of 2700K–3000K.
Q: Which type of paint is easiest to clean?
A: Interior paint with a satin or eggshell finish is easier to clean than a matte finish since both are slightly glossy and handle scrubbing well.