Do we ever really need a reason to throw a party? Holidays are certainly cause for festivities, as are major life events like birthdays, graduations and anniversaries. But sometimes, we don't need a big reason to get together — anyone can make a party out of watching a sporting event, swapping recipes or simply celebrating nice weather!
If you live alongside lots of neighbors in an apartment building, there are plenty of reasons to throw a party in your residential common area:
Meet your neighbors
Celebrate holidays or events together
Provide social activities for neighbors who may not leave home very often
Host a fundraiser for a community member or cause
Welcome new neighbors with a housewarming
Watch major television or film events together
Swap and donate gently used goods with your neighbors
Many Chinburg residential properties have community rooms or clubhouses available to all residents. These spaces serve as gathering spots for our building communities, whether for a residents' meeting or a special event. When it comes to the latter, we've seen these common areas put to some creative uses.
From Chinburg to you, this is your complete guide to throwing a common room or clubhouse party.
Table of Contents:
Decorating an Apartment Clubroom Area
One of the most creative aspects of preparing for a party is setting up the theme and the decorations. But before you begin to deck the halls, there are a few important things to keep in mind:
Confirm your date — Before making any plans or purchases, confirm your proposed date with your property manager. If the community room is available, they will mark it on their calendar and make sure it does not conflict with any other events.
What goes up must come down — so make sure you leave time to return the space to its original state when your soirée is over.
Choose low-impact decor — Glitter is really fun, and so is silly string – but they can also be challenging to clean up! Consider that this is a shared space, so select items that have low impact, such as flowers, lights, paper streamers or colorful centerpieces. Decorations should not mar any walls, furniture or paint.
What is your budget? — Determine what you need to achieve your vision for the event and who is going to contribute.
Be respectful of existing clubhouse décor, furniture, rugs, etc. Be especially mindful of spills if there will be food and drink present. Red wine plus white couches plus dance parties can be a recipe for trouble – trust us, we've been there.
Consider storage —Does your residence have a common storage area? If so, is there room for party decorations? If not, you'll need to make sure you have room to stow your supplies.
Keep it classy (kids live here too), positive, inclusive and fun!
Armed with these general guidelines, it's time to start decorating! No matter the occasion, the idea is to communicate a theme, or "set the mood," if you will. Decorations do not have to be complicated, fancy or expensive, so don't get too hung up on the details — this is supposed to be fun!
Do think about available surfaces — walls, tables and the ceiling are all stages just waiting to be set.
Decorations that will work for any kind of party include:
Streamers and garlands
Tables and tablecloths
Themed plates, napkins, cups, silverware, etc.
Fresh flowers
"Mood" lighting, such as string lights, battery-powered tea lights, lava lamps, salt lamps, small table lamps, etc.
Music and a portable sound system
Fall and Winter Party Themes
It's easy to throw a party in the summer — just put a cooler with drinks on the patio and you've got it made! In the fall and winter months, especially in New England, we need to get a little more creative with party preparations. Fortunately, there are plenty of reasons to get together from September to March.
Whether there's a holiday to celebrate or not, these tips will help you plan for any fall or winter event:
Use seasonal glassware like mugs for hot chocolate or cider, champagne flutes for New Year's Eve or anniversaries, and steins for Oktoberfest.
Create a specialty cocktail featuring seasonal ingredients or flavors.
Make a playlist that supports the party theme.
Be mindful of the weather outside — will people need somewhere to put coats, boots or umbrellas? Will air conditioning or heating be required?
If you want to plan a party but are stumped for ideas, here are some party-worthy occasions to inspire you:
Fall foliage party with a red, orange and yellow color scheme, leaf decorations, apple and pumpkin pastries, mulled cider, etc.
Pie, baked goods or soup swap
Recipe swap
Gingerbread house contest
Non-holiday specific gift swap
"First snow" party (or snow shoveling "after party")
Halloween costume contest
Baby and wedding showers
Pizza party
Story or poetry slam
Beer, cheese or wine tasting
Acoustic music night
Book club, readings or swaps
Sporting event watch parties
Fundraisers like toy drives, coat drives, meal program support, etc.
Game night
Movie night
Got your own ideas? Don't hesitate to share them with us, so we can keep the inspiration flowing for all our Chinburg community members!
Things to Remember for a Party in a Common Area
No matter the kind of party you throw, keep in mind that you're hosting in a shared pace. This means that all building rules still apply, as well as common courtesies that respect other residents. Be sure to review your property's rules as part of your party prep and clear all plans with your property manager.
Specific property rules aside, here are some general recommendations for being a good neighbor:
Make sure you and your guests are aware of your property's rules regarding quiet hours, cleanliness, prohibited items, pets, smoking, parking, serving alcohol, etc.
Be inclusive of all residents unless you have reserved the community room or clubhouse for your own private event. An exception can be made for events where alcohol is served, which should be 21+.
Observe carry in/carry out etiquette — all decorations, food and other party supplies that weren't in the room to begin with should be removed once the last guest leaves. This also goes for making sure all existing furniture and décor is free from damage.
If there are lots of families with children in the building, keep events family-friendly.
Don't forget to let your property manager know about the party. Aside from informing you of any conflicting events, they may be able to help with budget, contribute some items and even attend!
Chinburg Properties with Common Areas
Community is the cornerstone of every Chinburg residential property. That's why we've incorporated common areas into most of our properties, where residents can meet, mingle and form real community bonds.
In preserving the integrity of these revitalized historical buildings, each common area or clubhouse is unique, so be sure to scope it out before diving into party preparations. Once you know the size and amenities of your common space, you'll be able to organize the ideal party for your neighbors.
The following Chinburg Properties have common areas or clubhouses:
Are you inspired to host your own event in a Chinburg common space? Contact your property manager to get the party planning started, and check out our blog for more inspiration.
Feel free to share photos with us after the party! We love to see you having a good time in the community spaces.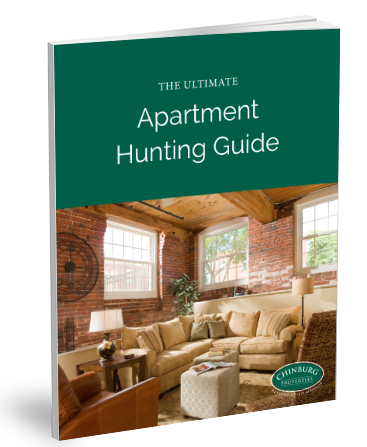 Don't Rent an Apartment Before Asking These Questions
Do they allow pets? Are any utilities included? Is the building secure? You'd be surprised at the little things you might forget to ask.
Get the Apartment Rental Checklist